Time for QB decisions for Cards, Seahawks, Titans, Dolphins ... and Jets?
It's Week 3 of the preseason and QB decisions have to be made soon.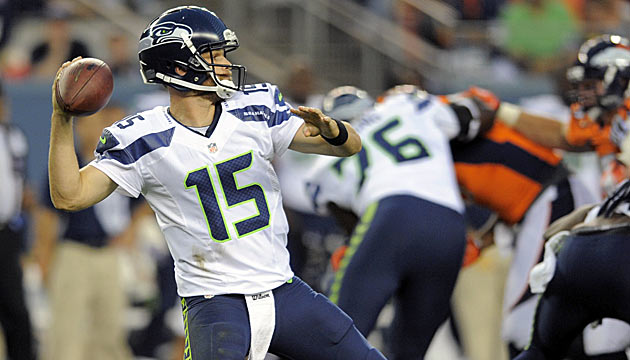 Matt Flynn looks like he's won for now. (AP)
At least four teams, and maybe a fifth, have to start giving all the reps in practice to the starter. Competition for the starting spot is a great idea, but the last thing a team needs is a starter who didn't get enough practice reps in all the situational play.
• Arizona needs to declare if it's Kevin Kolb or John Skelton -- because neither has enough experience to be his best for the opener without all the work. The Cardinals waited until the very end back when Kurt Warner and Matt Leinart were competing. But Warner had tons of experience heading into that preseason. Big difference with their situation this preseason.
• Seattle looks close to their decision -- with Matt Flynn winning the job (for now) and rookie Russell Wilson right behind him and Tarvaris Jackson on the way out. Flynn needs as much practice time as he can get from here on out because he has only two career starts.
• In Miami it appears rookie Ryan Tannehill is pulling away from Matt Moore with significantly more production so far in the preseason. But every rep from here to opening day still won't be enough for Tannehill to be ready for the opener at Houston.
• The Titans aren't getting enough from Jake Locker yet to declare him  winner, taking the job away from veteran Matt Hasselbeck. The problem with that is Hasselbeck hasn't done much, either. Ironically, third-stringer Rusty Smith has Tennessee's only preseason touchdown pass to date.
• Finally, the Jets don't acknowledge there is a QB battle going on and there really shouldn't be. However, Tim Tebow has thrown five more passes than Mark Sanchez, and that only raises the fans' curiosity.
In all these cases, I sure would like to see the opening day starter play well into the third quarter of this week's third preseason game -- not as a test to determine the starter but rather to get the starter some more work.
The Lions will be wearing their Color Rush uniforms for the first time on Thursday

The Lions look to maintain playoff positioning while the Bears attempt to play spoiler

The Panthers have hired an outside law firm to conduct the investigation
Here's every official injury designation for each NFL team for Week 15

Bennett was one of the few players who escaped punishment after Sunday's melee in Jacksonv...

Jeremy Kerley wins the award for most creative excuse for failing a PED test