Titans QB Jake Locker has sprained hip, might only miss three games
The Titans announced on Tuesday that quarterback Jake Locker has a sprained hip, an injury that may only sideline him for three games.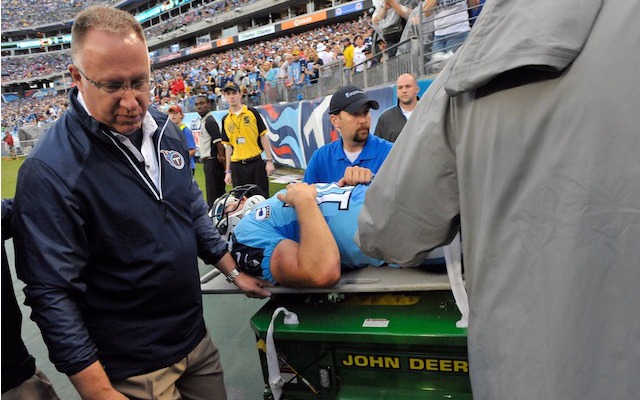 The Tennessee Titans got some good news and some bad news on Tuesday.
The bad news is that the team likely won't have quarterback Jake Locker for the month of October. The good news though is that Locker only suffered a sprained hip against the Jets on Sunday and is only expected to be out a "few weeks." Initial reports suggested that Locker could miss up to eight weeks. 
The team released a statement on Tuesday, updating Locker's condition. 
"We received reassuring reports from the second MRI today and they confirmed that there was no major damage to Jake Locker's hip joint -- it is classified as a sprained hip," the Titans said in a statement. "The area will need time to heal and strengthen, but he won't require surgery and he has already begun a rehab routine for both his hip and knee."
That rehab routine should have Locker back under center in a few weeks, according to the team. "We certainly would expect him to miss a few weeks, but we are encouraged by the news today."
Locker could be back under center as soon as Week 9 when the Titans travel to St. Louis, according to NFL.com. Under that time frame, Locker would only miss three games because the Titans have a Week 8 bye. 
The three games Locker will likely miss are big ones though. In the next three weeks, the Titans play against Kansas City (4-0), at Seattle (4-0) and at home against San Francisco (2-2). If the Titans want to keep some momentum from their hot start, they'll need to win at least one of those games. 
With Locker out, Tennessee's quarterback going forward will be Ryan Fitzpatrick. Fitzpatrick threw for 108 yards in a touchdown after Locker went down in the third quarter of the Titans 38-13 win over the Jets on Sunday.  
Ken Norton Jr. didn't even last a week in San Francisco

One bettor in Vegas is going to make some serious money if the Jaguars win it all

The Jaguars, Vikings and Eagles have combined to win exactly zero Super Bowls ever
The Steelers wilted under the pressure of the postseason

The Bears fan is now officially linked up with the Packers quarterback

The Cardinals have the future in mind at quarterback with the dynamic Louisville quarterback...