Titans QB Jake Locker has sprained hip, might only miss three games
The Titans announced on Tuesday that quarterback Jake Locker has a sprained hip, an injury that may only sideline him for three games.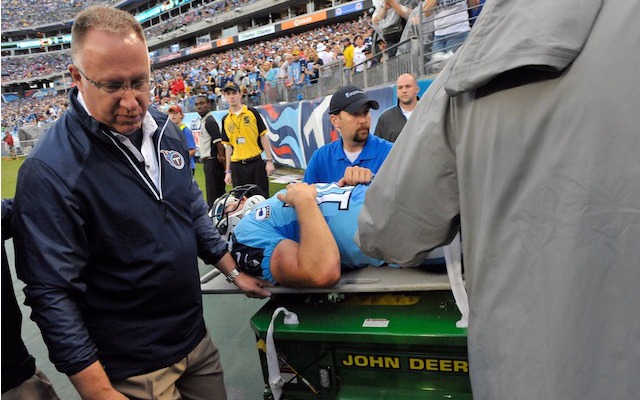 The Tennessee Titans got some good news and some bad news on Tuesday.
The bad news is that the team likely won't have quarterback Jake Locker for the month of October. The good news though is that Locker only suffered a sprained hip against the Jets on Sunday and is only expected to be out a "few weeks." Initial reports suggested that Locker could miss up to eight weeks. 
The team released a statement on Tuesday, updating Locker's condition. 
"We received reassuring reports from the second MRI today and they confirmed that there was no major damage to Jake Locker's hip joint -- it is classified as a sprained hip," the Titans said in a statement. "The area will need time to heal and strengthen, but he won't require surgery and he has already begun a rehab routine for both his hip and knee."
That rehab routine should have Locker back under center in a few weeks, according to the team. "We certainly would expect him to miss a few weeks, but we are encouraged by the news today."
Locker could be back under center as soon as Week 9 when the Titans travel to St. Louis, according to NFL.com. Under that time frame, Locker would only miss three games because the Titans have a Week 8 bye. 
The three games Locker will likely miss are big ones though. In the next three weeks, the Titans play against Kansas City (4-0), at Seattle (4-0) and at home against San Francisco (2-2). If the Titans want to keep some momentum from their hot start, they'll need to win at least one of those games. 
With Locker out, Tennessee's quarterback going forward will be Ryan Fitzpatrick. Fitzpatrick threw for 108 yards in a touchdown after Locker went down in the third quarter of the Titans 38-13 win over the Jets on Sunday.  
Forget being the highest paid receiver, Odell Beckham has loftier goals for his next contr...

There was a Rolls-Royce at Steelers training camp, but no Le'Veon Bell

'It ain't about 2016 and it ain't about 2018. It's about 2017,' Doug Williams told his qua...
Philip Rivers will not be moving to Los Angeles with the Chargers

Bryant has had off-the-field issues keeping him off the field for the past few years

Technically Woody Johnson is the Jets' owner, but on the other hand, Brady does own the Je...