Titans TE Brandon Barden's DUI case thrown out of court
The DUI case against Titans tight end Brandon Barden was dismissed Thursday when the arresting officer failed to show up for court.
• 1 min read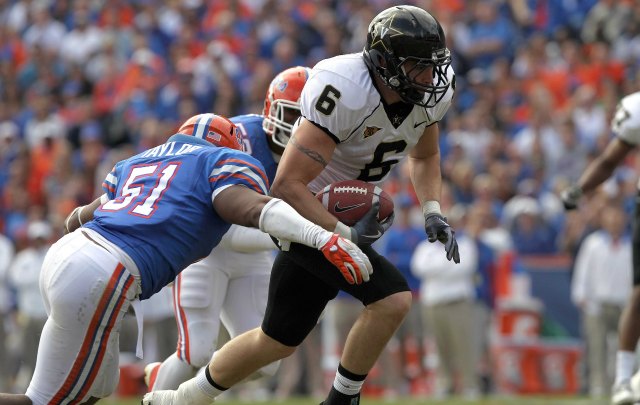 A few months back, Titans tight end Brandon Barden, an undrafted free agent from Vanderbilt who spent most of the 2012 season on Tennessee's practice squad, was arrested in his hometown of Lincolnton, Ga., and charged with DUI.
On Thursday, though, that citation was dismissed after the arresting officer failed to show up for the court date, Nashville's Tennessean reported.
Barden also had been charged with failure to maintain lane after a single-car accident in February in which he allegedly lost control of his vehicle and drove into a ditch -- which caused his truck to flip.There were two other passengers in the vehicle.
The officer, Christopher Treadwell, wrote that Barden smelled of "a strong odor of alcohol" and that Barden refused a field sobriety test.
None of that matters now, however, since the case will not be prosecuted.
"If the officer doesn't show for court, everything is dismissed,'' Debbie Pruett of the Lincoln County probate office told the newspaper. "Brandon had an attorney, and she requested it be dismissed for a lack of prosecution and the judge had no bearing to change it. It's completely closed."
Lincoln County sheriff Bruce Beggs told the newspaper that Treadwell had joined another police agency soon after he arrested Barden. Treadwell apparently missed the court date because of a scheduling conflict with his new job.
Barden spent the majority of last season on the practice squad, but he was signed to the active roster in December and played in the final three games of the year. He didn't record any stats.
Jeremy Lane also stood near Bennett along with pass rushers Cliff Avril and Frank Clark

Bennett also dedicated it to 'all of the other athletes using their platform to promote ch...

The Patriots quarterback shows commitment from Day One
Cardinals' running back says he's feeling more energized

The Vikings' receiver is wearing his heart on his foot

The Ravens need help on the offensive line after dealing with injuries and a surprise reti...