Titans training camp: Whisenhunt has two good LTs, but does he have a QB?
The Titans have two left tackles worthy of starting and four versatile LB/DEs who can rush the passer and cover. But does Ken Whisenhunt have a QB?
More NFL: Photos |   Videos & GIFs |  Stories | Training Camps | Johnny Manziel watch
No team flies under the radar like the Tennessee Titans. They have won just 36 games over the last five years, and they always seem to be an afterthought with the Colts and Texans in the division.
But after spending a whole day with the organization, from top to bottom, and watching a 2 1/2-hour practice in pads, I'm here to tell you this can be a dangerous team. There are many intriguing parts to this club, and it may all come down to the QB. I now know why Ken Whisenhunt jumped at the chance to be the new coach of the Titans.
Gone are the "big" names of the Titans: Chris Johnson, Rob Bironas, David Stewart, Alterran Verner and Ryan Fitzpatrick. But there was no sense of a loss of leadership or quality players.
Here's a good example of what I saw in Nashville. The team took a five-hour bus ride to Atlanta and scrimmaged with the Falcons all day Monday, only to be followed by a five-hour bus ride home. By all accounts the team performed well and got Tuesday off. Wednesday morning had all the earmarks of a potentially bad practice, but it was an awesome, intense practice which Whisenhunt designed to be tough just to challenge his team. His players responded.
What to expect from the offense
This is Jake Locker's team, for now, and he is primed to take a big step in his career. The Titans didn't exercise the fifth-year option on his rookie contract, which tells me the club is in a wait-and-see position. I sat down with Locker and he told me accepts the challenge.
Whisenhunt has had all of his coaching success with Ben Roethlisberger, Kurt Warner, and Philip Rivers, so coaching Locker -- a more athletic QB -- is a bit different. But after talking to Whisenhunt about Locker he seemed excited about the challenge.
Whisenhunt has always wanted a good running game to complement his outstanding passing game, and he will get it in Tennessee behind a big, tough offensive line and a few solid running backs. Tennessee is the only team I've seen in nine camp stops with two excellent left tackles. Don't be surprised to see both Taylor Lewan and Michael Roos on the field together with Lewan playing the role of the tight end.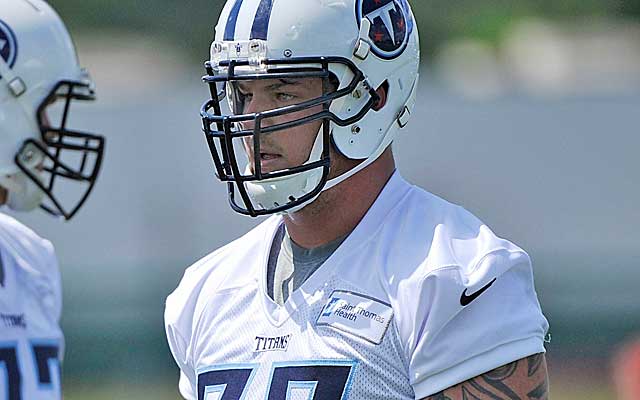 If Tennessee brings a lead into the fourth quarter of games, they will have a solid four-minute offense. In the passing game they will be an effective no-huddle team. The top three wide receivers -- Kendall Wright, Nate Washington and fast-rising Justin Hunter -- will team up with tight end Delanie Walker and recently acquired Dexter McCluster. Whisenhunt will model McCluster's role after what he did with Danny Woodhead last year (76 receptions/106 rushes).
What to expect from the defense
The media guide says the Titans switched from a 4-3 defense to a 3-4 package, which is almost true, but plenty of elements of the one-gap attacking defense remain. Defensive coordinator Ray Horton likes pressure defenses and he has a short, quick defensive tackle in Jurrell Casey, who led the team with 10 1/2 sacks last year and who is not a two-gapping 3-4 nose tackle. Casey told me he wondered about the coaching and scheme change when the new staff arrived, but he is excited about this defense. For now I would be much more comfortable calling this Titans defense a hybrid package. Speaking of hybrid, the Titans have four, not two, outside linebackers that can play hybrid DE/OLB roles. Shaun Phillips, Akeem Ayers , Kamerion Wimbley and Derrick Morgan can all be "jokers," forcing opposing quarterbacks to wonder if they are droppers or rushers.
In the secondary there are very physical safeties in Bernard Pollard and Michael Griffin, but someone has to develop quickly if Horton wants a solid "big nickel" package with three safeties on the field. In my opinion the same could be said for the third corner and a true nickel package. Gone is the leading cover corner Verner and the battle opposite Jason McCourty is coming down to Coty Sensabaugh and Blidi Wreh-Wilson. The loser gets the nickel spot but the team may keep a close look on the waiver wire come late August.
Rookie report
Taylor Lewan is an aggressive, talented offensive tackle that will start for 10 years, barring injury. He is outspoken and, as GM Ruston Webster said to me, "brings a toughness and physical presence we want on this team." RB Bishop Sankey may not be listed as the starter yet but he will play a big role in the offense. He is elusive. Zach Mettenberger is a QB in the mold of what Whisenhunt has had success with in the past, and performed well at the practice I was at this week. He moves better than I thought he would when the pocket breaks down and kind of reminded me of Big Ben. Kendall Wright was sure to tell me how strong his arm is and how good his deep ball is to catch. Keep an eye on him later in the season or maybe next year.
Big questions
1. Can Jake Locker lead this team to the playoffs? Locker has his doubters around Nashville for sure, but he has the mindset of a guy that will not let the negative noise impact him. He is only 3-6 as a starter on the road and 0-4 on the road against division opponents. Three of the first four Titans games are on the road so the test comes quickly.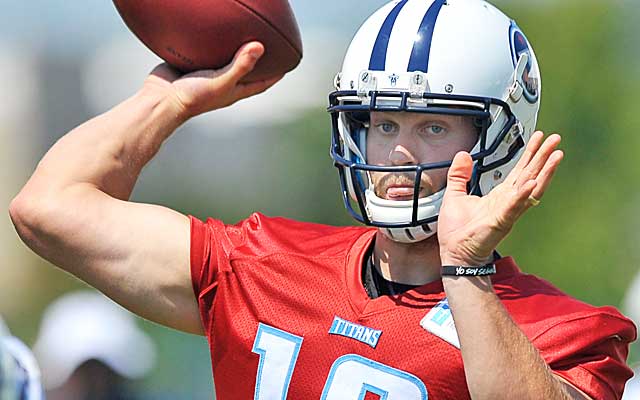 2. Can LTs Michael Roos and Taylor Lewan co-exist? The answer is yes for 2014, but beyond that is anyone's guess. Lewan is getting work at guard for the time being but also takes his share of reps at LT. Lewan called the situation unique with Roos, but made it clear to me he wants to start on opening day. Roos was his same old effective self at left tackle, blocking everyone who tried to rush the QB. Could Roos be traded? I don't think so, but it is always a possibility.
3. Who is the kicker? Bironas is gone and he was 7-for-10 from 40 yards plus last season. Two unknowns are fighting it out for the job and whether it is Maikon Bonani or Travis Coons, it will be an unknown come Sundays.
Outlook
The Titans lost a number of games last year because of turnovers and Whisenhunt will fix that problem with his disciplined approach to the team. The players, coaches and all the people in the building are a little uneasy as Whisenhunt has created an atmosphere of change, and you better be on board. Three of the Titans' first four games are on the road against 2013 playoff teams, which could make for a rough start, but there are nine very winnable games on the schedule. As I leave Tennessee this looks like an 8-8 team in Whisenhunt's first season, but if Locker catches fire it could be a 9-7 team in the hunt for a wild card.
There's also the possibility Goodell steps aside early if his potential successor is progressing...

The league could return to its pre-2009 policy after a year in which pregame protests took...

Arians hasn't said he's retiring, but the team has discussed contingencies for a coaching...
O'Brien would be a coveted coaching candidate if he were to hit the open market

Though owner Jimmy Haslam said Jackson is safe for 2018, new GM John Dorsey may decide oth...

The Texans quarterback was at the middle of controversy last week with how his head injury...