Titus Young misses court appearance for 'personal reasons'
Although former Lions receiver Titus Young missed a court appearance in California on Monday. The judge did not release an arrest warrant.
• 1 min read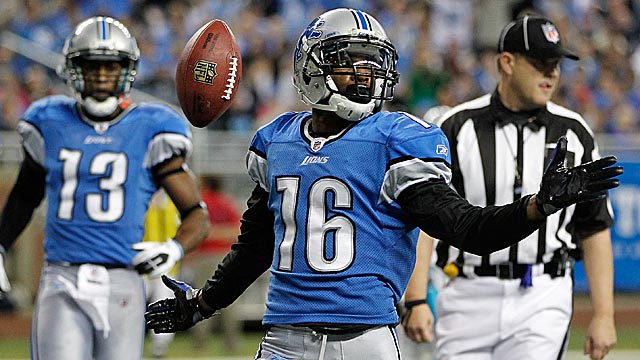 After former Lions receiver Titus Young was arrested three times in the span of a week last May, he spent 27 days in jail before being released this month after paying 10 percent of a $10,000 bond.
He had a court date scheduled for Monday in California, and he didn't make an appearance. That wouldn't be a surprise considering how erratic Young's behavior has been in recent months -- like, refusing to talk to a judge in a previous court appearance -- but in this case, the judge seemed OK with his absence.
Young missed court because of "personal reasons," according to SI.com, and after briefly meeting with Young's attorney, judge Andre Manssourian -- whom Young had ignored previously -- issued an arrest warrant but held it. That means Young will be OK in the eyes of the court as long as he shows up for his next pre-trial hearing, on July 2.
"If the court didn't think there was a good reason [for Young's absence], he would have issued the warrant directly," Orange County deputy district attorney Susan Laird told reporters.
Altus Hudson II, Young's attorney, said Young is undergoing psychiatric treatment. Previously, Young's father said his son suffers from a brain disorder and needs professional help.
"When he's around us, his mind comes and goes," Richard Young said. "He can't really defend himself, and I don't want y'all thinking he's a bad person."
For now, Young is facing 11 charges, including attempted burglary.
The 3-7 Broncos are not in a good place right now

This young fan wins Thanksgiving

Pete Robertson ran a downed punt into the end zone, costing his team 13 yards
The Chargers are finally looking like a playoff team after a 28-6 win over the Cowboys on...

The Vikings, led by Case Keenum, are one of the NFL's best teams

The Vikings' pass rusher revealed the latest addition to the family after sacking Matthew...