T.J. Ward embarrassed by strip club incident, ready to move on
On Wednesday, Broncos S T.J. Ward told reporters that while his recent legal entanglement was 'a little embarrassing,' he added that it was 'kind of blown out of proportion.'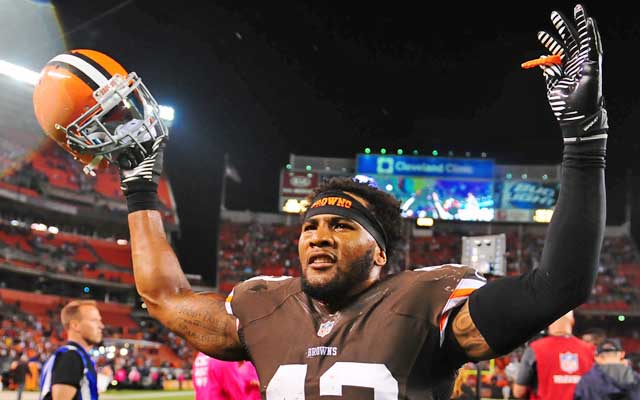 More NFL offseason: League minicamp dates | Latest news, notes
T.J. Ward was signed to a $23 million deal by Broncos this offseason to bring "energy and toughness" to the secondary. But last week, months before the safety will take the field for the first time with his new team, police issued an arrest warrant for Ward on misdemeanor charges of assault and disturbing the peace after he allegedly threw a mug at a strip club bartender.
On Wednesday, Ward told reporters that while his recent legal entanglement was "a little embarrassing," he added that it was also "kind of blown out of proportion."
"It was basically a ticket or a summons, and it wasn't supposed to be a warrant," he said, according to the Denver Post. "There was miscommunication between the police department and myself, so that's why they issued that. But that's all being resolved."
The details: A female bartender at PTs All Nude club told police that she told Ward that he couldn't bring a glass bottle into the club because outside food and drinks were prohibited. She then told club security to tell Ward to take the glass bottle outside.
Several minutes later, Ward returned to the bar and ordered a non-alcoholic drink. He then poured something from his glass bottle into the just-ordered non-alcoholic drink. The bartender took the drink from Ward and poured it out, and at that point, Ward allegedly threw the glass bottle at the bartender.
Police returned to the club on May 16 to watch the surveillance video, which showed a man, believed to be Ward, throw a glass mug at the bartender.
Once Ward learned of the summons he, along with his attorney, appeared in court where he was issued a summons and given a June 23 court hearing.
Coach John Fox said he spoke to Ward prior the incident making headlines.
"Like all legal processes, we do have a process," Fox said. "We feel good about what direction it's going, and we'll work through it."
Ward, meanwhile, says he has learned his lesson.
"You have to be aware of what you do in certain situations and times of the day," he said. "I've learned from that, and I'm looking forward to moving on."
Beast Mode was one of several players to sit during the Raiders-Rams game

The cleaning staff in Houston missed a couple of things while cleaning up after Super Bowl...

Marvin Jones had some serious fun in the end zone after scoring against the Jets
Plus McCaffrey looks awesome, Dak dives right back in and more from Saturday's preseason a...

The second-year quarterback already looks fantastic for the Cowboys

If you're an NFL team and you want Phillip Dorsett, just give the Colts a call