Tom Brady: 'I have to do a better job with my body language'
After visibly showing his frustration a number of times Thursday, Patriots quarterback Tom Brady said he had to show better body language.
• 2 min read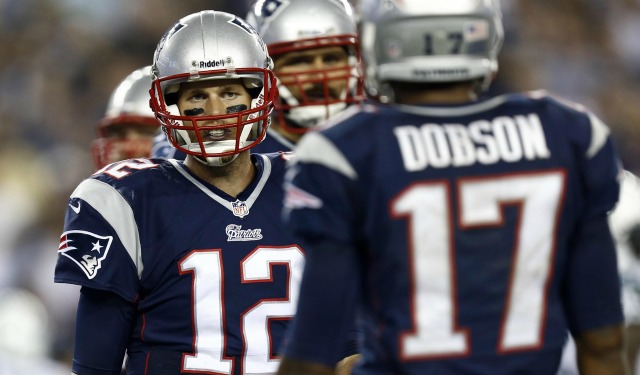 As the Patriots offense struggled vs. the Jets on Thursday, quarterback Tom Brady had one of his worst statistical performances in some time, going 19 for 39 for 185 yards and a touchdown.
It's the first time he completed less than half of his passes in four years.
The team escaped an inferior opponent for the second-straight week, and it was telling how frustrated Brady was with most of his receivers. With the exception of Julian Edelman, the receivers (notably, rookies Aaron Dobson and Kenbrell Thompkins) struggled to make catches and run the routes Brady was expecting.
Here's one example of Brady's frustration, via Deadspin.




Afterward, Brady said he had to control himself a little better, and he was asked if he was worried that showing his frustration in such visible ways could be counterproductive.
"Yeah, it does," he said. "I think I have to do a better job with my body language. I definitely can improve that. I wouldn't say it's a real strong point of mine right now. We'll just try to keep doing better. That's what we've got to do."
Body language? Who are we talking about? One of the best quarterbacks to ever play the game or Cam Newton?
"We have to evaluate and try to get it right," Brady said. "It just doesn't magically come together. You have to work hard at it and you have to concentrate. All of us have to do a better job at that. The passing game is all about anticipation. They have to anticipate what I'm going to do and I have to anticipate what they're going to do. We can do a better job of that."
Said coach Bill Belichick: "I think Tom is probably the best leader I've ever been around so I wouldn't be too critical of him."
As for the criticism levied at Dobson and Thompkins, it's important to note that they are still rookies in just their first season in the league. It's not like they have the experience of a Wes Welker or a Brandon Lloyd.
"I think it's unrealistic for them to feel like they can do it like 10-year veterans," Brady said. "It's not what they are, but they're trying hard and they work really hard and they have a lot of skill and they're great kids. We've just got to keep battling."
Chances are, the Patriots, sooner rather than later, will figure it out.
Follow Josh Katzowitz on Google+
Madden season is almost here again. Here's everything you need to know.

Zeke reportedly didn't do anything wrong but, given his suspension, this isn't a good look

Cutler's newfound enthusiasm in Miami may seem off-putting to some, but to him it's a new...
'Snacks' Harrison made a point to call out Browns fans on Twitter after the game

Martz unloaded on the Rams for hiring the youngest coach in the league

Jackson is deciding between Brock Osweiler, Cody Kessler, and DeShone Kizer