Tom Brady: I probably touch my centers' butts more than their wives
There's a competition going on in New England to be the Patriots starting center and that competition means Tom Brady's touching a lot of butts.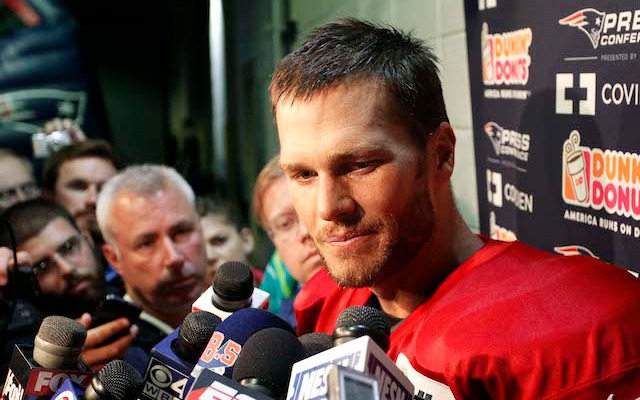 More NFL: Photos |  Videos & GIFs |  Training Camp updates | Manziel watch
When the Patriots kick off their regular season on Sept. 7, we know who the team's starting quarterback will be. That's easy, Tom Brady.
What we don't know though is who the team's starting center will be. Dan Connolly and Ryan Wendell have both been taking reps with the first team during training camp, but it's unclear so far who will be the starter in Week 1. 
Brady was asked on Wednesday if his play has been affected by Connolly and Wendell splitting reps. It was then and there that Brady proved not all answers given by Patriots players are robotic Belichickian responses.  
"I've got confidence in those guys," Brady said, via the team's official website. "I love both Dan and Wendy. I love those guys. They work so hard. The center-quarterback relationship is a pretty special one. I've got my hands on their butts probably more than their wives, so it's a pretty unique trust and relationship you have."
Brady was then asked if his quote was 'off the record.'
"It's the truth," Brady responded. 
Only one of these guys can be the Patriots starting center, so it looks like at least one wife will get her husband's butt back once the season starts. 
The Cowboys legend admits he's not on 'great' terms with the Cowboys suspended running bac...

Here's the latest information on injured Steelers linebacker Ryan Shazier

The Titans quarterback has had a frustrating season but maintains that's not an excuse for...
The Seahawks defensive lineman almost ended up in the stands fighting Jags fans last Sunda...

The Colts quarterback has been out of the country since mid-November

The MVP candidate is fresh off a successful surgery for a torn ACL