Tom Brady, not Peyton Manning, tops preseason All-Kirwan Team at QB
Tom Brady does more with less than any other QB in the NFL, so he gets the nod as the top quarterback. Jimmy Graham, fresh off a new contract, is the tight end.
More NFL: Photos | Videos & GIFs | Stories | Training Camps | Manziel watch
It's time for the preseason All-Kirwan Team, my list of the best NFL players at each position. And what's a preseason list without some heated debate?
I'm going with Tom Brady at quarterback over Peyton Manning, Aaron Rodgers and Drew Brees , while Adrian Peterson -- not LeSean McCoy or Jamaal Charles -- is my top running back.
Check out the list, debate it, and let me know what you think.
Offense
QB -- Tom Brady, New England Patriots : No one does more with less. Last year he lost his top five receivers and still won the division. This year he should be even better as the young receivers come back with experience.
RB -- Adrian Peterson, Minnesota Vikings : I thought about LeSean McCoy for this spot but old reliable AP is still king of the hill for me.
FB -- Marcel Reece , Oakland Raiders : Reese can play fullback, running back, H back and give you a full day's work. Versatility is his biggest asset.
WR -- Calvin Johnson , Detroit Lions : The single most dangerous offensive receiving threat in the NFL. 206 receptions, 17 touchdowns and a 17 yard-per-catch average over the past two seasons.
WR -- Brandon Marshall , Chicago Bears : Look at his numbers over the past two years: 218 receptions and 23 touchdowns.
TE -- Jimmy Graham , New Orleans Saints : The Saints were happy to fork over 10 million a year for the best "TE" in the league.
OT -- Joe Thomas , Cleveland Browns : Thomas goes under the radar because of the lack of success the Browns have, but he makes it look easy.
OT -- Duane Brown , Houston Texans : He plays on the left side just like Joe Thomas but I would rather have him on the right side than any right tackle. Keep an eye on D.J. Fluker, who will get strong consideration for this spot by the end of the season.
OG -- Jahri Evans , New Orleans Saints: The most dominating guard in the NFL and the reason Drew Brees can sit in the pocket and find Jimmy Graham.
OG -- Kyle Long , Chicago Bears: This spot belonged to Logan Mankins but as a personnel director said to me, "Long might be the best guard in the league already." Watch the film. He is on his way to a great career.
C -- Ryan Kalil , Carolina Panthers : The most versatile center in the league. He can block a nose tackle or get up on a linebacker.
P -- Andy Lee , San Francisco 49ers : Lee led the NFC with a 48.2 yard average and also had a 41.7 yard net. The new stadium in San Francisco should help his production go even higher.
K -- Stephen Gostkowski , New England Patriots: Gostkowski led all NFL kickers with 158 points and he kicks outside.

Returner -- Cordarrelle Patterson , Minnesota Vikings: He had the best kick return average last year (32.4 yards and the most KR touchdowns (2).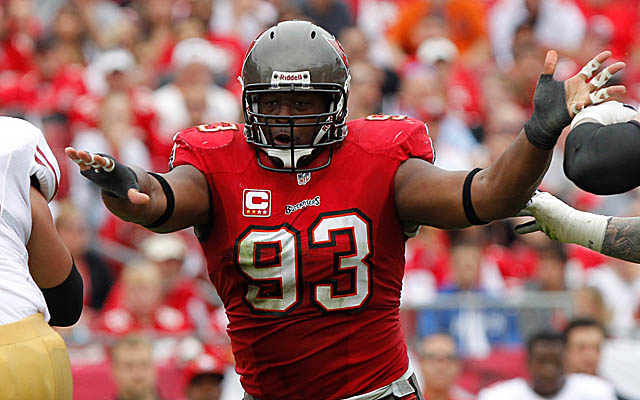 Defense
DE -- Robert Quinn , St. Louis Rams : Quinn is only beginning a career of pass-rush dominance. Last year's 19 sacks, 34 tackles for a loss and seven forced fumbles could be replicated this season for the 24-year-old defensive end.
DT -- Ndamukong Suh , Detroit Lions: Suh is so physically imposing it is hard not to put him on this team even if his sack numbers were down in 2013 (5 1/2). His contract is out of whack but he is still a dominating player on the inside.
DT -- Gerald McCoy , Tampa Bay Buccaneers : Some say he's better than Suh and his 9 1/2 sacks make it an interesting discussion, but for now, being second best isn't bad.
DE -- J.J. Watt , Houston Texans: Watt plays on the left side and can play the run as effectively as the pass. I expect him back in 13-15 sack range this year.
LB -- Luke Kuechly , Carolina Panthers: The best inside linebacker in the NFL with a great feel for the passing game as well as the run.
LB -- Lavonte David , Tampa Bay Buccaneers: David is a true hybrid linebacker who can be a run and hit tackling machine or a cover slot player with safety skills.
LB -- Patrick Willis , San Francisco 49ers: Some believe Willis' teammate NaVorro Bowman belongs in this spot but he's coming off a serious injury and Willis collects 100+ tackles every year like it's nothing.
CB -- Richard Sherman , Seattle Seahawks : Sherman is a big play waiting to happen on every snap. Some believe the big new contract will go to his head but I don't think so, as he has his eyes on getting to Canton some day.
CB -- Patrick Peterson , Arizona Cardinals : Peterson is the most physical corner in the NFL and has the return skills to make him a candidate for that spot as well.
S -- Earl Thomas , Seattle Seahawks: Thomas can cover the field from sideline to sideline and reacts so quickly to the play in front of him that he's a blur on the TV screen at times. The true defensive leader of the world champion Seahawks.
S -- Jairus Byrd , New Orleans Saints: Byrd is a free safety with ball-hawking skills who should get even more opportunities now that he is in New Orleans instead of Buffalo. The Saints offense will score points and that puts opponents in catch-up mode.
It looks like we're going to have a quarterback competition in Jacksonville

Smith is facing up to seven years in prison if convicted

Plus everything else you need to know about Week 2 of the 2017 NFL preseason
This is why being a rookie in the NFL isn't fun

The Raiders running back went Beast Mode on reporters

Elway tried his best to emphasize how complicated the situation is