Tom Brady throws Samsung under the bus, iPhone reaps $733K benefit
There were probably some sad faces at Samsung's headquarters after Tom Brady's Deflategate statement was released on Wednesday.
There were probably a few panic attacks at Samsung's headquarters on Wednesday morning after Tom Brady released his Deflategate statement -- And that's because Brady basically blamed everything on Samsung. 
Part of the reason Brady was suspended is because he wouldn't turn over his cell phone. The thing is, Brady couldn't have turned over the cell phone if he wanted to because according to him, it was broken. 
In his statement, the Patriots quarterback made sure to mention the particular brand of his broken cell phone and that brand was Samsung. 
The news actually got worse for Samsung after that because Brady didn't go out and buy another Samsung, he made sure to mention that he switched to an iPhone. 
According to the Apex Marketing Group, Samsung took a "negative value" hit of over $600,000 for the mention in Brady's statement. 
Brady's mention of switching Samsung for an iPhone was a negative value of $617K for Samsung in 1st 2 1/2 hours, says @ApexMGAnalytics

— Darren Rovell (@darrenrovell) July 29, 2015
Brady didn't say how his phone broke, I'm guessing he broke it when he jumped off that cliff, but how he broke it doesn't matter, it's the fact that he didn't buy another Samsung that really hurt.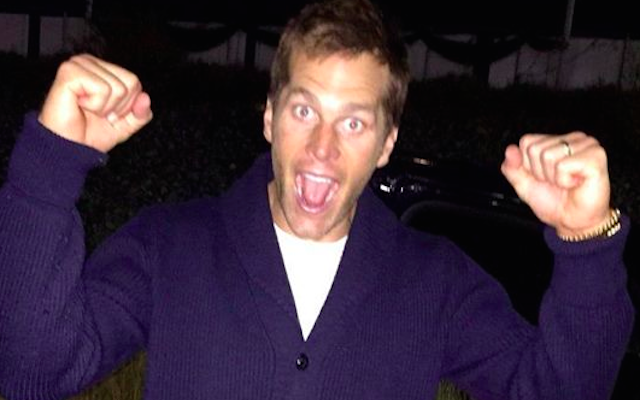 After Brady mentioned that he dumped his Samsung and joined "Team iPhone," Apple basically got $733,000 in free advertising because of all the people who read the statement.  
Brady's mention of switching his Samsung for an iPhone was worth $733K to Apple in mentions in 1st 2 1/2 hours, says @ApexMGAnalytics

— Darren Rovell (@darrenrovell) July 29, 2015
Now, you might be thinking, "This can't be right, no one actually cares what kind of cell phone Tom Brady uses."
As it turns out though, people do care. 
Tom Brady deserves AT LEAST a 4-game suspension for being a Samsung guy in the first place. iPhone or Die

— Jordie (@BarstoolJordie) July 29, 2015
Honestly the most disturbing news of the day is that tom Brady used a Samsung phone. Cmon Tom your an nfl Qb, gotta be team iPhone

— Chipper Rossino (@ChippeRossino) July 29, 2015
The worst part of all of this is Brady explaining that he switched from a Samsung to an iPhone 6.

— Nick Arca (@narca9) July 29, 2015
More importantly Tom Brady just set a precedent that the iPhone is better than Samsung

— Brock (@BrockOgami) July 29, 2015
How pissed is Samsung that the world is waking up reading about how Tom Brady switched to an iPhone 6 after his Samsung broke.

— Ben Sprague (@bensprague) July 29, 2015
Gotta give Tom Brady credit. Smart decision to switch from Samsung to the iPhone 6. Well done, #12

— Andrew Farrell (@andrewj_farrell) July 29, 2015
The former Patriots tight end is apparently hanging up his cleats for good

Odell Beckham being sued for millions of dollars

Police believe that three men robbed Gronk's house in February
Find out how Roquan Smith, Tremaine Edmunds and the rest of the top linebackers stack up

Rod Woodson seems to be picking a fight with his former team

Suh has gotten offers from multiple contenders, but the Jets may be offering the most mone...