Tom Brady's mom says quarterback is the fastest football player on the field
She is wrong, but her son is at least the best quarterback in the NFL
• 1 min read
Tom Brady is the best quarterback in the NFL. He might be the greatest quarterback in the history of the NFL. You could even make the argument he's the greatest player in the history of the sport.
He is not, however, the fastest player. That is not an argument you can make -- unless you're Tom Brady's mother.
Apparently, Brady's mom believes that Brady is fast. Just how fast? The fastest.
Take a look at this exchange between reporters and Brady from his weekly press conference:
Q: In reference to your quickness in the pocket, I know you're not fast but --

TB: Don't tell my mom that either because she would totally disagree with that.

Q: She thinks you're fast?

TB: Yes, she thinks I'm very fast. I know. She says, 'I think you're the fastest person on the field.' I say, 'Mom, you are crazy. No way.' That's moms.
Even better: Watch it!
OK, so clearly, she's biased just like all of your least favorite sportswriters. Because Brady is not fast.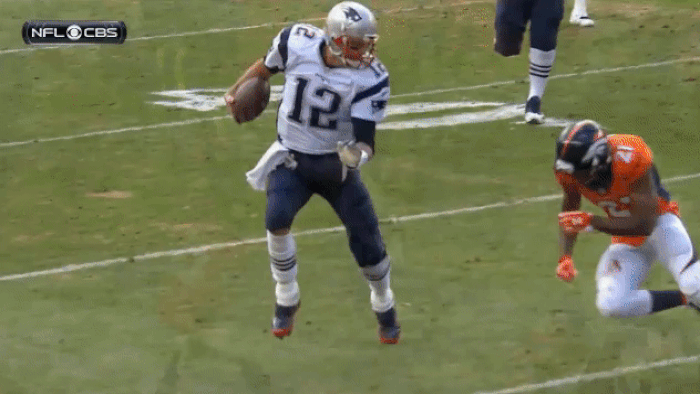 But that doesn't mean he isn't an effective runner. He's the best quarterback sneaker in the entire league, he once juked Brian Urlacher, and he's a master at maneuvering within the pocket.
But again, Brady is not fast.
His mom, though, seems very supportive. And I support that.
But Tom Brady is not fast -- just so we're clear.
Jonathan Martin is facing some serious charges after being involved in an incident in Febr...

Rob Gronkowski definitely knows how to celebrate St. Patrick's Day

The Chargers just beefed up their offensive line with the former Dolphin
After Gang Green's aggressive trade up with the Colts, the quarterbacks fly off the board...

Introduced to Philadelphia media, the new Eagles defensive end says he's ready to go post-...

Gotham Chopra just spent a year with Brady and doesn't think the QB will be playing much l...