Tom Coughlin annoyed at all the questions about David Wilson
The fallout from David Wilson's two-fumble performance continued into Wednesday. And Giants coach Tom Coughlin is tired of it.
• 2 min read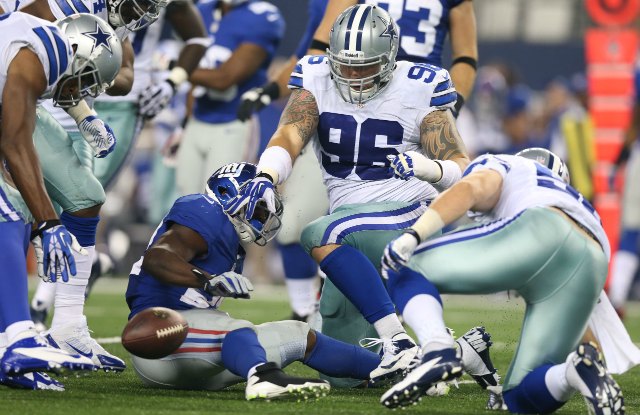 Giants running back David Wilson might not care what the fans and fantasy owners think about his two fumbles from Monday, but he probably has more invested in what his coach thinks.
And his coach, by the way, still isn't happy.
Not only is Giants coach Tom Coughlin still peeved at Wilson for his turnovers -- you'll recall that Coughlin benched him for multiple games last season after Wilson fumbled just once in the 2012 season opener -- but he's tired of reporters asking him about it.
"Geez. Man, oh man, oh man, oh man," Coughlin said Wednesday morning via the NY Daily News. "I can't say any more about David Wilson, except that if I watch him in practice and his technique doesn't improve, I'll let you know. OK? I'll let you know."
(I mean, the team already signed running back Brandon Jacobs. Coughlin's probably thinking, "What else do you want?!?" While I'm being sarcastic in that last sentence, Coughlin doesn't have great other options. Last year, he could turn to the Ahmad Bradshaw, but Bradshaw is in Indianapolis. And for now, No. 2 running back Andre Brown is on short-term IR.)
Wilson hasn't been too forthcoming with reporters since Coughlin benched him midway through Monday's loss to the Cowboys. But he did let loose on Twitter.
Ayy to fantasy participants and pissed Giants fans ur irrelevant to me!!! Nobody wants me to succeed more than ME!!! WATCH US WORK!

— David E. Wilson (@4stillRunning) September 10, 2013
Coughlin, though, would prefer Wilson focus his attention on, you know, not fumbling any more.
"In practice he's going to have to have the ball in that position all the time, not just when he thinks he's running free and there's nobody around him," Coughlin said. "I want to see the ball in the right spot all the time …
"And quite frankly there's nowhere else to go with this. I don't know what else to say to you. I realize it's a major issue for everybody. But there's a way to carry the ball and there's a way to protect the ball. Ball security is No. 1. And that's what he's going to have to demonstrate."
Strangely, when his press conference was over, Coughlin stepped off the stage and exclaimed, "Let's talk about David Wilson!" I assume that was a sarcastic retort to the scribes. But yeah, we're going to have to continue the discussion, because until Wilson stops giving up the ball, this issue isn't going away.
Follow Josh Katzowitz on Google+
The Raiders running back went Beast Mode on reporters

Elway tried his best to emphasize how complicated the situation is

Plus everything else you need to know about Week 2 of the 2017 NFL preseason
The executive director NFLPA has an ugly prediction for the future of the NFL

Instead of practicing, Titans players and coaches will be hanging out with their eclipse g...

The defensive tackle might not be ready to play in Week 1