Tom Coughlin gets one-year extension from Giants
Tom Coughlin received a one-year extension from the Giants the coach told media during the 2014 NFL Combine.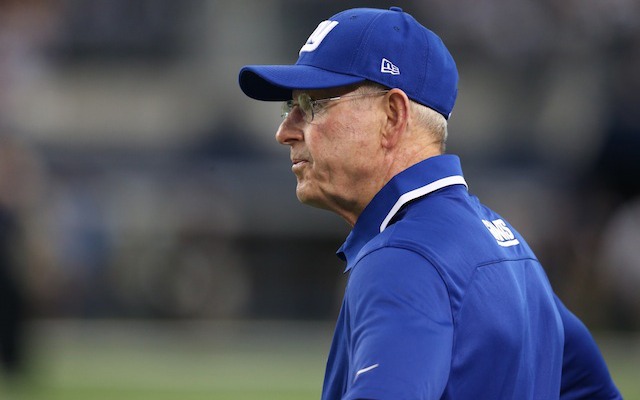 More Draft: NFL Mock Drafts | Big Board | NFL Combine news and updates
INDIANAPOLIS -- Tom Coughlin was heading into the final year of his contract in 2014 but that's no longer the case as the Giants have given their head coach a one-year extension on his deal.
Coughlin told reporters at the 2014 NFL Combine on Friday that he'd been given a one-year bump on the deal.
"I really haven't paid a lot of attention to it; it's not a big deal," Coughlin said. "A year has been added to the contract."
Reports have pegged it as a $7 million, single-year deal tacked onto the previous year that Coughlin had on his contract.
Coughlin was asked if he was approached by the team for a longer deal and said that wasn't the case. 
However, the Giants letting Coughlin coach into the final year of his contract would've been a shock. Even though Coughlin's got two Super Bowl rings, he's still very much questioned by the general public when it comes to his tenure in New York.
2013 was a nightmare for the Giants, with a slow start and inability to really ever get a running game going. He'll have a much easier time in 2014 if he's right about Eli Manning bouncing back. 
And he'll also get to avoid any questions about whether or not the Giants will renew his contract.
Check out the uniforms that Kansas City and Oakland will be wearing on Thursday

Cliff Avril's NFL career might be over

Oct. 18 is a very special day in NFL lore
The Falcons should not be making any plans for Minnesota in February

The Colts star quarterback could end up missing the entire 2017 season

Not even two Super Bowl wins is enough to get Eli Manning any respect