Tom Coughlin was the NFL's oldest coach, here's who takes his place
The oldest head coach in the NFL is no longer Tom Coughlin.
With Tom Coughlin offically out as coach of the New York Giants, that means one thing: He's no longer the oldest head coach in the NFL. At 69 years old, Coughlin was the league's oldest coach during the 2015 season. 
So who takes his spot as the NFL's oldest coach?
The answer might surprise you.
As long as no one over the age of 65 gets hired between now and September, that would mean that Pete Carroll will enter the 2016 season as the NFL's oldest head coach. The 64-year-old Carroll is seven months older than the next oldest coach on the list, Bill Belichick, which means that having an older coach has been a good thing lately. 
Three of the past four Super Bowls have been won by one of the league's three oldest coaches (Coughlin, Belichick, Carroll).
NFL's 10 oldest coaches
1. Seahawks coach Pete Carroll, 64 (Turns 65 on Sept. 15, 2016)
2. Patriots coach Bill Belichick, 63 (Turns 64 on April 16, 2016)
3. Cardinals Bruce Arians, 63 (Turns 64 on Oct. 3, 2016)
4. Lions coach Jim Caldwell, 60 (Turns 61 on Jan. 16, 2016)
5. Bears coach John Fox, 60 (Turns 61 on Feb. 9, 2016)
6. Vikings coach Mike Zimmer, 59 (Turns 60 on June 5, 2016)
7. Rams coach Jeff Fisher, 57 (Turns 58 on Feb. 25, 2016)
8. Chiefs coach Andy Reid, 57 (Turns 58 on March 19, 2016)
9. Buccaneers coach Lovie Smith, 57 (Turns 58 on May 8, 2016)
10. Bengals coach Marvin Lewis, 57 (Turns 58 on Sept. 23, 2016)
Note: If Jim Caldwell gets fired, everyone below him would move up one spot and Chuck Pagano, 55, would move into the No. 10 spot. If Caldwell and Pagano both get fired, then Gary Kubiak, 54, would move to No. 10.
Note II: The NFL's youngest coach in 2014 was Dolphins interim coach Dan Campbell (39). However, if we're not counting interim coaches -- and let's not -- then the NFL's youngest coaches are San Diego's Mike McCoy (43, turns 44 on April 1) and Pittburgh's Mike Tomlin (43, turns 44 on March 15)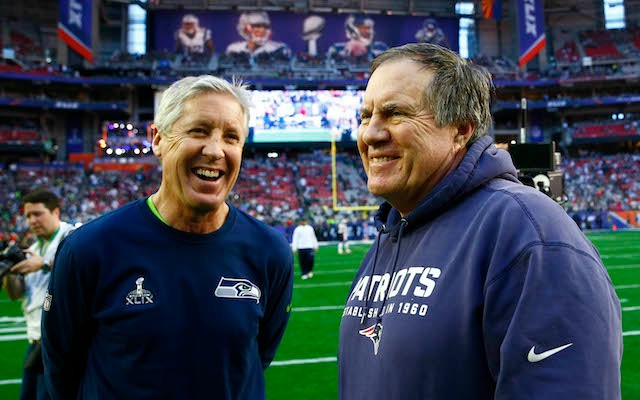 Pick Six Newsletter
Get the day's big stories + fun stuff you love like mock drafts, picks and power rankings.
Please check the opt-in box to acknowledge that you would like to subscribe.
Thanks for signing up!
Keep an eye on your inbox for the latest sports news.
Sorry!
There was an error processing your subscription.
Bell isn't taking part in voluntary workouts with the rest of his Jets teammates

Breaking down the AFC East win totals for the 2019 NFL season

40 Yards of Gold is hosting a bracket to determine the fastest player in professional foot...
We loved these players as 2018 prospects, and now they've got the opportunity for a big 20...

Antonio Brown is gone and Smith-Schuster has been elevated to Pittsburgh's No. 1 pass-catching...

L.A. is up against the cap but could use some depth on the edge and at guard