Tom Crean not amused by John Harbaugh's Michigan State hat
Ravens coach John Harbaugh decided to take in some college basketball on Sunday and he wore a Michigan State hat. His brother-in-law who coaches Indiana was not amused.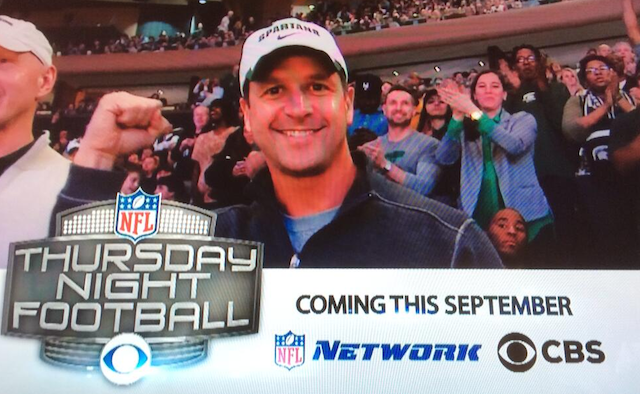 When it comes to cheering for a college basketball team, apparently Ravens coach John Harbaugh doesn't share allegiances with anyone in his family. Harbaugh was at Madison Square Garden for the Elite Eight and he was cheering for Michigan State, a decision that could cause a serious rift in the Harbaugh family. 
For one, John's brother Jim is not a Michigan State fan. As a matter of fact, Jim probably hates Michigan State because Jim went to Michigan and people who went to Michigan don't like people who went to Michigan State. 
Not only that, but Michigan State beat Indiana twice this year. Why am I telling you that? Because Indiana is coached by Harbaugh's brother-in-law Tom Crean. So Jim and Tom are probably wondering what's up with John.
Forget probably, Tom Crean is definitely wondering what's up with John's allegiance: 
I see my Bro. In Law John Harbaugh in a Spartans hat at MSG. INTERESTING. On my way to @Lids for a Patriots or a Steelers Hat. He won't mind

— Tom Crean (@TomCrean) March 30, 2014
To make things even weirder, it doesn't look like John showed up at the game wearing any hat. So he either bought one or someone gave it to him. 
Guess who's rooting for MSU? How about Ravens coach John Harbaugh? #ncaamarchmadness2014 #ravens #SpartanNation pic.twitter.com/SAihrJWsnS

— Josh McCawley (@justjoshing13) March 30, 2014
In the end though, it looks like Jim and Tom will get the last laugh because Michigan State lost to Connecticut 60-54. 
In case you're wondering, John went to Miami (Ohio), a school that's building him a statue. Also, well done by the CBS camera guys and the guys in the truck to spot Harbaugh in the crowd and then throw a promo up for Thursday Night Football. By the way, Thursday Night Football is on CBS this fall. 
The Panthers' defensive coordinator has emerged as the top candidate for the Cardinals

LeBeau has indicated that he's happy retiring if he isn't coaching with the Titans next ye...

With their 2017 season over, it's time for Vikings fans to turn their attention to the dra...
With their 2017 season over, it's time for Jaguars fans to turn their attention to the dra...

With just a few tweaks to the roster, the Jaguars could be the new AFC powerhouse next sea...

Go ahead and buy your championship gear ahead of time, Eagles fans