Tony Dungy: NFL needs to punish Jim Irsay
Tony Dungy believes the NFL has to punish Jim Irsay for his arrest for driving under the influence and possession of a controlled substance.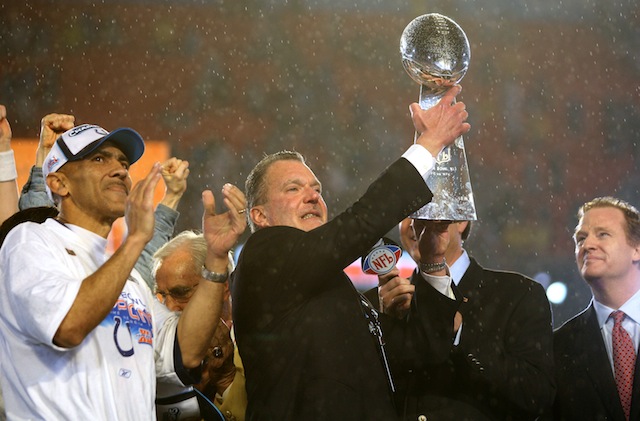 Colts owner Jim Irsay was arrested Sunday night and charged with operating a vehicle under the influence and possession of a controlled substance. He's since checked into treatment, but there's no word what the NFL plans to do about his arrest.
His former employee Tony Dungy -- who's also the only coach to bring Irsay's Colts a Super Bowl victory -- said on 105.3 the Fan he believes the NFL has to take action.
"I think they have to. Everybody is going to look at this and say, when this situation arises with a player, that action is taken," Dungy said. "It happened with front office people in Denver, I believe last year, and action was taken. If the commissioner doesn't step in with something, I don't think it will be good. I think something has to be done, and again, hopefully everyone benefits from it."
Dungy, who coached the Colts from 2002 to 2008 and won Super Bowl XLI against the Bears, has been quite close to Irsay for a while. 
And the current NBC analyst said he's "heartbroken" to see what happened to a "special guy" like Irsay. 
"I was heartbroken. I've known Jim Irsay for 13 years now," Dungy said. "He's a special guy to me -- a person who is very self-sacrificing and would do anything for you. He did some unbelievable things for me, for my family, for the city of Indianapolis, and I just want him to do well. He's struggling with some prescription painkillers and other medications -- he made a big mistake. I was sad to see that but I'm hoping that this will be the silver lining in the cloud -- he will reach out and get some help and grow from this."
Everyone wants Irsay to get help, and growing from this would be a good thing. But ultimately Dungy is correct: if the NFL wants to avoid looking hypocritical when it comes to punishing crimes like this, the league has to put the hammer down on Irsay the same way they would any player or executive who found themselves in a similar situation.
A Dallas Cowboys Salute to Service thermal pullover makes for the best early Black Friday...

It's time to hook up that jersey of your favorite NBA player with some Black Friday deals

The Cowboys owner says this has nothing to do with Goodell's six-game suspension of Ezekiel...
John Elway addresses the Broncos' major need at quarterback by drafting the Oklahoma State...

The QB carousel could spin more than usual in 2018 with some big names likely on the move

The Pro Football Hall of Fame is one step closer to announcing the Class of 2018