Tony Gonzalez: Falcons QB Matt Ryan not elite; I was open to trade
Tony Gonzalez says Falcons quarterback Matt Ryan is close to being elite, but he's not quite there yet. Also, he was unhappy he wasn't traded last season.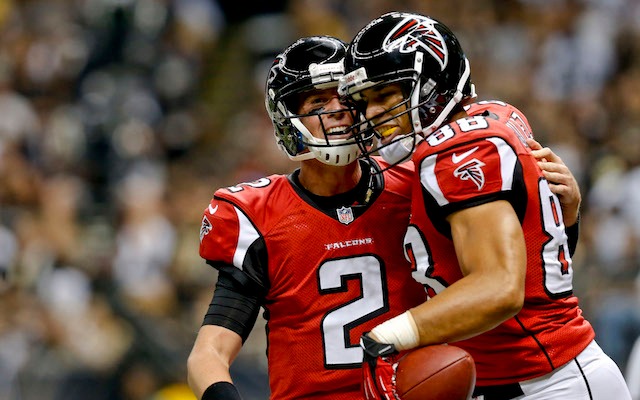 Every NFL offseason there seems to be a debate about which quarterbacks in the league are elite and which ones aren't. Thanks to Tony Gonzalez, the debate this offseason is probably going to revolve around Falcons quarterback Matt Ryan. 
In an interview with ESPN the Magazine, Gonzalez had this to say about his quarterback of the past five seasons, "Matt's an excellent quarterback, but he's not elite," Gonzalez said as he almost pinched together his thumb and index finger. "He's this close. He'll get there, but he has some learning to do."
Ryan might not be an elite quarterback but he's definitely being paid like one. The 28-year-old signed a five-year, $103.75 million extension in July that averages out to $20.75 million per year, second only to Green Bay's Aaron Rodgers. 
Although Gonzalez doesn't think Ryan is elite, he did tell the Falcons official website that Ryan is "better than any other quarterback I've ever played with." That's kind of a back-handed compliment though when you consider Gonzalez has played with Elvis Grbac, Trent Green and Damon Huard. 
It's not all bad news for Falcons fans though. The two most recent quarterbacks who had their eliteness called into question? Joe Flacco and Eli Manning. Things worked out for them. 
Huge for Matt Ryan to get the "non elite" designation. Last two guys won the Super Bowl the very next year.

— Will Brinson (@WillBrinson) February 6, 2014
Besides talking about Ryan, Gonzalez also touched on a few other topics during his interview. For instance, he was open to being traded before the Oct. 29 deadline after the Falcons fell apart in 2013. Atlanta was 2-5 at the point. 
"You trade me to a team that needs me, that wants to make a serious run in the playoffs and the Super Bowl," Gonzalez said. "You get something in return for a guy who you know won't be here next year. And the season isn't going anywhere anyway. That's rational."
According to the ESPN story, Gonzalez was at a restaurant with his wife expecting to be traded and the two were waiting for a call from the Falcons. Gonzalez's phone never rang and he wasn't happy about not being traded. 
Back in October, Gonzalez had said he'd 'listen' if Atlanta was interested in trading him. 
It really made no sense for the Falcons to keep Gonzalez. Getting any draft pick for a guy who currently has no plans of playing in 2014 would have been a steal for a team that has a few holes to fill. 
Maybe the Falcons kept Gonzalez though because they hope he'll play in 2014. The tight end is technically under contract for one more season and he recently told Ryan that if the team got hot in November 2014 he could maybe "come back for the last two months."
Plus the catch rule's still terrible, the Panthers quashing the Packers' hopes at playoffs...

Week 15 provided a lot of clarity to the NFL postseason

The Cowboys move to 8-6 and are still in the playoff race with two regular-season games to...
The Steelers lost to the Patriots in controversial fashion after the 'Calvin Johnson Rule'...

The Raiders lost on a bizarre final offensive play

Here are the Week 15 grades for every team that played Sunday