Tony Romo hasn't played golf in 'almost a year and a half'
Tony Romo said recently he hasn't played golf in nearly two years as a result of his back surgeries. And he doesn't plan on playing before training camp.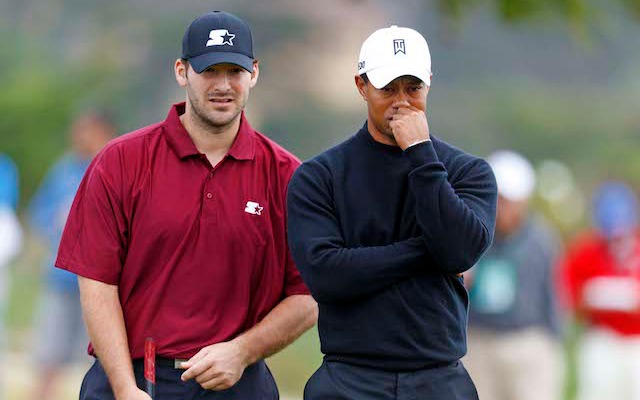 When the list of national 2014 US Open qualifiers came out, I scanned it, instinctively looking for Tony Romo's name. It wasn't there and, despite the Cowboys quarterback being an avid golfer, Romo's name hasn't been on a tee sheet in almost two years.
He told the Dallas Morning-News it's been "awhile" since he stepped on the course thanks to a pair of back surgeries over the past two years.
"It's been awhile," Romo said. "Almost a year and a half."
Romo was one of the bigger golf nuts around the NFL prior to his surgeries. He played so much golf people would criticize him for getting distracted from the game of football. (The absolute height of ridiculousness when it comes to Romo's critics.)
But physically he's been unable to play and he won't be playing during the three-week break between now and training camp either.
"Sometimes you put yourself in a tough position when coming off a surgery," Romo said. "That's why we have a pitch count with me throwing and why we do it that way."
Romo underwent back surgery in late December last year, muting any chance of him playing in Week 17 against the Eagles with a playoff spot on the line.
Part of the logic, even at the time, was to perform the surgery immediately and get Romo back on the field for offseason activities.
"You've got to get yourself healthy then figure out where you're at and go from there for everything," Romo said. "It's not just golf. It's a way you live life.
"I don't think about it as [giving up] golf. It's just life. You want to give yourself the best chance to succeed on the football field."
If that sounds meditative, consider at least Romo's got a good sounding board. He's been chatting up Tiger Woods ever since the operation. Both guys are dealing with back issues directly affecting their ability to stay on the field and/or course.
Tiger's lucky, though, he's already got the wins in his bag. Romo heads into 2014 with his critics as loud as ever.
Stephen Hauschka explains why it's important for white people to understand racial inequal...

Surgery is going to end Jason Verrett's season for the second year in a row

There's still a couple of celebrations you're not allowed to do in the NFL
NFL players aren't very happy with Donald Trump

NFL commissioner wasn't thrilled with the president's comments from Friday

Mike McClure, a DFS pro with more than $1M in winnings, gives optimal DraftKings and FanDuel...