Tony Romo undergoes back surgery, out for rest of season
The Cowboys announced Friday that quarterback Tony Romo has been placed on the IR list.
• 2 min read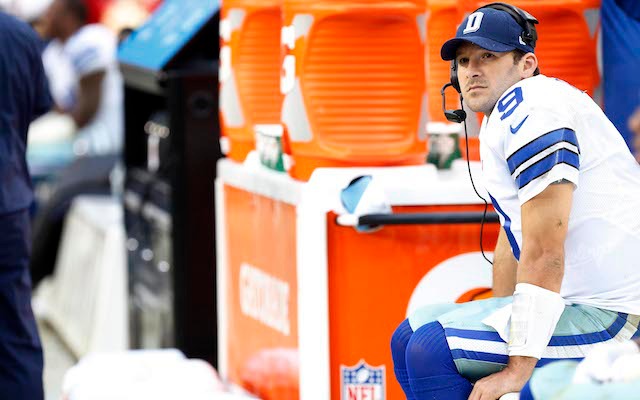 So much for Tony Romo playing in Week 17.
The Cowboys said Friday that Romo has undergone back surgery and has been placed on the IR list, ending his season with a week to go and with the team set to play the Eagles for the NFC East title on Sunday and a spot in the postseason.
This means that Kyle Orton, who hasn't started a game since 2011, will face Philadelphia with the newly-signed Jon Kitna as the backup quarterback.
"We spent the week exhausting all options regarding Tony's situation, treatment, rehab all the different things. We consulted a lot of different people on this," Garrett told reporters. "We just felt like, as we discussed it, as yesterday wore on, that this was the best decision for him and our organization moving forward. We felt like it was better to have this done sooner rather than later."
News first broke earlier this week that Romo had suffered a herniated disk that would require surgery. Romo had hurt his back in Week 16 vs. the Redskins, but he still managed to throw a game-winning 10-yard touchdown pass late in the fourth quarter to get his team to this winner-take-all contest vs. Philadelphia.
Garrett maintained that Romo was day-to-day, but he did allow, "If Tony can't play, let's stick Kyle in there and go forward."
Later in the week, the Cowboys tried to make Romo's playing status more vague, suggesting that Romo could actually be cleared to play.
"All I'm saying is he has back spasms, symptoms that we're treating as we go along in the week to see if he will play," owner Jerry Jones said. "There is nothing structurally that will rule him out if he feels good and is cleared to play. Nothing."
Garrett said that although Romo was uncomfortable, his back felt a little better by the middle of the week. The need for surgery on Friday pretty much disputes that notion put forth by Garrett and Jones.
As far as how long the back surgery will keep Romo away from football:
Garrett said the team believes the surgery will fix the problem. Romo will be back "sooner rather than later." Not this season, obviously.

— David Helman (@HelmanDC) December 27, 2013
NFL.com is reporting that the timetable for Romo's recovery is about four months, meaning he should be ready to return by the team's OTA workouts in May.
As for how this will affect Philadelphia's preparation, well, it probably won't. The team was preparing for Orton all along.
"We were kind of banking on this," Eagles defensive coordinator Bill Davis told ESPN's Ed Werder.
Follow Josh Katzowitz on Google+
If this fan was general manager of the Jaguars, Blake Bortles probably wouldn't be quarter...

It looks like we're going to have a quarterback competition in Jacksonville

Smith is facing up to seven years in prison if convicted
Plus everything else you need to know about Week 2 of the 2017 NFL preseason

This is why being a rookie in the NFL isn't fun

The Raiders running back went Beast Mode on reporters