Toomer: 'I don't see Sanchez being the starter the entire season'
Former Giants receiver, who doesn't mind reveling in controversy, said he thinks Tim Tebow will overtake Mark Sanchez as the Jets starting quarterback.
• 2 min read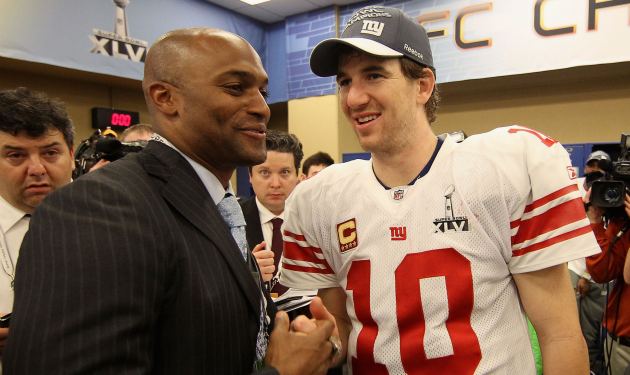 Presumably, Amani Toomer doesn't believe Tebow is a better quarterback than Manning. (Getty)
Since he retired from pro football and began serving as a guest analyst on ESPN radio in
New York
, former Giants receiver Amani Toomer hasn't had a shortage of opinions. He recently called tight end
Jeremy Shockey
a
"bad teammate, a worse person,"
and last year, he referred to commissioner Roger Goodell as a
Gestapo-type leader
.
So, with bated breath, some people couldn't wait to hear Toomer's take* on Jets acquisition of
Tim Tebow
and what it means for
Mark Sanchez
.
*If Toomer's segment isn't actually called Toomer's Take on the radio, it most definitely should be.
And while he wasn't as vitriolic as he's proved he can be, Toomer did have an interesting take on the matter and who should be leading the Jets offense. He said he'd rather have Tebow as the starting quarterback, and Toomer believes at some point this seasno that the change will be made from Sanchez to Tebow.
"I still feel that way," Toomer said Monday, via
ESPN New York
. "Here's a guy, all the pundits say what he can't do, that he can't play. These are guys he probably looked up to growing up. All of a sudden, you get your opportunity to be on the big stage, and all these guys are talking bad about you, and he's still -- no matter what happens in the fourth quarter -- he makes plays and win games. There's something to be said about that."
That's true. There
is
something to be said for leading your team to victories. But lest we forget, Sanchez helped the Jets to back-to-back
AFC
title game appearances during his first two seasons in the league. Sanchez still made plays and won games, like Tebow.
But Toomer also says that what Tebow accomplished in
Denver
last season, including a win against the Jets, made a strong impression on the team.
"I think they fully believe in him," Toomer said. "I don't see Sanchez being the starter the entire season."
For more NFL news, rumors and analysis, follow

@EyeOnNFL

on Twitter, Like Us on Facebook, subscribe to our NFL newsletter, and while you're at it, add our 
RSS Feed
.
The Oklahoma quarterback isn't exactly being discreet about where he wants to begin his NFL...

No one was hurt, but Fournette's Mercedes lost a bumper

It might be time to begin worrying about the Patriots quarterback
The Patriots are still odds-on favorites, but the other teams are closing in

SportsLine tapped into its Vegas sources to see who professional bettors like Sunday

Philadelphia readies itself for a massive celebration if the Eagles advance to the Super B...