Top 10 most important offseason personnel moves
Here are the 10 areas where some of the NFL's worst teams can improve for 2014.
• 7 min read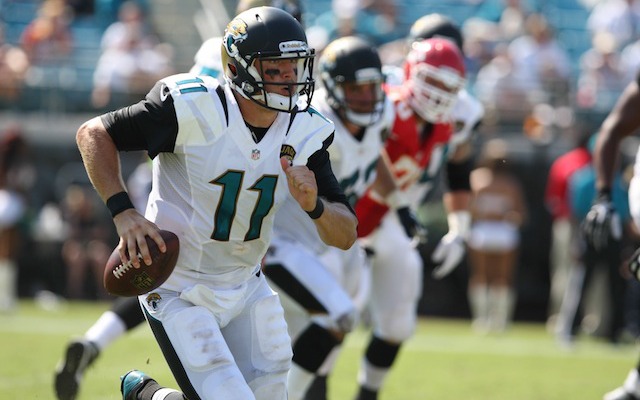 As we draw toward the end of yet another NFL year, we have begun meandering to the offseason, where speculation replaces perspiration and dreams can grow bigger without the pinprick of reality letting all the air out of the balloon.
The offseason, of course, is a chance to get better for next season, and from March until September, everybody is a playoff contender with an outside chance of making the Super Bowl. All these teams need is a little help, whether it's in the draft or in free agency.
Thus, we're taking a look at the biggest needs from 10 of the worst teams in the league from this season. After all, sometimes all you need to go from a two-win team to a Super Bowl contender is one specific ingredient that can change everything in the span of just 12 months.
10. Browns: Running game -- Willis McGahee was an OK pickup for Cleveland, but he's also 32 years old and probably at the end of his effectiveness. Look, Cleveland probably will take a quarterback with its early first-round pick, and that's absolutely the right call. The Browns got it wrong in 2012 with Brandon Weeden, and though Jason Campbell has been markedly better than Weeden, he'd be better suited as a backup. Besides, the last time Cleveland drafted a running back early, the Browns went with Trent Richardson. But the Browns need to find a new No. 1 running back to go with a young corps of strong receivers. If they do that and find themselves a franchise quarterback, Cleveland could make legitimate noise in the AFC North.
9. Cowboys: A new identity on defense -- I think most of us would agree that firing defensive coordinator Rob Ryan after last season was a mistake (even Jerry Jones has said as much). Particularly since Dallas ranks as the worst defensive squad in the NFL, and the Saints -- where Ryan now coordinates the defense -- are ranked fourth in the league. Monte Kiffin, hired to replace Ryan, has been hurt by injuries to DeMarcus Ware, Sean Lee and Morris Claiborne. But going from Ryan's 3-4 scheme to Kiffin's 4-3 mostly has been a disaster, and we'd be surprised if there's not a new defensive coordinator (or a new head coach if the Cowboys don't make the playoffs) for the start of 2014.
8. Lions: Fixing the discipline issues -- This has been a fixture of the Jim Schwartz era in Detroit. It's subjective how much of this you can blame on the coaching staff, but the Lions continue to make plenty of mistakes on and off the field. Actually, the team has gotten itself under control as far as off-field issues and arrests, but as the Lions lost four of five games late in the season to run themselves out of the playoff picture, the turnovers have piled up. They're 29th in the league in turnover differential (minus-14), and though they're not a heavily-penalized team, here's what Reggie Bush had to say recently, "[The losing skid] could be from penalties or it could be from turnovers or it could be from how we finished the games in fourth quarters. It's not one specific play or moment in a game. It's the total game. It's how we play." Not exactly an endorsement of the way Detroit has been run lately.
7. Giants: Pass protection -- Though Eli Manning has had a tough season filled with a league-high 26 interceptions, it's not all his fault. He hasn't gotten much help from those who are expected to protect him. He's been sacked 39 times this season, more than twice as much as last season (19) and the most of any year of his career -- by Football Outsiders' measurements, the Giants are the 10th-worst pass protecting team in the league  (and the third-worst run-blocking team). Left tackle Will Beatty has struggled for most of the season, and really, the only bright spot on the offensive line is 2013 first-round pick Justin Pugh at right tackle. Plus, tight ends Bear Pascoe and Brandon Myers were iffy on pass-blocking much of the season.
6. Falcons: A running game -- While Atlanta hasn't always needed a top-notch running game -- the Falcons went 13-3 in 2012 even though Michael Turner was No. 22 on the rushing leaderboard -- their inability to help Matt Ryan make this a two-dimensional offense has been a big failing this season. Free agent pickup Steven Jackson -- who will turn 31 and who will be owed $3 million next season -- has been injured for much of the season and mostly ineffective when he plays. It doesn't help that the team is a below-average run-blocking unit according to Football Outsiders, but Atlanta needs to find a top-notch (presumably young) running back for next season. The Falcons won't need to draft one in the first round, but they need to be on the lookout for somebody who can step in and make a difference next season. If they go the free agent route, Houston's Ben Tate might be kind of intriguing.
5. Texans: Quarterback -- If Houston ends up landing the No. 1 overall pick, it seems likely they would have to draft Louisville's Teddy Bridgewater as its new quarterback of the future. Matt Schaub had a horrendous season, and though he could be a solid backup (or maybe a starter for somebody desperate), it seems unlikely he'll be a resident of Houston for much longer. Case Keenum had a chance to grab the quarterback spot and make it his, but you have to wonder how his benching by fired coach Gary Kubiak will impact his spot for next season (it doesn't help that Keenum wasn't great when he was playing). Really, it's probably time just to start over in Houston with a new coach and a brand-new quarterback.
4. Raiders: the same coach/general manager -- I don't know if owner Mark Davis truly is thinking about firing coach Dennis Allen or general manager Reggie McKenzie, but here's one idea: don't do it. Yes, the team is 8-22 in these two men's tenure, but they also had to take over one of the worst organizations in the game with an awful salary-cap situation. If Allen is fired -- and he seems the more likely of the two to be pink-slipped -- it would be a terrible move. Davis needs to give both men at least another season to show improvement.
3. Jets: Receivers -- Look at this list of the top-five receivers in New York this season: Jeremy Kerley, Bilal Powell, David Nelson, Kellen Winslow and Stephen Hill. One is a running back and one is a tight end. The only legit No. 1 receiver on the team is Santonio Holmes, though he's proven in the past couple of years that those days are behind him -- and he only has made 20 catches in 10 games this season. Other than Kerley, who's had the best season of anybody despite the probability that nobody on this team will top 45 receptions for the year, the receiving corps has been a weakness this season. And assuming the team decides that Geno Smith is the quarterback for 2014, he will need help. Help that hasn't been forthcoming this season. The team desperately needs a big-play receiver (or three), and so far, Hill, the 2012 second-round pick, hasn't been the answer.
2. Redskins: Special teams -- We all know Washington has a ton of problems. The unknown future of Robert Griffin III, the unknown future of Mike Shanahan, a porous defense, and an owner who can't seem to get his coaching hires right. But let's focus for a second on the Redskins special teams, because they've been so bad this season. They rank last in the Football Outsiders rankings -- percentage-wise, in fact, Washington's Defense-adjusted Value Over Average (DVOA) is twice as bad as the league's No. 31 special teams unit. Place-kicker Kai Forbath ranks 30th in the league in field goals made, while punter Sav Rocca's 42.2 yards per kick average ranks 29th. The Redskins also rank 31st in kickoff return average and 27th in punt return average. As theMMQB.com's Peter King so aptly wrote, "Sometimes, watching the Washington special teams, you wonder whether they practice during the week." Even somehow if Shanahan survives the season, it's hard to envision special teams coach Keith Burns doing the same.
1. Jaguars: Quarterback --This is one of the most obvious needs on this list, and that's because it makes perfect sense for Jacksonville to move on from the two signal-callers who have gotten the playing time this season. For one, it's time to acknowledge the mistake that was made by drafting Blaine Gabbert in the first round in 2011 (well, really, the team has already acknowledged this, since the former first-round pick has been benched since mid-season). For two, it's time to get somebody who can beat out Chad Henne for the starting job -- for the record, Henne has done a solid job as Gabbert's replacement, and he'd be a good backup moving forward. Jacksonville, I imagine, will be looking hard at a quarterback early in the first round of the 2014 draft.
Follow Josh Katzowitz on Google+
Ryan Shazier and the Steelers were the big winners in Pro Bowl voting that was unveiled on...

We've likely seen the last of Reggie Bush in the NFL

Fans have been sending Anthony Barr plenty of hate mail over Aaron Rodgers' injury
Here's every official injury designation for each NFL team for Week 15

SportsLine's Mike McClure, a DFS pro with more than $1M in winnings, gives optimal lineup...

Foles replaced Vick during his previous tenure in Philadelphia, appearing in the 2013 play...