Top 10 players and coaches who are nearly impossible to replace
Here are 10 of the most irreplaceable players in the NFL.
• 5 min read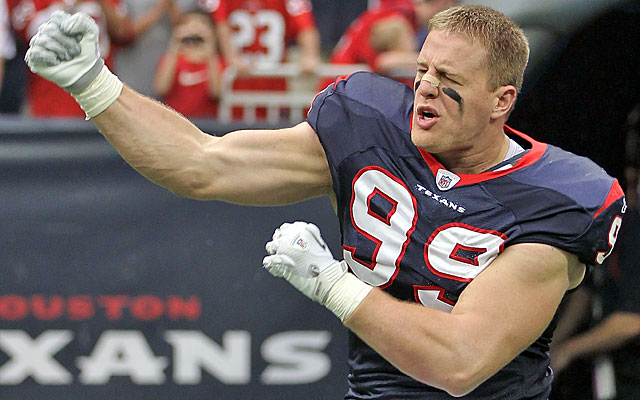 Most players in the league can be replaced. Yes, a backup who has to replace an injured starter probably isn't going to be as good as said starter. Yes, a second-string quarterback who's called into action cold after the No. 1 quarterback is taken off the field isn't going to be nearly as solid as the man who had beaten him out for the job originally. All of that is a given. Most, though, have backups who could give a reasonable facsimile of the man they're replacing.
But there are some players who are absolutely irreplaceable, the kind of performer who, if injured, could wreck their teams' season. A guy like Aaron Rodgers , for instance, who's out for the time being with a fractured collarbone.
Now, Rodgers' injury might only keep him out a couple weeks, but for that time, the Green Bay Packers will have a major deficit at that position -- not surprisingly, Green Bay couldn't beat the Chicago Bears and their backup quarterback on Monday after Rodgers left the game. But if he -- and the rest of the players on this list -- were out an extended period of time, it would present some real problems.
10. Reggie Wayne , Indianapolis Colts WR: You could see how flummoxed the Colts offense was in the first half of their game vs. the Houston Texans last week without Wayne when quarterback Andrew Luck completed 3 of 12 passes for 56 yards. A reason for that was because Wayne tore his ACL last month, meaning Luck has to play without one of the most reliable veteran receivers in the game. Second-year receiver TY Hilton has a ton of talent; he just hasn't always harnessed it during his short career. Hilton could be a fantastic receiver, but if he isn't exactly that right now, the Colts offense will badly suffer.
9. Zac Stacy , St. Louis Rams RB: This might be a bit of a surprising choice, but think about it. The Rams haven't gotten much from running back Daryl Richardson , and they haven't even gotten that much from 2012 second-round pick Isaiah Pead . Sam Bradford had played well in spurts this season, but he's out for the season. And though quarterback Kellen Clemens has been a little better than expected, he's been put in position the last two weeks to win the game with a touchdown pass. He's failed both times. So, who does St. Louis have on offense? Stacy and the inconsistent tight end Jared Cook ... and well, that's kind of it. Without Stacy, this offense would be even more of a Bradford-less disaster.
8. Sean Payton, New Orleans Saints coach: Yes, we're cheating a little because he's a coach, but as we learned last year, there's no one more important in this organization than Payton. In 2011, the Saints went 13-3. In 2012, with Payton suspended for the year, the team went 7-9. Now, with Payton back in the mix, New Orleans is 6-2 and a Super Bowl contender again. Sometimes, a new coach can help tame the talent around him that was assembled by somebody else to win a Super Bowl (ahem, Jim Caldwell). But in Payton's case, he's the one who sets the tone in this organization. And the one who wins.
7. Andy Reid, Kansas City Chiefs coach: You can't have Payton without placing Reid on this list. Last year in Kansas City without Reid and with much of the same talent, minus the starting quarterback, the team was 2-14. This year with Reid: 9-0. What the Chiefs are doing this year is unprecedented, and Reid is a huge reason why.
6. Sheldon Richardson / Muhammad Wilkerson , New York Jets DT: Are we surprised that the Jets are 5-4 and actually could have a shot at making the postseason? Of course we are. But have we also learned this season just how important Richardson and Wilkerson are to New York's defense and the team as a whole? Yes, we have. Looking at Pro Football Focus' metrics, both rank in the top-6 of 3-4 scheme defensive ends, and they've helped lead the Jets to the No. 1 league ranking in defense. Without this duo, there's no way the team is above .500.
5. Calvin Johnson , Detroit Lions WR: In years past, you could have placed Houston's Andre Johnson on this list, but with Texans rookie Keshawn Martin showing plenty of potential, I'm not sure that's true anymore. But if you don't have Calvin Johnson, you have a real problem. Nate Burleson is a fine No. 2 receiver, but he's been injured, and without him, the team is counting on Kris Durham to be the second target for quarterback Matthew Stafford . Need proof to his importance? Johnson missed Week 5 vs. the Packers, and for the only time this season, the Lions scored less than 21 points. Instead, they scored nine.
4. Geno Atkins , Cincinnati Bengals DT: Already, the Bengals have lost the scariest interior defensive linemen in the league to a torn ACL, and the problem here is that the Bengals have nobody on their team that can come close to replacing him (nor, for that matter, would most of the other teams in the league). 2012 third-round pick Brandon McDonald will do his best to replace Atkins, but defensive coordinator Mike Zimmer's job is now much tougher.
3. All the top quarterbacks: This shouldn't be difficult to figure out, but if Tom Brady or Peyton Manning or Drew Brees (or Rodgers, for that matter) wwere lost long term with an injury, it would be awfully difficult for that team to survive the season. Yeah, Matt Cassel performed admirably when Brady missed most of 2008, but the team also didn't make the postseason that year. This one is obvious, so let's just move on.
2. Rob Gronkowski , New England Patriots TE: This became plainly apparent when Gronkowski missed the first six games of the season, and New England's offense was disjointed and, to be honest, quite mediocre. The loss of Aaron Hernandez only has exacerbated the problem for the Patriots, but without Gronkowski, the man Brady trusts the most, the Bill Belichick/Josh McDaniel offense didn't look so special. Funny how that in the three games Gronkowski has played, he was targeted a combined 32 times. That should tell you about Gronkowski's importance.
1. J.J. Watt , Texans DE:Watt has been the best defensive player in the league for the past two seasons, and losing him would be disastrous because of how much havoc he causes even when he's not close to sacking the quarterback. He bats down more balls than any other defensive linemen in the league, and he's just about as good defending the run as he is when the other team is passing. While his backup, 2012 fourth-round pick Jared Crick , has had some decent-enough moments, replacing him for Watt would be laughable.
Follow Josh Katzowitz on Google+
The Patriots' top pick likely won't play a down for them in 2017

Chris Long put his arm around Malcolm Jenkins during his teammate's protest on Thursday

Nick Folk had some trouble putting the ball through the uprights against Jacksonville
If this fan was general manager of the Jaguars, Blake Bortles probably wouldn't be quarter...

It looks like we're going to have a quarterback competition in Jacksonville

Smith is facing up to seven years in prison if convicted