Top 10 with a Twist: Best late-round/UDFA rookies of 2013
Here are the 10 best rookies who were drafted after the fourth round or who weren't drafted at all.
• 6 min read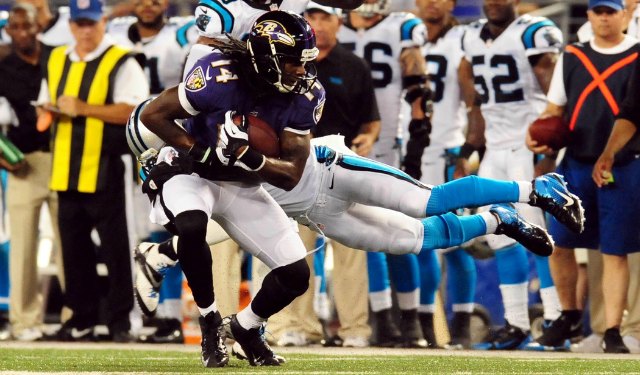 The first-round of the 2013 NFL Draft was EXCITING, right? Before Roger Goodell stepped to the podium at Radio City Music Hall, we buzzed about how tackle Eric Fisher had overtaken tackle Luke Joeckel as the probable No. 1 pick. We discussed what round (the first, maybe?!?) the Bills would take quarterback Ryan Nassib (whoops on that). We wondered how many more cornerbacks would go in the first round than running backs (a lot more, apparently). We thought that Manti Te'o was maybe a first-round pick.
But here's not what many of us would have anticipated. Many of those first-round picks have been a bust thus far in their careers. Look at the first four picks: Fisher with the Chiefs, Joeckel with the Jaguars, Dion Jordan with the Dolphins and Lane Johnson with the Eagles. None have made much of a positive impact on their teams, and in Fisher's case, he's been much worse than we could have anticipated. Plus, No. 7 pick Jonathan Cooper has been and will be out all season with a broken leg, No. 8 pick Tavon Austin hasn't been utilized much by the Rams and No. 9 pick Dee Milliner was benched by the Jets.
So, that's not a great top-10 list.
But there have been some pleasant surprises from the fourth round and beyond (in this week's Top Ten with a Twist, we're counting "late draft picks" as those who were taken after the third). Here are some of our favorites.
10. Ace Sanders, Jaguars receiver, 4th round: For the all the talk about how Denard Robinson was going to be the team's so-called offensive weapon, Sanders has been more effective for Jacksonville's offense (to be fair, Robinson was selected a round after Sanders). He's become a reliable No. 2 receiver behind Cecil Shorts for Blaine Gabbert/Chad Henne, and though it's not like Sanders is the next receiving superstar, he's done solid work early in his career (my friend Andy Benoit is less-effusive in his praise). He's also recently been tabbed to return punts for the Jaguars, and that should make him more valuable to a team that's set on rebuilding.
9. Joseph Fauria, Lions tight end, UDFA: You probably know about Fauria, because of this:
Still waiting to hear what @jimmyfallon & @jtimberlake think about my execution of "Bye Bye Bye!" #EndzoneDance http://t.co/Xn2dnreaPt

— Joseph Fauria (@BigJoeFauria) September 23, 2013
But Fauria actually has accomplished more than the boy-band-touchdown-dance. He's actually scoring a touchdown every other time he makes a catch. OK, so it's only four catches, but still, that's a pretty good percentage, right? But he's got other attributes that can help take some attention away from Calvin Johnson. He's 6-foot-7, and the Detroit coaching staff said he's already made solid  strides as a blocker. And, well, he's got the best dance moves we've seen of any late-round/UDFA rookie out there.
8. Caleb Sturgis, Dolphins kicker, 5th round: So far this season, Sturgis has been perfect, going 7 for 7 on field goals and 10 for 10 on extra points. And he has got quite a leg as well, making all three of his attempts from 40-49 yards and both of his kicks from 50-plus yards. He's been a solid replacement for Dan Carpenter, who was coming off one of the worst years of his career in 2012 (strangely enough, Carpenter is having one of the best years of his career in Buffalo in 2013). But when Sturgis kicks like that, it appears now that the Dolphins made the right move getting a specialty player in the fifth round.
7. Andre Ellington, Cardinals running back, sixth round: For now, Ellington is stuck behind Rashard Mendenhall as the No. 1 back in Arizona, but if he keeps making plays like this (where he makes Darrelle Revis look silly), the Cardinals might end up relying on him more than originally thought. He's only got 11 carries this season, but he's averaging 6.2 yards per attempt. He's also got nine catches for 113 yards and a touchdown. But here's the thing: Mendenhall hasn't been effective this season. And Ellington has. Said Cardinals offensive coordinator Harold Goodwin last month: "I'm glad he's on my team."
6. Joe Vellano, Patriots defensive tackle, UDFA: Is Vellano's body of work all that extensive at this point? No, not really. But he has one of the most important jobs of all the people on this list, because New England will count on him to help replace Vince Wilfork, out for the season with a torn Achilles. He played 32 snaps last week after Wilfork went out on the first series of the game, and Vellano had the highlight of his career in the GIF below, making his first career sack (via NESN.com).
It could be the start of something special for the undrafted free agent out of Maryland.
5. Eric Page, Buccaneers kick returner, UDFA: He has only returned two kickoffs, but he has gained a total of 60 yards, so that's a good start. Page also has been solid as a punt returner, averaging 9.9 yards per return (which ranks eighth in the league with returners who have at least five returns). There also might be more possible work for Page as a receiver, as the team tries to find an offensive connection between new starting quarterback Mike Glennon, his top-two receivers (Vincent Jackson and Mike Williams), and a No. 3 receiver (either Page, Chris Owusu or Tiquan Underwood).  
4. Joplo Bartu, Falcons linebacker, UDFA: With the injury to Sean Weatherspoon, Bartu has had the chance to enter the starting lineup and quickly make a name for himself. Bartu quickly established himself as a quality pass coverage linebacker, but he has also improved his run-stopping game as well. On the season, Bartu has played 66 percent of the team's defensive snaps, the second-most prolific linebacker on the squad. Not bad for the free agent from Texas State.
3. Akeem Spence, Buccaneers defensive tackle, 4th round: It might not have seemed like a wise decision when Spence skipped his senior year at Illinois and then was rewarded for his initiative by having to wait until the third day of the draft to hear his name. But he's made name for himself a quarter of the way through the season by earning a starting spot on the defensive line. By the Pro Football Focus metrics, Spence is ranked as the 14th-best defensive tackle in the league and he's the sixth-best against the run. The Buccaneers traded up to get Spence, and so far, that's looking like a sound decision.
2. Kenbrell Thompkins, Patriots receiver, UDFA: The first two weeks of the season were rough for Thompkins, who wasn't drafted because of his previous numerous legal troubles, and the play of Thompkins and other New England rookie receivers made Tom Brady's body language go all out of whack. But in the past two games, he has caught nine passes for an 18.7 yards per catch average and scored three touchdowns. He's No. 2 on the team receptions behind Julian Edelman, but Thompkins, when he hangs onto the ball, is the most explosive receiver thus far for New England.
1. Marlon Brown, Ravens receiver, UDFA: The Ravens offense has not been explosive this year -- which, if you're the one who made Joe Flacco a $100 million player, probably doesn't please you -- and you really have to question now the decision to trade Anquan Boldin to the 49ers for a late-round draft pick. Without Bolden, the team lost important depth at the receiver position that Torrey Smith can't fill on his own. Luckily for Baltimore, Brown -- who was a five-star recruit out of high school but who had an underwhelming, injury-filled college career -- has used his long arms to catch three touchdown passes this season. He's been one of the most impressive under-the-radar rookies so far this season.
Follow Josh Katzowitz on Google+
This will be Gene Steratore's first Super Bowl as a referee

The Patriots' quarterback and likely MVP appears to be banged up heading into the AFC title...

Kaepernick made the pledge in October 2016 in the middle of his campaign for social equali...
Landry is scheduled to become a free agent this offseason

On Sunday, the Patriots' coach will go up against the coach he recommended almost exactly a...

Here's a look at the NFL's entire postseason schedule for 2018