Top Ten with a Twist: Biggest surprises through Week 2
Here are some of the biggest surprises we've seen this year, including the reemergence of Chargers receiver Eddie Royal.
• 5 min read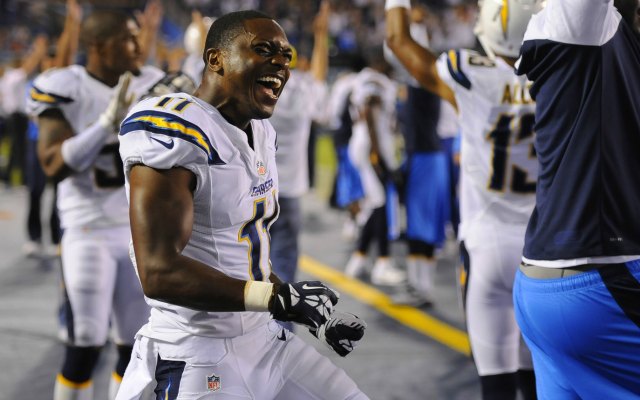 We're two weeks into the season, and already, little surprises (both pleasant and the other kind) have begun to pop up for teams and fans throughout the league. Now, just because something groovy or not so groovy is happening early in the year doesn't mean that trend will last the entire season.
I mean, look at last year's list when the San Diego Chargers were off to a hot start and Kevin Kolb was playing pretty well in Arizona.
Thus, let's get excited (or disappointed) by the surprises that have occurred so far, but let's not pencil them in as season-long predictions. Because sometimes surprises can break your heart (or lift you up as high as the clouds).
10a. LATE ADDITION TO THE LIST: This one seems pretty obvious as the biggest shock this season, don't you think?
10. Jay Cutler has two game-winning drives: I don't think we necessarily saw Cutler in the way that so many people unfairly see Tony Romo , as a quarterback who chokes in the big moment. But I also wouldn't have expected to see Cutler play savior for the Chicago Bears against a (supposed) tough team in Cincinnati and a Viking squad that went to the playoffs last year. (As a reminder, Cutler had two game-winning drives combined in 2011 and 2012.) Maybe it's the stability of new coach Marc Trestman or the fact Cutler is in a contract year, but he's playing well when his team needs him most.
9. St. Louis Rams offensive line hasn't given up a sack: The way an oft-injured Jake Long played the past couple years with the Miami Dolphins , it wouldn't have been surprising to see him sign his big free-agent deal with St. Louis and then perform rather unimpressively. Instead, Long and his teammates haven't allowed a single sack this season on Sam Bradford . Long has played well at left tackle, and Rodger Saffold (who's got a sprained MCL now) and Joe Barksdale have been solid on the right side of the line. Meanwhile, center Scott Wells hasn't given up a hit or a hurry (according to Pro Football Focus), while guards Harvey Dahl and Chris Williams have done their part to keep their quarterback clean. Surely, Bradford, who has been ranked in the top-eight of sacks taken every year since he's been in the league, is appreciative.
8. The Buffalo Bills might be decent: I obviously didn't see this coming, but Buffalo has played some solid football. The Bills nearly overran the New England Patriots -- how big a shock would that have been, by the way? -- and then got an emotional last-second victory against the Carolina Panthers that left rookie quarterback EJ Manuel in tears afterward. Suddenly, the AFC East doesn't seem so Patriots-centric. Which leads us into …
7. The Dolphins are 2-0: General manager Jeff Ireland went on a free agent spending spree this offseason in a last-ditch effort to save his job, and for now, it's working. Quarterback Ryan Tannehill has shown improvement, the receiving corps suddenly is dangerous and the Miami defense makes it difficult for the other team to score. Will the Bills or the Dolphins or the New York Jets (who are 1-1 and gave New England an awfully-difficult game in Week 2) win the division or make the playoffs? Probably not. But it's not out of the realm of possibilities either.
6. Tyrann Mathieu is exciting: Anybody who watched the Arizona Cardinals rookie safety when he was at LSU probably already knows this. But the fact the Honey Badger is in the NFL after Arizona (and maybe only Arizona) was ready to take a flyer on him in the 2013 draft is pretty amazing. Especially with all the off-the-field trouble he had while in college. In Week 1, he made a fantastic hustle play, catching Rams tight end Jared Cook on what was sure to be an easy touchdown and stripped the ball from him for a safety. You can see that here.


Then, in Week 2, he stopped Detroit Lions receiver Nate Burleson a yard short of a first down late in the fourth quarter to preserve an Arizona win. Look, this is what Mathieu was known for in college. But if we had been asked a year ago, we would have said this kind of presence in the NFL would have been a shock.
5. Ndamukong Suh hasn't been suspended one time this year: Not even once. His $100,000 fine notwithstanding, Suh hasn't missed a single game.
4. The Jacksonville Jaguars  absolute ineptitude: I think most of us knew the Jaguars were going to be bad. Like, horribly, horrendously bad (though one CBS Sports expert had Jacksonville actually finishing third in the AFC South). But I didn't expect the Jaguars to be this bad. The kind of team that records only 426 yards of total offense on 132 combined plays (3.2 yards per play) in two games. That accumulates exactly one field goal, one touchdown and zero extra points. That's in bad need of a rebuild. To be fair, that's exactly what general manager Dave Caldwell and coach Gus Bradley are doing. But I wonder if they're surprised with how painful it has been thus far.
3. Read-option quarterbacks aren't running on designed plays as much: This makes sense for a player like Robert Griffin III , whose knee obviously still isn't 100 percent and whose body the Washington Redskins would rather not sacrifice to the opponent. Still, these numbers are jarring. Last year, he rushed for 815 yards total. Through two games this season, he's got nine carries for 25 yards. Through the first two games of 2012, he had rushed for 124 yards on 20 carries. Meanwhile, Colin Kaepernick rushed just seven times in Week 1 but ended up throwing for 412 yards. You have to wonder if that's because opposing defenses have helped take away that part of the read-option or if it's because the teams on offense are adjusting back from last year's trends. Either way, it's a little surprising.
2. The Redskins are putrid: I guess last year's playoff push and the immense success of Robert Griffin III blinded me to the problems the Redskins potentially were facing. But the defense has been disastrous -- to be fair, it was the guinea pig team who had to play the Philadelphia Eagles first and then had to face Aaron Rodgers in Week 2, so it's been tough going from the beginning -- and Griffin doesn't seem 100 percent after offseason knee surgery. Surely, Washington will improve, and we assume Griffin will play more confidently. And here's the good news. The rest of the NFC East isn't so strong either, so the team won't necessarily have to be great to have a chance at the postseason. But this is the epitome of the Redskins struggles.
1. Eddie Royal is awesome at playing receiver: I kind of assume this isn't going to last, because the Chargers receiver's best season came as a rookie in 2008 when he caught 91 passes for 980 yards and then never came close to that kind of production again. But give credit to the 2013 version of Royal playing on a team that has very little depth at his position: Royal, thus far, has been fantastic. He's the first player with five touchdown catches in the first two weeks of the season since Marvin Harrison did it in 1999. His previous career-high touchdown total? Five in 2008.
Follow Josh Katzowitz on Google+
In the past week, Marshawn Lynch and Michael Bennett have both sat during the national ant...

As expected, the internet had jokes about the Chick-fil-A at Mercedes-Benz being closed on...

Harrison is the franchise's all-time leading sacker, but J.J. Watt's brother will get the starting...
More than 17 percent of fans say they would never consider dating a Pats fan

Brady said that his lack of speed is why he fell so far in the draft in the first place

If Thomas is right, that means it's bad news for DeShone Kizer's chances of starting early