Top tweets from Week 1 of the NFL season
Not surprisingly, the NFL's opening weekend captured the attention of Twitter users thanks to safeties, touchdowns, and turnovers.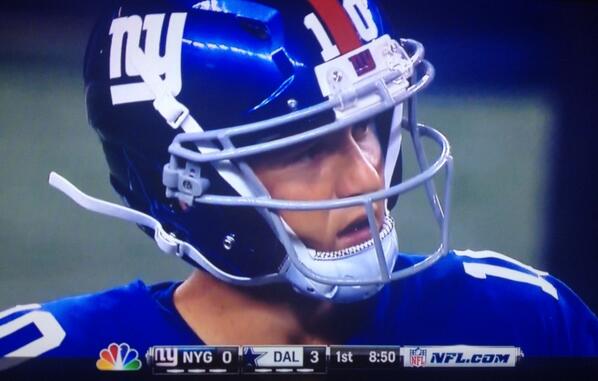 The first week of the NFL season opened in insane fashion: Peyton's seven touchdowns, three safeties and shockingly, a Jets win. But nothing took over Twitter quite like the Giants-Cowboys turnover fest in the first quarter.
"You think seven touchdowns is impressive, well watch this, Pey Pey."

— Tom Fornelli (@TomFornelli) September 9, 2013
Eli basically going for the inverse Peyton here.

— Matt Norlander (@MattNorlander) September 9, 2013
Wow, Eli has gone full Romo

— Bryan Fischer (@BryanDFischer) September 9, 2013
David Wilson fumbling in an opener against the Cowboys. A Giants September tradition like no other.

— Will Brinson (@WillBrinson) September 9, 2013
Now, now, Giants, don't hog all the derps. We wanna see some out of Dallas too.

— Mike Tunison (@xmasape) September 9, 2013
I like to think this is the Giants' attempt to get everyone to watch tonight's Breaking Bad live.

— Alan Sepinwall (@sepinwall) September 9, 2013
Seriously if you're watching Tony Romo play football there's something less graphic and disturbing on AMC right now.

— edsbs (@edsbs) September 9, 2013
Turns out, all Monte Kiffin needed at USC was for Eli Manning to quarterback Oregon. And Arizona. And UCLA. And ...

— Gary Parrish (@GaryParrishCBS) September 9, 2013
"Man, these offenses are brutal." - Lane Kiffin

— Adam Kramer (@KegsnEggs) September 9, 2013
Monte Kiffin's defense has scored as many points as Lane Kiffin's offense.

— Daniel Jeremiah (@MoveTheSticks) September 9, 2013
On the opposite end of the spectrum, Peyton Manning's performance Thursday night was one for the ages.
Peyton Manning ties NFL record for TDs in a game with 7. He. Is. The. Man. Legend. Class act. Superstar. HOFer.

— Allie LaForce (@ALaForce) September 6, 2013
No quarterback has thrown 7 TD passes in a game since September 28, 1969 (Joe Kapp). Peyton Manning needs one more. @NFLRT

— Justin Henry (@JRHWriting) September 6, 2013
From an obscene amount of touchdowns to an illogical rash of safeties, it was a bizarre scoring week in the NFL.
I understand the NFL emphasizing safety but this is ridiculous.

— Michael Smith (@michaelsmith) September 8, 2013
Ok @MikeGarafolo, 3 safeties today are tied for most in Week 1 (1970, 1993, 1999)

— Randall Liu (@RLiuNFL) September 8, 2013
There were 13 safeties all of last season. There have already been three in the first quarter of the first week.

— Bryan Armen Graham (@BryanAGraham) September 8, 2013
The Jets were one of the beneficiaries of those safeties and pulled out a miraculous victory.
COLUMN: Is Geno Smith an Elite Quarterback? Is Mark Sanchez an Elite Lawn Ornament?

— Caitlin Kelly (@atotalmonet) September 8, 2013
Things didn't go so well for the Jags who also notched a safety.
#Chiefs lead 28-2 with 6:20 left in the fourth quarter and #Jags fans have (understandably) thrown in the towel. pic.twitter.com/QS7FTyRjg0

— Terez A. Paylor (@TerezPaylor) September 8, 2013
#Jaguars made HISTORY today -- first 28-2 final score in NFL history ... also first 21-2 halftime score.

— Ryan O'Halloran (@ryanohalloran) September 8, 2013
No disagreement here.
This is one of the most American things I've ever seen MT @ClintStoerner: pic.twitter.com/Gl6daqhrCE

— Bruce Arthur (@bruce_arthur) September 9, 2013
The best moment of the day belongs to Steve Gleason who led Saints fans in a "Who Dat" chant.
Ya had a feeling we couldn't lose today after this: pic.twitter.com/ZosQMhCFKk

— New Orleans Saints (@Saints) September 8, 2013
Quote of the Day:
#49ers QB Colin Kaepernick: "If intimidation is your game plan, I hope you have a better one."

— Matt Maiocco (@MaioccoCSN) September 9, 2013
Former Atlanta sportswriter Larry Hartstein knows the Falcons and locked in a pick for 'Monday...

The Patriots losing might be bad for New England but its great for watching Bill Belichick

The league-owned network suspended Marshall Faulk, Ike Taylor and Heath Evans as it investigates...
R.J. White has his finger on the pulse of Indy and made a strong play for 'Thursday Night...

Wondering which NFL teams are going to win in Week 15? You've come to the right place to find...

SportsLine's Mike McClure, a DFS pro with more than $1M in winnings, gives optimal lineup...