Trade for Monroe might be the spark Ravens' line needs
The struggling Ravens line could get much needed help with the addition of Eugene Monroe, who comes over from Jacksonville in a trade.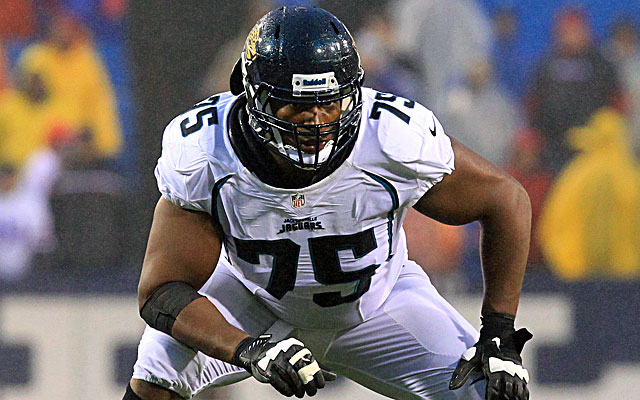 During the summer, I made Eugene Monroe the left tackle on my All-Prisco team, but he hasn't played up to that level so far this season.
Maybe a new team will change that.
The Jacksonville Jaguars have agreed to trade Monroe to the Baltimore Ravens for late-round draft picks, a league source confirmed. It is a move of need for the Ravens with left tackle Bryant McKinnie struggling in a big way.
Monroe is scheduled to be an unrestricted free agent after the season, and it's unlikely the Ravens would make this type of deal without thinking long-term contract.
The Jaguars, who are clearly in rebuild mode, will likely move Luke Joeckel, their first-round pick in April, from the right side to the left side and insert Cameron Bradfield at right tackle.
The Ravens line has been a major weakness this season after being a strong area in their run to the Super Bowl late last season. Monroe will play next to left guard Kelechi Osemele, who was also on my All-Prisco team, but has yet to play up to expectations. If those two can get it going, the Ravens line could be back to the way it played in the postseason last year. 
Plus the Saints are rolling in the NFC South, the Falcons are in trouble, the Bears are weird...

Here are the Week 7 grades for every team that played on Sunday

It was the Falcons' first score against the Patriots in over 90 minutes of game time
Hooker, the 15th pick in the draft, was in the middle of a stellar rookie year

Plus Jordy Nelson's lonely pre-game, Jamal Adams' Milly Rock, Le'Veon Bell's stiff arm and...

Justin Timberlake is headed back to perform at the Super Bowl for the first time in 14 yea...