Trading future first-round picks: Good to win now, bad to win later?
We took a look at a decade's worth of trading away future first-round picks to see whether or not it's a good move in the short- and long-term.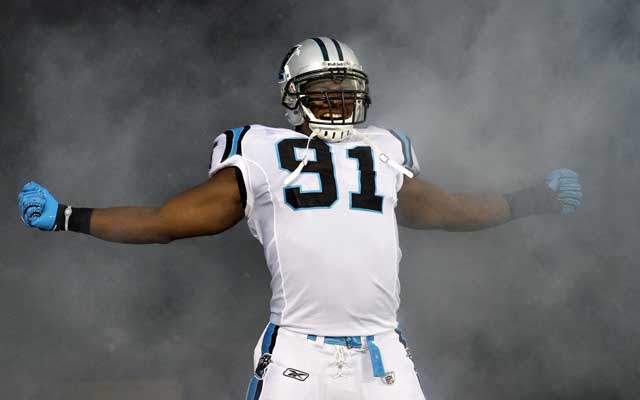 Trading away future first-round picks is an NFL April May tradition like no other. Almost every year some team coughs up a first-round pick in the following year's draft in order to acquire an immediate player.
Maybe it's desperation born out of job security. Maybe it's our want-it-need-it-now society. Maybe it's part of the NFL roster culture that urges people to push things down the road. Maybe it's an unstoppable infatuation with a particular player. Whatever it is, it's odd, primarily because the investment flies in the face of the conservative nature of most NFL front offices.
After all, there is a direct value tied to a particular pick in this year's draft. You know who's available and, most importantly, you know when the pick will occur. Next year? You never know what will happen, regardless of what you think might happen. NFL parity is fickle. Just ask the 2013 Texans and Falcons.
The Bills were the latest team to pull off such a move, trading away a 2015 first-round pick in exchange for moving up five spots and grabbing Sammy Watkins. Say what you want about Watkins -- I had him rated No. 2 overall in this draft -- but there's a ton of risk there, should the Bills finish with a bad record in 2014.
But how do things typically work out for a team that trades away a first-round pick?
I went back through the last decade and picked out all the teams that traded away a first-round pick for a player and mapped out its win-loss percentage over the next five years.
Quick example: the Bills (how convenient!) traded away a 2005 first-round pick to draft J.P. Losman in the 2004 NFL Draft. I wanted to see how they performed the year before (2003), if there was a spike in their immediate success (2004) and how they fared moving forward over the long haul.
Full disclosure: I think dealing a future first-round pick is dumb. It's far too risky for my liking and I believe it hurts your long-term depth. (This is exacerbated further if you're packaging additional picks with your one.) But I'm willing to be convinced otherwise.
***
Our journey begins in the long, long ago known as 2005, when the Giants and Chargers pulled off an epic swap. San Diego took Eli Manning No. 1 overall and New York took Philip Rivers No. 4 overall. They engineered a trade, flipping the two quarterbacks. The Giants also sent a package of picks including their 2005 No. 1 pick to get the younger Manning. 
The Bills pulled off an even worse deal in the 2004 NFL Draft. They gave up a No. 1 in 2005 so they could grab J.P. Losman. They chose ... poorly. The Cowboys would draft Marcus Spears the following year with the 20th overall pick. That was the last time Buffalo finished over .500 since, well, ever.
Oakland gave up a future No. 1 pick to acquire veteran star Randy Moss from the Vikings. Worth noting: the Raiders knew they were giving up the 7th overall pick when they dealt for Moss prior to the 2005 NFL Draft. Still, this will become a theme.
2005 NFL Draft Trades
Team
Player Acquired
Player Performance Year 1
Future First Traded
Eli Manning


7 GS, 1,043 pass yards, AV -1

2005 -- 12th overall
J.P. Losman


0 GS, 32 pass yards, AV 0

2005 -- 20th overall
Randy Moss

15 GS, 1,005 receiving yards, AV 8


2005 -- 7th overall
Let's look at their team success in graph form. As always, click to embiggen.
A couple of things pop out here. Both the Bills and Giants saw immediate improvements in 2004, even though Losman and Manning contributed literally less than nothing according to Approximate Value (AV). The Giants' five-year growth looks like a team that found their franchise quarterback. The Bills? Not so much. Randy Moss, as we all now know, didn't change Oakland either. 
2006 NFL Draft Trades
Team
Player Acquired
Player Production Year 1
Players Drafted With Picks

0 GS, 0 pass yards, 0 AV

2006 -- 22nd overall
Now THIS is just insane when you think back on it. The Redskins were so enamored with Campbell they gave up their 2005 first-round pick and 2006 first-round pick ... and didn't even play him.  
Oddly enough, it helped anyway.
More on this in a bit, but my theory on how this can happen (because it happens quite often) is more about opportunity cost than anything. The Redskins saw double the influx of first-round talent. Even if one of those players didn't contribute, they still got Carlos Rogers (9th overall in 2005) to step in and make an impact. If they simply drafted a quarterback at No. 9 that year and sit him, you don't get any first-round impact at all. Of course, that quarterback would've been Aaron Rodgers. But still. 
Quick note: the Redskins acquired the Campbell pick from Denver and one Mike Shanahan. Washington's failure with Campbell -- and Shanahan's failure with Jay Cutler, who he moved up and grabbed thanks to having the Washington pick -- would eventually lead to him coaching the Redskins five years later. 
***
The 2006 NFL Draft didn't feature any trading away of future first-round picks. I'm sure teams learned their lesson.
*** 
Just kidding. They did not.
2007 NFL Draft Trades
Team
Player Acquired
Year 1 Production 
Future First Traded

0 GS, 45 pass yards, 0 AV

2008 -- 22nd overall

16 GS, 5 AV

2008 -- 10th overall

11 GS, 7 AV

2008 -- 29th overall
Once again, someone gave up a future first-round pick to move up, grab a quarterback and promptly not play him. Somehow this made Cleveland better!
Again, go back to the opportunity-cost theory. Using their initial first-round pick, the Browns grabbed Joe Thomas. He is the definition of a plug-and-play tackle, starting 16 games every season since the day Cleveland drafted him. Sure, career years from Derek Anderson and Braylon Edwards don't hurt either. 
Speaking of plug-and-play tackles, trading back into the first for Joe Staley looks smart now, even if San Francisco sacrificed the No. 10 overall pick. (The Patriots would draft Jerod Mayo with that pick and then use a fourth-round pick the 49ers also gave them to steal Randy Moss from Oakland. Oh history. You're so interwoven.) As for San Francisco's chart, they were a rocket ship stuck in neutral on the landing pad waiting for a competent coach to take over its talent. 
Fortunately for San Francisco no one noticed because it had a first-round pick anyway. That's because it traded their second-round pick to the Colts so Indy could take Tony Ugoh. As if this trade couldn't get uglier, the 49ers took Kentwan Balmer with the pick they received from Indy. The only thing noticeable about Indy's graph? Just how much Peyton Manning propped up that roster at the end of his Colts run.
***
Ah, Marty Hurney's Carolina Panthers.
2009 NFL Draft Trades
Team
Player Acquired
Player Production Year 1
Players Drafted With Picks

13 GS, 6 AV

2009 -- 28th overall
The Panthers from 2008-2010 might as well serve as the Bad Drafter's Bible. Hurney hit on plenty of players during his tenure with Carolina, but the team bottomed out badly during his reign. It didn't help he traded first-round picks in multiple years.
2008 featured a dip back into the first round to grab Jeff Otah. Hurney took Jonathan Stewart with the 13th pick (despite DeAngelo Williams already on the roster) and swapped his 2009 first-round pick with Andy Reid and the Eagles for the rights to take Jeff Otah at 19th overall. The result was immediate success: Carolina won the NFC South in 2008 and was an absolutely dominant run team.
That success would be short-lived. Hurney followed up his win in the Otah trade (I swear it looked smart at the time) by dealing away another future first-round pick.
Hurney wasn't the only one dealing. 2009 was a very busy draft for trading future firsts.
2010 NFL Draft Trades
Team
Player Acquired
Year 1 Production 
Pick Given Up

1 GS, 2.5 sacks, 2 FF, 2 AV

2010 -- 17th overall

0 GS, 0 INT, 3 PD, 1 AV

2010 -- 14th overall

16 GS, 3,666 pass yards, 10 AV

2010 -- 11th overall

20 GS, 57 rec., 794 yards, 8 TDs, 3.5 AV*

2009 -- 20th overall
*Combined 2008/2009 stats and average AV.
There's really only one player you would want to acquire from that group at this point in time. Did it help the teams who made the moves? (Dallas made its in-season, mind you, which is almost worst, considering the stakes.) 
Hurney gave up 2010's first-round pick to the 49ers in exchange for the rights to take Everrette Brown with the 43rd pick in the 2009 NFL Draft. It was the Panthers' first pick of the draft because of the Otah trade. With the 19th overall pick from Carolina, the 49ers would grab Mike Iuapti, one of 16 Pro Bowlers drafted in the 2010 first round (which doesn't include San Francisco's solid tackle, Anthony Davis). It hastened Carolina's spiral to the worst team in the NFL in 2010.
Denver's move might somehow be more painful. In 2009 it dealt a future first-round pick to take Alphonso Smith with the 37th overall pick. Smith was a massive bust. The Broncos would play .500 ball in 2009, giving the Seahawks the 14th overall pick in 2010, which Seattle would use to draft ... Earl Thomas. Yes, the same Earl Thomas who serves as the cornerstone of a Seahawks defense that destroyed Denver in last year's Super Bowl. Ouch.
The Cowboys and Bears were involved in trades that netted specific players in return. Dallas somehow gave up a first-round pick for wide receiver Roy Williams (THAT HAPPENED). Williams could probably slot in the previous draft breakdown, but for purposes of looking at how he impacted the Cowboys as a midseason trade, I included him here. The Bears gave up a first-round pick for Jay Cutler.
You know what the Bears did after the Cutler deal -- you can see it above -- and you need to add in only their .500 season from 2013 to max out their five-year performance on the Cutler deal, both in Year 1 and Year 2 of giving up first-round picks.
***
The Raiders -- who traded a 2011 first-round pick to the Patriots for Richard Seymour -- and Bears (mentioned above) -- were the only teams to deal first-round picks in the 2011 NFL Draft. Their charts are both incorporated above (Bears) and below (Raiders) since Oakland wasn't done giving away first-round picks for veterans. For what it's worth, Seymour was very good for the Raiders initially. But I'm not rolling out a separate graph to tell you the Raiders haven't been very good over the last five years. 
***
The 2012 NFL Draft saw a trio of first-round picks traded away.
2012 NFL Draft Trades
Team
Player Acquired
Year 1 Production 
Pick Given Up

13 GS, 959 receiving yards, 10 AV

2012 -- 22nd overall

9 GS, 2,753 pass yards sacks, 8 AV

2012 -- 17th overall

4 GS, 474 rush yards, 4 AV

2012 1st Round (29th)
The Raiders gave away a first-round pick for a veteran, giving up a first-round pick for Carson Palmer, who is no longer with the team.
The Falcons made the move to grab Julio Jones by giving away basically two seasons worth of drafts (which the Browns couldn't capitalize on. Brandon Weeden and Greg Little were two of the top three picks from that swap and are already gone).
The Saints dipped back into the first round to nab Mark Ingram. Whoops. At least they didn't have a pick to give away in BountyGate.  
What's odd about this is the Falcons got worse (10 wins, but still worse) with the productive addition of Julio Jones before spiking back to 13 wins in 2012, which goes against the norm. The bottom fell out for them in 2013 however.
The Saints, despite Ingram being a non-factor as a rookie, actually improved in 2011. The lack of first-round pick (and a second-round pick and a head football coach) caught up with them in 2012.
Oakland's consistent slinging of picks caught up with it eventually. Two four-win seasons the last two years are a result of setting the roster on fire and never hitting on draft picks. The Autumn Wind blows between four and eight wins a season. More on that in a second.
The 2012 NFL Draft is best known for producing Andrew Luck, but the Robert Griffin III trade between the Rams and Redskins will forever spark debate.
Washington gave up THREE future first-round picks (the last one realized this year) and change for Griffin. 
2013 NFL Draft Trades
Team
Player Acquired
Player Production Year 1
Players Drafted With Picks

15 GS, 3,200 pass yards, 18 AV

2013 -- 22nd overall
Crazy how this trade is perceived right? It looked like a brilliant stroke by the Redskins after RG3 won OROY hardware in 2012. (Also crazy: the Redskins gave up the 22nd overall pick for Campbell AND Griffin just a few years apart.) But a terrible 2013 and the Rams cleaning up has changed that perception.
Now I don't want to get ahead of myself, but the Redskins might very well be Cain and Hackman in the same movie for me, man.
The seemingly eternally struggling franchise makes a bold play to grab a franchise quarterback, soars to new heights and then promptly crashes the next year thanks to a lack of depth at many different positions.
There are more reasons why the Redskins crashed and burned, but the reality is they just gave up the No. 2 overall pick in a loaded draft largely because they couldn't protect their franchise quarterback or play any defense.
We won't be covering the 2013 NFL Draft here. There's only one year of data and one of the teams involved is the Redskins. (The other is the Buccaneers, which dealt a first-round pick for Darrelle Revis and promptly stunk the joint up.)
I'm curious, though, how all these different teams would look if we lined them up in a Pre-Trade, Trade Year, Year 1, etc fashion and overlaid the graphs.
You can kind of see a pair of trends, independent of the teams, where there's a spike in that first year. It's possible you're just confused.
But don't worry, you're not. Turns out the average of each year actually does bear out our theory. Teams that deal away a future first-round pick, on average, improve immediately the year after and pretty substantially.
Teams that trade for additional talent by using a first-round pick improve by 1.6 wins on average the next season. (7.54 wins to 9.14 wins). However, there's a pretty significant dip on average the following year, down to 6.93 wins.
This doesn't mean the Bills "bought" 1.6 wins by trading up five spots to grab Sammy Watkins in this year's draft. The picks used don't guarantee success or failure.
You still have to correctly select the players in the draft to generate success. If that's too obvious, well, it's supposed to be. But that doesn't make it any less true. If the Rams don't nail a bunch of their picks from the RG3 deal, we look at it differently. If the Browns hit on more (any?) of their draft picks from the Julio trade with Atlanta in 2011, we look at their situation in a completely different light.
Hitting on draft picks is a very inexact science, and calling it a science isn't really fair given the amount of luck involved. It's easier to get lucky when you've got more picks and dealing away future first-round picks means you're going to end up with less chances to get lucky. It also means you'll have less chances to fill out your depth.
At the very least, dealing away even a single future first-round pick opens up a team for serious future risk. What's truly fascinating about the strategy is how it might actually make sense for front offices concerned about job security.
The "win now" mode is definitely important if losing now means getting fired.
Giving up a future first-round pick doesn't mean Buffalo's going to the postseason next year. Far from it. But it could mean a bump in success. Even if the long-term ramifications will be less than successful.
The Chargers, after starting 0-4, can take first in the AFC West with a win Sunday

The Lions cruised to a victory but will need to win out to have any chance of reaching the...

Here's every official injury designation for each NFL team for Week 15
This might go down as the best catch of Week 15

Our computer model simulated every Week 15 NFL game 10,000 times with very surprising resu...

Ryan Shazier and the Steelers were the big winners in Pro Bowl voting that was unveiled on...