Training camp roundup: Sanchez a mixed night, Vick looks good
Are Mark Sanchez and Michael Vick going in different directions? It seemed like it at times Friday night.
• 5 min read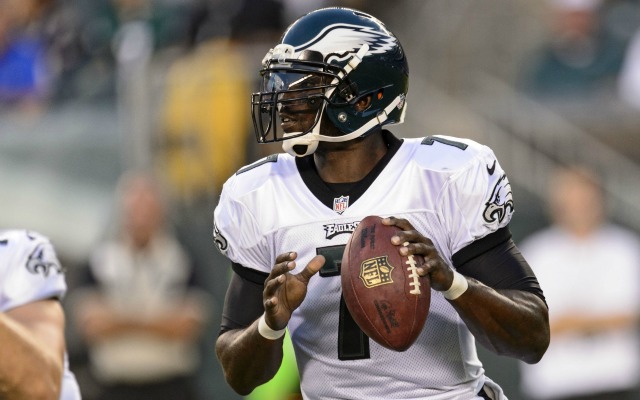 Michael Vick and Mark Sanchez have plenty of things in common. No. 1, they're quarterbacks (obviously). No. 2, they're veterans who are being pushed by younger quarterbacks who want to prove they can be the signal-callers of their respective teams' organizations.
And within about 20 seconds of real time, we got a chance to see where exactly Vick and Sanchez could be headed.
First, it was Sanchez, who's being pushed by New York Jets second-round pick Geno Smith . After doing a nice job of getting the first down on a third-and-long on his third snap from scrimmage, Sanchez dropped back to attempt a screen to the left side and threw it directly to Detroit Lions rookie defensive end Ziggy Ansah, who caught it and ran it in for the 14-yard interception return.
Then, in Philadelphia, it was the turn of Vick, who's trying to fight off second-year quarterback and last year's part-time starter, Nick Foles .
As the Lions celebrated their defensive touchdown in Detroit, Philadelphia Eagles receiver DeSean Jackson sprinted by New England Patriots cornerback Aqib Talib and caught a well-placed 47-yard touchdown in stride to make Vick look good.
Sanchez recovered on the next series, hitting Clyde Gates for an 18-yard pass on a third-and-10, but it will be tough for the Jets coaching staff (and the team's fans) to forget Sanchez's ridiculously-bad pick-6 on his first series Plus, a few plays after his first-down conversion, Sanchez almost tossed another interception on another poor screen pass attempt.
On the final series, though, Sanchez actually played well and tossed a  touchdown pass to Jeff Cumberland .
Through three series, Sanchez was 10 of 13 for 125 yards, while Vick's first two series yielded a 4-for-5, 94-yard, one-touchdown performance.
The lesson here: Vick is probably elated, Sanchez still makes bad turnovers and is by no means Sharpied in as the New York starter, and perhaps the Jets should lay off the screens for a while.
Riley returns
If you thought being dismissed temporarily from the Eagles after using a racial slur so receiver Riley Cooper could seek counseling, only to return four days later would keep receiver him from missing the first preseason game, you would be wrong.

He was in the starting lineup vs. the Patriots, and he caught one pass for 19 yards.
An unimpressive stat line
Blaine Gabbert , who seemingly has to have a positive season in order to keep his quarterback job with the Jacksonville Jaguars , finished his first preseason game, completing 5 of 10 passes for 19 yards and an interception.
That's less than a four-yards-per-completed-pass average (not including the interception, mind you). That likely will not inspire much confidence.  
Injury bugs
Cleveland Browns

coach Rob Chudzinski said Friday that right guard

Shawn Lauvao

had to undergo ankle surgery and will miss "some time during the regular season." He did not get any more specific than that, but Chudzinski did praise

Jason Pinkston

for his play as Lauvao's understudy on Thursday night. Later in the day, the Cleveland Plain Dealer's Mary Kay Cabot reported that Lauvao was expected to be out for about six weeks.
Indianapolis Colts

tight end

Dwayne Allen

has a foot injury, but it's not clear at this point how serious it is. The team for now is awaiting the results of a second opinion.
St. Louis Rams

tackle

Rodger Saffold

suffered a dislocated shoulder in St. Louis' preseason opener Thursday. The shoulder was popped back into place, but he's expected to miss one or two preseason games. "We're still doing tests," Rams coach Jeff Fisher told reporters. "He's a little sore. He's going to miss some time."
Oakland Raiders

rookie cornerback

D.J. Hayden

, coming off offseason abdominal surgery, didn't play Friday, and it sounds like he won't participate in the team's second preseason game either. "We'll let him go full-bore -- that third (preseason) game, the gloves come off," Oakland general manager Reggie McKenzie told NFL.com. "… It's the mental part. He's going to have to pull the trigger on some things, get the big hit, make plays, he'll be back to normal mentally. Physically, he's already there."
Hey kids, don't hit the chandelier
One reason why the Seattle Seahawks won their preseason opener vs. the San Diego Chargers on Thursday night? They had their walkthrough in a bloody ballroom at the team hotel.
Look: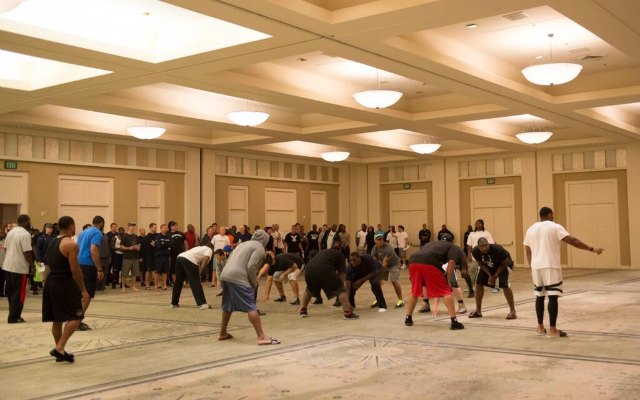 (I kid, by the way. This kind of setup does happen.)

I'm so excited, I'm about to lose control and I think I like it
This Kirk Cousins celebration is from Thursday night. That doesn't mean it's still not guffaw-worthy on Friday night.
A little help from our friends
Just because Raiders punter Chris Kluwe is trying to beat out Marquette King for the Oakland job, that doesn't mean he can't be friendly to his rival. Or give him some much-needed advice.
At theMMQB.com, Kluwe writes about his relationship with King, and it's very well-done.
A quick passage:
After the third or fourth day, I did what might have been one of the hardest things I've ever done (outside of changing some particularly foul diapers). Marquette and I were out punting, and he was struggling with his drop. It kept falling to the inside, causing his leg to cross over and make his punts drag short and to the left. It's an easily correctable mistake, but a lot of the time you need someone else to point it out to you, especially if you're still refining your fundamentals. I could see him getting frustrated, hating the fact he was losing those oh-so-precious reps, squandering them on poor punts.

During a break between kicks, I walked over and told him what was happening, and how to fix it. He looked at me somewhat bemusedly, perhaps sensing some sort of mind game. I can't say that I blamed him. Why would a veteran, a guy fighting for the same spot, offer to make his competition better? Surely this had to be a trick, a ploy? (And don't call me Shirley.)

The next rep, he tried the change I had suggested—tuck his elbow in a little to keep the ball from falling inside—and he crushed the ball. And the next one. And the next one. Afterward he thanked me for the help, still not quite believing it. I was glad he trusted me enough to try the technique change, willing to listen to someone he knew might not have his best interests in mind.
The dreaded No. 17
What do you do if, during the day of a game, you get a little stir-crazy in your hotel? If you're the Jaguars mascot, you go golfing of course.


Good luck to the @jaguars tonight! Hopefully the #islandgreen is the only thing that @JaxsonDeVille fears! #miavsjac pic.twitter.com/60FxfFhHX5

— PLAYERS Championship (@THEPLAYERSChamp) August 9, 2013
Follow Josh Katzowitz on Google+
Romo was at it again in Week 3, diagnosing defenses and calling out the plays before the s...

Washington's star cornerback is not a fan of the president and his incendiary rhetoric

Joe Lockhart, speaking against Trump, called Sunday 'an important day in the NFL'
Week 3 in the NFL was absolutely bonkers, and Twitter overreacted as usual

The Hall of Famer and former Bills great also thinks Trump needs to quit Twitter

Here's an early look at the lines for all NFL games being played in Week 4