Training camp roundup: Steelers WR Wheaton has nice debut
With the Steelers looking to find receiver depth, rookie Markus Wheaton gave Pittsburgh a spark Saturday.
• 4 min read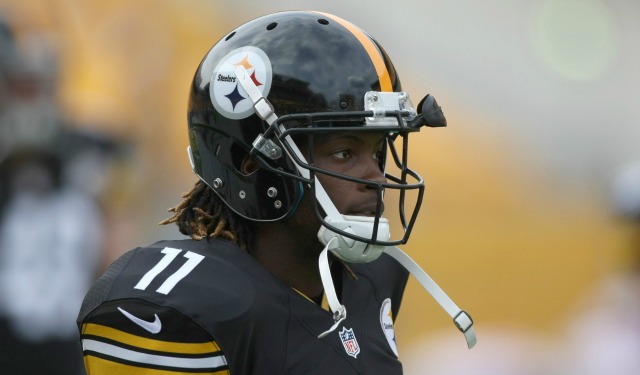 The first disappointment for the Steelers entering Saturday's preseason opener vs. the Giants was that rookie running back Le'Veon Bell, who was supposed to get plenty of carries, sat out because of a sore knee. Without its second-round draft pick lining up behind Ben Roethlisberger, the Steelers offense relied on running backs LaRod Stephens-Howling and Jonathan Dwyer, both of whom are decent-enough players but not as exciting as the potential of Bell.
But while Bell's absence was disappointing, we were intrigued to see what kind of production the receivers behind Antonio Brown and Emmanuel Sanders on the depth chart could bring to the Steelers offense. Particularly, third-round draft pick Markus Wheaton.
The team lost one of the best deep threats in the league, Mike Wallace, to the Dolphins in free agency, and Plaxico Burress tore his rotator cuff this past week, putting his career in jeopardy.
When Roethlisberger was in the game Saturday, the Steelers focused more on the running game, and Stephens-Howling looked strong, rushing for 40 yards on seven carries. In the passing game, Roethlisberger looked mainly toward Brown and Sanders in the passing game, though fullback Will Johnson had a couple of nice catches out of the backfield.
Wheaton, the most-intriguing of the unknown receivers, almost made a nice sideline catch from backup Bruce Gradkowski at the beginning of the second quarter, but after a replay that clearly showed the ball hit the turf as Wheaton flipped over, the officials overturned the reception.
Wheaton, a few minutes later, had a nice catch on fourth-and-two when he made a nice diving catch  just before taking a big hit from a Giants defender. Later in the second quarter, Wheaton took an end-around hand-off, and he used his speed to get by the initial defender and gain 10 yards.
He wasn't spectacular or anything, but in the first half, he provided a small spark for a team that gained only 141 yards while scoring just six points.

Injury Bug
Steelers tight end Matt Spaeth reportedly will miss the next 8-10 weeks while recovering from a foot sprain. That's particularly bad news since tight ends Heath Miller and David Johnson still haven't been cleared to practice.
Some good news for Jaguars receiver Justin Blackmon. Although he made himself part of Friday's preseason game by engaging in a verbal altercation with Dolphins cornerback Nolan Carroll, Jacksonville coach Gus Bradley said he expects Blackmon (groin) to practice for the first time this season Monday. Also, rookie cornerback Johnathan Cyprien (hamstring) is expected to practice as well.
The 49ers announced that running back Kendall Hunter, who hasn't played since last season because of an Achilles injury, has been taken off the PUP list. He can begin practicing immediately.
Ravens backup running back Bernard Pierce suffered a sprained knee in the team's first preseason contest, but according to the Baltimore Sun, there's no structural damage. "No comment on any injury situation," coach John Harbaugh said. "If something's serious, I'll let you know. I'm not going to get into every little nick and bruise that happens. If it's serious, I'll let you know."
Getting the jump
Giants defensive end Damontre Moore didn't have a problem getting directly in Drew Butler's face as the Steelers punter attempted his kick Saturday night.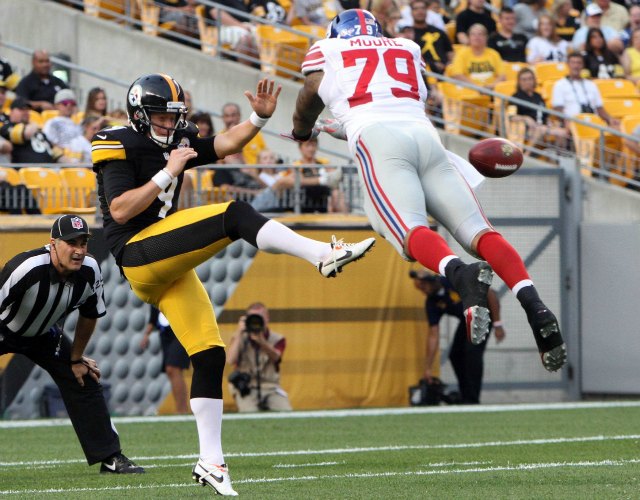 RG3 in GIF form
Obviously, you didn't see Robert Griffin III in the Redskins preseason opener -- you actually probably won't see him all preseason -- but in case you still want to see how the man is performing in warmups, here's your chance, via SB Nation.


Hey Redskins fans, slow your heartbeats and wipe the drool of anticipation off your chins.
LeLong Touchdown
This probably was the most obvious thing that could have happened to LeGarrette Blount. After washing out in Tampa Bay, New England traded for him in the offseason with coach Bill Belichick saying, "We felt like we got good value for Blount. We felt like he was a talented guy that we wanted to have on our team."
Whether that's true or not for the future, it appears some of that Patriots magic has rubbed off on Blount.
Witness this 51-yard touchdown run Friday.
On a separate note: geez, Ryan Mallett, way to think about throwing a block there.
Need a side of bacon with that?
If you want to see a true pancake block, check out the below photo, via Erik Frenz, of the hit Patriots tackle Nate Solder put on Eagles defensive tackle Fletcher Cox in the first quarter of New England's win Friday night.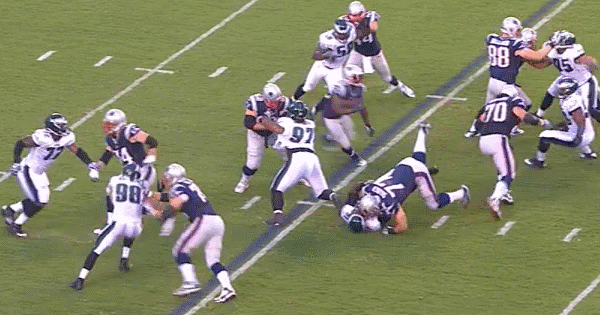 Probably not what the Eagles want to see from their 2012 first-round draft pick.
Revis is back
The Tampa Bay Buccaneers official Twitter account is EXCITED about cornerback Darrelle Revis.


Think we're going to be seeing A LOT of this this year. pic.twitter.com/lnlcHm5b8D

— Tampa Bay Buccaneers (@TBBuccaneers) August 10, 2013
Follow Josh Katzowitz on Google+
Everything you need to know about the Packers-Steelers game on Sunday night

The Patriots dynamic duo will be playing on Sunday against the Dolphins

Here's every official injury designation for each NFL team for Week 12
Larry Hartstein is on an 8-2 NFL run and gives his best three-team NFL parlay for Week 12

Plus baby names, kicker issues and other things of interest from NFL on Thanksgiving

It was foretold, and King delivered