Training camp roundup: Top-five free agents still available
Now that Brandon Moore and Deon Grant have retired, here are five free agents who are still available for the taking.
• 6 min read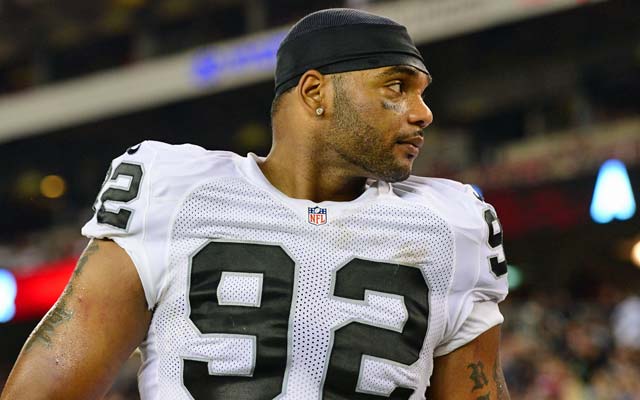 With the 12-hour saga of free agent guard Brandon Moore first signing a deal with the Dallas Cowboys before deciding to just retire instead and with former New York Giants safety Deon Grant announcing his retirement, let's take a look at some of the top free agents still left on the market.
There are some big names still out there. Not to mention some quality players. And there has been interest in most of these names. But with many free agents signing below what they thought they were worth, perhaps that's a major reason why these guys are still available.
Here are my top-five.
DT Richard Seymour: Though he's disappeared from view a little because he's played on some bad Oakland Raiders ballclubs the past four years,  there still appears to be some spark in his 33-year-old body. The problem with Seymour finding a job is that he likely doesn't want to play for an insignificant amount of money (for example, the veteran's minimum salary). The seven-time Pro Bowler seemed content several weeks ago when he said that if his career is over, so be it. But a team that's missing depth in the defensive line certainly could give him a shot. That team likely would have to pay, though.
S Kerry Rhodes: About a month ago, Rhodes said he had four teams vying for his services and that discussions were "in the works." A month later, Rhodes is still on the sideline, and it seems like there's virtually no interest in the man that Pro Football Focus ranked the fourth-best safety last season. It's hard to believe that the effective 31-year-old's career might be finished, but for now, that appears to be the status for Rhodes.
LB Takeo Spikes: Look, I know that bringing Spikes onto your team guarantees your squad will not make the postseason (he's 0-for-15 in his career), but Spikes still can provide production as a linebacker. Yes, he's 36 years old, but he's also started every game but one in the past four seasons with the San Francisco 49ers and the San Diego Chargers . Plus, in 2010 and 2011, he had back-to-back 100-plus tackle seasons. Maybe you don't want Spikes as a starter, but surely he could fit in somewhere. Especially if you want to fire your head coach at some point soon for missing the playoffs.
CB Eric Wright: Maybe he's still a decent-enough player -- and I believe that he is -- but his recent arrests and suspensions have killed his career. Wright, at this point, is probably a guy who's just not worth having around, but that doesn't mean he couldn't help your team's secondary.
QB JaMarcus Russell: I kid, I kid (though he is still available).
Injury Bugs
New Orleans Saints

coach Sean Payton told reporters that receiver

Joseph Morgan

had torn his ACL and likely is done for the season.  Also, defensive end

Kenyon Coleman

has a torn pectoral muscle and is out for the year.
After leaving practice Tuesday with a biceps injury,

Green Bay Packers

receiver

Randall Cobb

returned to practice Wednesday morning.
Chicago Bears

receiver

Earl Bennett

has a concussion and won't play in the team's preseason game Friday. It's his second concussion in eight months.
Bears backup cornerback

Kelvin Hayden

has torn his hamstring, and he's out for the season.
If you had hoped to see running back

Trent Richardson

and safety

T.J. Ward

in the

Cleveland Browns

first preseason game, these next 10 words will disappoint you. That's because neither will play Friday. Richardson is battling a shin injury, while Ward's hamstring has been bothering him. "It's the preseason," said coach Rob Chudzinski. "We've have a plan for that and we're making sure [Richardson] gets reps as needed out here in practice and we build him to be ready for the beginning of the season."
An upchuck update
If you're a Buffalo Bills fan, and you just couldn't figure out why the Chan Gailey staff of the past three years didn't give the ball to running back C.J. Spiller more often, have no fear. That likely won't be an issue with first-year coach Doug Marrone and offensive coordinator Nathaniel Hackett.
"It's real simple," Hackett told WGR on Wednesday morning (via the Buffalo News). "We're going to give him the ball until he throws up. So he's either got to tap out or throw up on the field. Let's just put it that way."
Which makes perfect sense. After all, Spiller rushed for 1,244 yards on 208 carries (a whopping average of 6.0 yards per carry). Fred Jackson has done well as a running back the past few years in Buffalo, but Spiller brings a special dimension to the offense.  
Here's hoping he keeps himself well-hydrated, on account of all the vomiting he's going to experience.
Action (Steven) Jackson
As Daryl Richardson appears poised to take over his old job, former St. Louis Rams and current Atlanta Falcons running back Steven Jackson is being used for his versatility.
As the official team website writes, "During practices the Falcons have positioned Jackson all over the line of scrimmage and at one point Tuesday during drills, the Falcons threw to Jackson on two straight plays on opposite sides of the field."
Jackson said he thinks it's because the offensive staff wants to get him matched up on the opposing linebacker and because he'll add another weapon in what might be one of the most dangerous passing attacks in the league.
"It reminds me of my younger years in St. Louis when I was used more as a receiver out of the backfield," Jackson said. "It allows me to use more tools in the shed that I have and possess. It allows me to work on things I haven't done in a number of years."
A Black day for Black
If you watched the first episode of "Hard Knocks," you know the sad tale of rookie defensive tackle Larry Black , who dislocated his ankle in training camp.
Now, it's even sadder (though not surprising). The Cincinnati Bengals announced Wednesday that they had released him in the waived/injured category.  If Black clears waivers, he will revert to the Bengals reserve/injured list.
Fight, fight, fight!
Three of them to be exact at Packers practice Wednesday. Normally, I don't care much about practice dust-ups, but then again, there's not usually video of them either.
So, here you go, via Fox 11.


Several scuffles at Packers practice


More of Moore
In case you thought Herman Moore couldn't continue to play in the NFL, check out the quick video posted by the Detroit Lions . Moore lined up at receiver and then took a jump-ball pass for the touchdown.
Sure, he got very little resistance from the cornerback covering him, but that's not the point! (Besides, I just wanted to post the video.)



Your daily New York Jets quarterback report
We already know Mark Sanchez will start the first preseason game. And after that …?


Will Geno Smith start a preseason game? Rex Ryan: "we'll let that play out." #nyj

— Manish Mehta (@MMehtaNYDN) August 7, 2013


Sometimes you just need an autograph …
… No matter who's signing it. Even if it's the Washington Redskins owner that most people don't seem to like very much.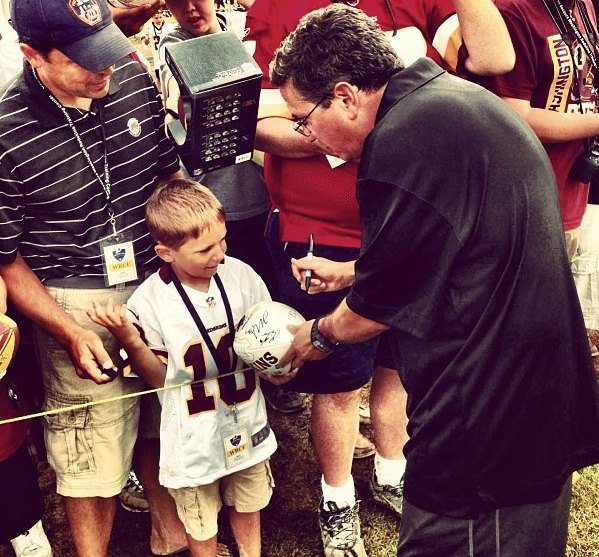 And shhh, don't tell this girl that Daniel Snyder was signing autographs at Redskins training camp. She might start crying again.


Follow Josh Katzowitz on Google+
Kaepernick is unsigned, but he is continuing to make waves off the field

A report Friday said that Bell's agent agreed to a five-year deal right before the deadline...

Plus everything else you need to know about Week 2 of the 2017 NFL preseason
The Ravens kicker wanted to try a ridiculously long field goal against the Dolphins

From drops to dumb penalties, the Panthers offense had a day to forget Thursday

Dave Richard helps us determine Fantasy football's biggest August draft decision