It's rarely a positive when the owner of a team tweets IMMEDIATELY after his squad's Thanksgiving Day loss that it was unacceptable and that he apologizes for the way said squad played. It's also not a great sign when the general manager's daughter bashes that team's offensive coordinator on Twitter.
First, the reaction of 49ers owner Jed York.
Thank you #49ersfaithful for coming out strong tonight. This performance wasn't acceptable. I apologize for that

— Jed York (@JedYork) November 28, 2014
Second, here's what Cassie Baalke -- the daughter of San Francisco GM Trent Baalke, who very well could be the one to rid his team of coach Jim Harbaugh -- had to tweet. It's since been deleted, but 49ersnews.com made a screenshot.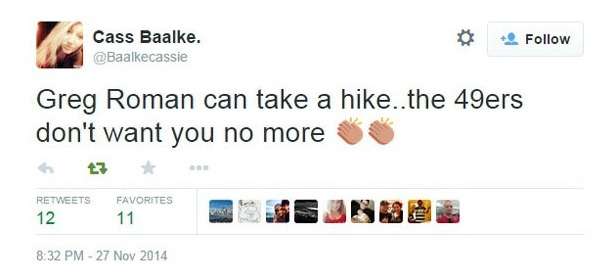 That tweet is gone now, but in its place, she tweeted this.
Everyone's entitled to an opinion..sorry mine doesn't favor you or agree with yours ??

— Cass. (@Baalkecassie) November 28, 2014
For the record, the 49ers offense, after Thursday's game, ranks 23rd in the league. Last year, the team's offense ranked 24th, so this year is actually a slight improvement in terms of league standing (though the team is actually averaging less yards this year than last).
After the 49ers loss to the Seahawks on Thursday, Harbaugh was asked after if he needed to evaluate the offense and perhaps make a major change in how it's run. Said Harbaugh: "We always do that. We'll do that again. We'll evaluate it. I don't know what you refer to with major changes."
Perhaps he should ask Cassie Baalke.