Undrafted QB Case Keenum will be Texans starter against Chiefs
Second-year Texans quarterback Case Keenum will make the first start of his career on Sunday when the Texans play at Kansas City.
Case Keenum will be Houston's starting quarterback when the Texans play at Kansas City this week, coach Gary Kubiak announced Thursday. Matt Schaub injured his ankle against the Rams last week, paving the way for the undrafted Keenum to make his first career start. 
Through the first six weeks of the season, T.J. Yates had been the Texans No. 2 quarterback, but Yates struggled against the Rams, throwing two interceptions in less than one half of action. Yates will be the backup quarterback against the Chiefs while Schaub won't play at all. 
"I didn't hesitate because I feel like we need a spark," Kubiak said, via the Houston Chronicle. "I think it's the best thing for our team."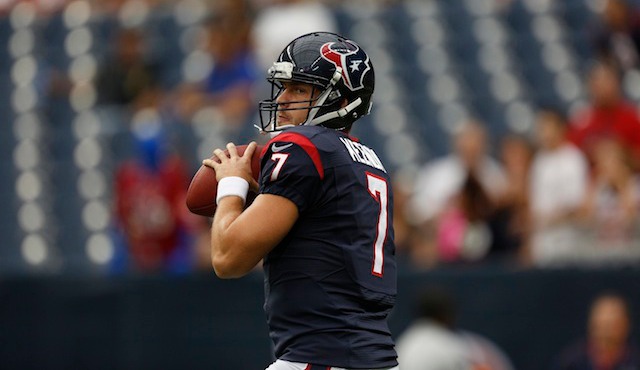 Kubiak knows it won't be easy for Keenum to be making his first career start against a Chiefs defense that's ranked fifth in the NFL.
"He's going against one of the top defensive teams at their place, but we just want him to go out and react," Kubiak said. "He'll do his part and the team will do theirs. He has a knack for making big plays. There's big pressure on our guys up front. This young man has to go in there and do his job."
Not only will this be Keenum's first start, but it will be the first time he's been active for a game since signing with the Texans as an undrafted rookie before the 2012 season. 
The last time Keenum played in a game that counted was in the Cotton Bowl in January 2011. He threw for 532 yards and three touchdowns as the University of Houston topped Penn State 30-14. 
Keenum left college as the NCAA FBS all-time leader in passing yards (19,217), completions (1,546) and touchdown passes (155). 
Patriots QB's ring, given to one of his friends/family members, was auctioned off to an anonymous...

If the Redskins get petty, Cousins will try and get his vengeance through a grievance

The Dolphins also donated $100,000 to the victims' fund after the school shooting that killed...
The Cardinals GM explains his process for finding Carson Palmer's successor

Stefen Wisniewski narrowly missed out on a chance to earn $250K, but the Eagles gave it to...

Shazier heads into the Steelers' facility every day and helps with 'personnel stuff'