Unsigned Dion Jordan plans to be at Dolphins training camp
Dion Jordan hasn't signed his contract yet, but Dolphins' first-round pick said he'll be at training camp when it opens Saturday.
• 1 min read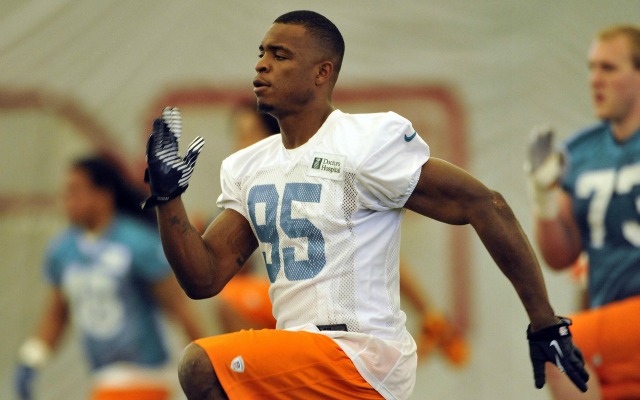 The Dolphins players report to training camp Saturday, and the team's first-round pick, Dion Jordan, still hasn't signed a contract. But no worries, Jordan told the Miami Herald. The defensive end, taken No. 3 overall, doesn't plan on holding out.
"[The contract is] not finalized yet, but I'll be there," Jordan told the newspaper.
As former Packers executive Andrew Brandt pointed out, that probably isn't exactly what Jordan's agents want him saying.
But Jordan seems carefree at this point. He spent some of Friday in downtown Miami, riding around in a food truck and delivering ice cream for a valet service that is trying to nudge its way into the South Florida market.
"A few people recognized me," Jordan said. "We took some pictures."
Most likely, Jordan's representation isn't quite as relaxed.
It sounds like the main obstacle in these negotiations is the issue of offset language in the rookie contract. Miami wants it in the deal so if the team has to cut Jordan before his rookie contract is finished, the team won't owe him any money if Jordan were to sign with another team. For obvious reasons and in order to double-dip if that time comes, Jordan doesn't want that offset language in his deal.
Though the Dolphins successfully included offset language in the contract of last season's first-round pick, Ryan Tannehill, Jordan's agent Doug Hendrickson isn't interested in caving quite yet.
For the record, most teams don't have that offset language set up in the contracts of their first-round picks, but Miami has been vigilant about it with the new Collective Bargaining Agreement.
It remains to be seen at this point what the Dolphins might have to give up in order to get the OK to include the offset language -- last year, they agreed to convert much of Tannehill's yearly base salary into roster bonuses due on the sixth day of training camp each season -- but it sounds like it will get done.
At least, that is, according to Jordan.
Super Bowl tattoos are never a good idea until your team has actually won the Super Bowl

A couple of dogs emerge victorious in the Conference Championship round

Our computer model simulated the AFC and NFC title games 10,000 times with surprising resu...
If the past 18 weeks are any indication, Tom Brady could be in trouble Sunday

The Patriots quarterback has been listed as questionable for Sunday's AFC Championship

It appears the Raiders didn't break any rules during their hiring of Jon Gruden