Urban Meyer doesn't want to talk about Aaron Hernandez
Although he's previously talked about his relationship with Aaron Hernandez, former Florida coach Urban Meyer isn't interested in that now.
• 2 min read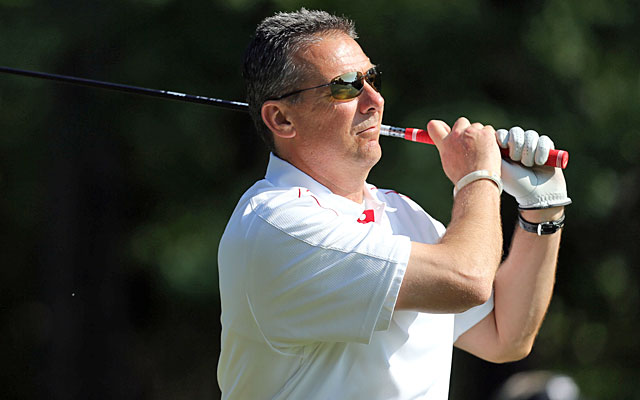 While it's been a minor storyline in what has become a major story, some have wondered, in the wake of police charging Aaron Hernandez with first-degree murder, how much blame Urban Meyer should shoulder in this case.
Meyer, after all, was Hernandez's coach at Florida, and the Gators program had a number of players arrested during Meyer's tenure. Meyer's disciplinary measures (or lack thereof) while in Gainesville certainly have come into question since he coached there. As CBSSports.com's Gregg Doyel writes, though, it's not necessarily fair to say that Hernandez is an indictment on Meyer.
So, let's go right to the source and ask Meyer what he thinks. Fortunately, FSN Ohio's Zac Jackson did that Monday. Unfortunately, he didn't get much of an answer.


I asked Urban Meyer what he's felt the last week about Aaron Hernandez. "I'm not gonna talk about that." So we didn't talk about that.

— Zac Jackson (@FSOhioZJackson) July 1, 2013


Of course, it's well within Meyer's rights not to talk about this issue -- even if CBSSports.com's Gary Parrish had a pretty good suggestion for what Meyer could say -- but as PFT points out, it seems hypocritical of Meyer not to discuss Hernandez, based on his past comments about how closely he worked with the tight end while at Florida.
This, of course, isn't the first time that Meyer has been questioned about his past teams' proclivity for getting arrested.
"I know there's been some issues that we've had that I've had to deal with, not that we're proud of," Meyer said during his introductory press conference at Ohio State. "We have a set of core values. Honesty, respect.
"Number one, treat everyone with respect. Number two, no drugs, no stealing, no weapons. Those are core value issues. You're either dismissed, or you miss a good bunch of time playing the game. Most everything else [is] mistakes. Sometimes you're in a college town where things get  … on the front page of the paper. So the issues we had I see numbers of arrests and the numbers I see are exaggerated.
"I know what we've had to deal with.  If we had one, that's too many. Our job as a coaching staff is to mentor, to discipline and to educate young people. And we've had a pretty good track record. We ran into some bumps in the road at the University of Florida."
It should be noted that Hernandez admitted to failing at least one drug test while at Florida, and NFL teams were worried enough about him to avoid him in the 2010 draft until the Patriots picked him in the fourth round.
Two weeks into the season, the Chiefs keep creating long touchdowns. Can they keep it up?

CBS All Access allows viewers to stream every NFL on CBS game in their local market

CBS All Access allows viewers to stream every NFL on CBS game in their local market
CBS All Access allows viewers to stream every NFL on CBS game in their local market

CBS All Access allows viewers to stream every NFL on CBS game in their local market

CBS All Access allows viewers to stream every NFL on CBS game in their local market