Urban Meyer: I don't get why Tim Tebow isn't in the NFL
Tim Tebow's coach at Florida, Urban Meyer, is having a hard time understanding why the former Gator quarterback can't find a job in the NFL.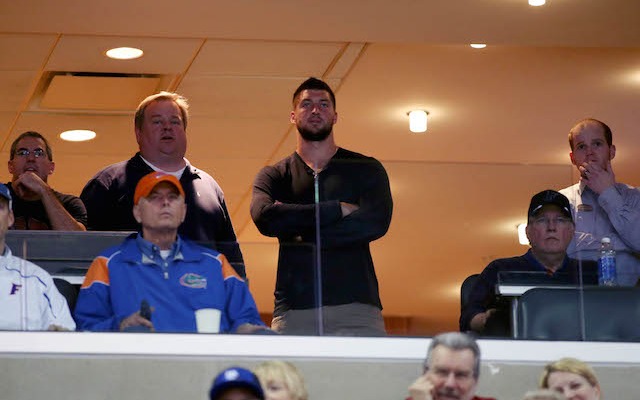 More NFL: Photos |  Videos & GIFs |  Training Camp updates | Manziel watch
Tim Tebow's phone hasn't been ringing this offseason -- well, it might have been ringing, but it wasn't an NFL team calling -- but that doesn't mean Tebow has given up on his NFL dream. 
The 26-year-old has spent the better part of his summer working out for a possible NFL comeback and he told KSAZ-TV in Arizona last week that he's as healthy as ever. 
"I feel great," Tebow said. "I feel the strongest, healthiest, throwing the best I ever have. I'm just really excited about the improvement."
Tebow might be improved, but he still hasn't been able to find an NFL team to sign him and that baffles his former college coach, Urban Meyer. 
"I still don't get that part of it," Meyer said at Big Ten Media Day on Tuesday, via NFL.com. "He's the second-most efficient passer ever to play college football."
That efficiency hasn't exactly translated to the NFL, where Tebow only completed 47.9 percent of his passes in three seasons. That doesn't mean he's a failure though, Meyer thinks Tebow could potentially succeed in a non-traditional offense. 
"He had really good personnel around him [at Florida] and we utilized his skill very well," Meyer said. "I think in a traditional setting, it is difficult, but there's a lot of non-traditional offenses now in the NFL."
Even if Tebow doesn't latch on with an NFL team though, Meyer thinks the former Gators quarterback will end up alright. 
"He'll be successful in whatever he does, but he's such a good player," Meyer said. "I just wish it would work out for him."
Tebow hasn't thrown a pass in an NFL regular season game since December 2012 and he hasn't been employed by any NFL team since the Patriots cut him last August, but as you can see below, he's not letting the dream die. 
This might go down as the best ending of the 2017 season

The Raiders beat the Chiefs, 31-30, on Thursday night thanks to Derek Carr's heroics

This was easily the most exciting final 10 seconds of any game in the NFL this season
Everything going the Chiefs way on Thursday Night Football

Beast Mode went Beast Mode on someone he shouldn't have gone Beast Mode on

This is how you do a 99-yard touchdown drive