Urban Meyer: We 'worked very hard to mentor and guide' Hernandez
Although current Ohio State coach Urban Meyer declined to discuss Aaron Hernandez earlier this week, he has since changed his mind.
• 1 min read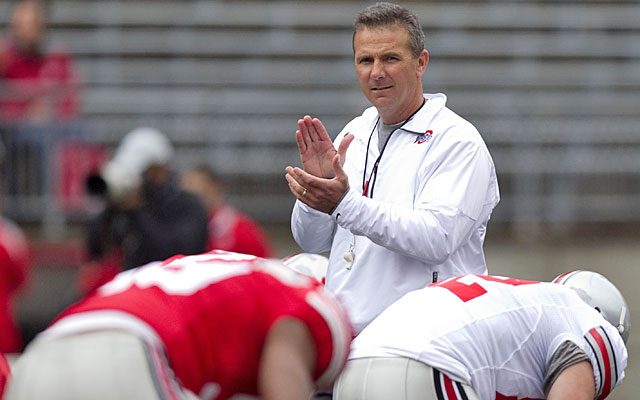 When given the chance last week to discuss his former player at the University of Florida, current Ohio State coach Urban Meyer decided unequivocally not to talk about Aaron Hernandez.


I asked Urban Meyer what he's felt the last week about Aaron Hernandez. "I'm not gonna talk about that." So we didn't talk about that.

— Zac Jackson (@FSOhioZJackson) July 1, 2013


Looks like a few days later, Meyer has changed his mind, expressing his sympathy for the family of Odin Lloyd and distancing himself from any blame surrounding Hernandez.
"Prayers and thoughts are with the family and friends of the victim," Meyer texted to the Columbus Dispatch. "Relating or blaming these serious charges to the University of Florida, myself or our staff is wrong and irresponsible."
While you could make your own theory why Meyer had decided to speak out at this point, it's clear he wanted to clear up what he perceives as inaccuracies about his dealings with Hernandez in college.
"I just received an email from a friend where there is an accusation of multiple failed drug tests by Hernandez covered up by University of Florida or the coaching staff. This is absolutely not true," Meyer texted. "Hernandez was held to the same drug testing policy as every other player."
Meyer continued: "He was an athlete at Florida 4-7 years ago and there are some comments being made that are not correct. Our staff, myself and our families worked very hard to mentor and guide him."
Hernandez -- who admitted to failing at least one drug test while at Florida and watched his draft stock plummet before the Patriots plucked him in the fourth round of the 2010 draft -- has been charged with murder. There have also been reports recently that Hernandez was questioned about a shooting that occurred in Gainesville, Fla., in 2007 and about a bar fight in which he allegedly ruptured a bouncer's ear drum.
In any case, Urban Meyer's wife doesn't appreciate those who are associating her husband (and his supposed disciplinary leniency while at Florida) with Hernandez.


When will we start holding individuals accountable for their own decisions/actions and stop blaming any/everyone else? #liveyourliferight

— Shelley meyer (@spinnershells) July 3, 2013
It's unclear when Timmons, a free-agent signing in the offseason, will make his Dolphins d...

The 'Peanut Punch' is coming to the FBI

Wondering which NFL team are going to win in Week 3? You came to the right place
Carl Johnson, the NFL's former VP of officiating, is facing domestic violence allegations in...

The Falcons look like a team capable of repeating as NFC champions and returning to the Super...

After two consecutive weeks of ineptitude on offense, Giants fans are already sick of Ben...