Urlacher another icon on his way to wearing another uniform
The Bears and Brian Urlacher have parted ways.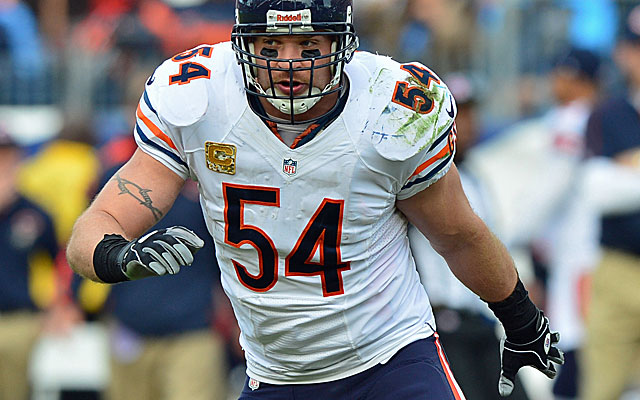 This is O.J. Simpson in his last uniform -- not prison garb -- with the 49ers. This is Johnny Unitas with the Chargers. This is Emmitt Smith with the Cardinals.
And now it's linebacker Brian Urlacher being forced to finish his career in a uniform other than that of the Chicago Bears, his team for the past 13 years. Urlacher, one the great Bears players, is not coming back to the Bears. The team announced Wednesday that the two sides could not agree on a contract, and Urlacher and the team will part ways.
Some of that is because of age. Some of that is because of injury. Some if it is money.
Whatever the reason, Urlacher is no longer going to be in the middle wearing No. 54 for the Chicago Bears.
Some will say it's a sad thing to see. But the reality is this is the NFL. Memo: Don't get attached to players. It's the helmets you root for, anyway.
Urlacher's skills have declined in recent years. Once one of the dominant speed linebackers, playing the perfect spot in the Tampa-2 defense in Chicago, Urlacher has been slowed by injuries. The sideline-to-sideline ability and the speed to run to the deep middle in coverage are gone.
At times in his career, Urlacher was overrated. But at other times, he was a dominant force, a player the blue-collar Bears fans came to love. His jersey was everywhere in the city.
And now it's over. Just like that.
Cruel. Nasty. Sad.
But the word that fits best: reality.
The revolving door that is an NFL roster happens every week, every year, but when it's a franchise icon, it forces us to step back and realize that nothing lasts forever.
All you'll do is get hurt in the end.
Then you have to see that player trying to hang on in another uniform, something that looks about as normal as a white suit at a funeral.
I imagine Urlacher will hang on and play somewhere else. Dallas or Denver? Maybe he can be like Peyton Manning, an icon with the Colts who was released only to bounce back and have a Pro Bowl season with the Broncos last year.
When Urlacher does put on another uniform, it will once again remind us of the horrors of seeing Joe Namath wearing that Rams uniform. Or Thurman Thomas playing nine games in a Dolphins uniform.
Players do have the right to want to play on. But it's so hard for fans to say goodbye, and it has to be torturous to see them hang on without the skills anymore.
Urlacher and No. 54 in Bears blue just seem to go together.
It just doesn't seem right that we won't see it again, does it?
Romo was at it again in Week 3, diagnosing defenses and calling out the plays before the s...

Washington's star cornerback is not a fan of the president and his incendiary rhetoric

Joe Lockhart, speaking against Trump, called Sunday 'an important day in the NFL'
Week 3 in the NFL was absolutely bonkers, and Twitter overreacted as usual

The Hall of Famer and former Bills great also thinks Trump needs to quit Twitter

Here's an early look at the lines for all NFL games being played in Week 4