Vanilla Ice performing at halftime of Texans-Titans game Sunday
Vanilla Ice will perform at halftime of the Texans and Titans game on Sunday. Word to your mother.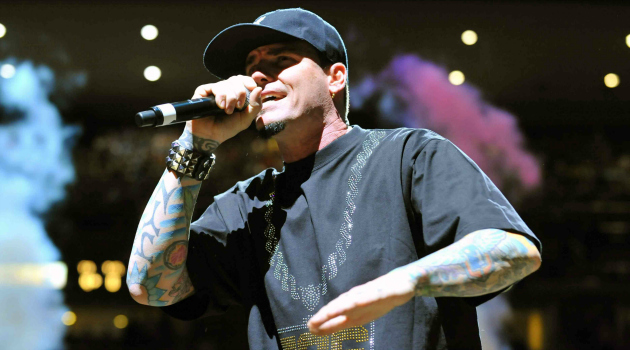 Stop, collaborate and listen. The Texans are back with an old-school invention: Week 2's tilt against the Titans is themed the "Liberty White Out." Fans are encouraged to wear all white for the affair and to really punctuate the colorful theme, the Texans will have Vanilla Ice perform at halftime.
Oh yes. There will be a celebration of 'MERICA in all its glory as Robert Matthew Van Winkle (a.k.a. Vanilla Ice) takes the stage to complete the, uh, whiteness of the day.
"A field-sized American flag will be unfurled for the national anthem, to be performed by acclaimed country artist, Clay Walker," the Texans announced in a release Wednesday. "The flag will be held by first responders; including police officers and fire fighters, as well as players and coaches from both teams. The Homefield Advantage Team Captains will be the heroes of the May 31 fire from Houston Fire Department Stations 51 and 68.
"In keeping with the 'Liberty White Out' theme, national recording artist, Vanilla Ice will perform at halftime of Sunday's game. Vanilla Ice's hit single "Ice Ice Baby" was the first hip hop single to top the Billboard charts."
All of the Texans home games have themes this year. Week 13's Patriots game is "homecoming" (which is awkward) but it's going to be hard to top Week 2's awesomeness.
Kind of crazy how Ice is undergoing a renaissance of sorts in the past few years isn't it? Dude is performing halftimes everywhere and has reemerged as a celebrity the world truly embraces. Is it because people my age (32) are getting old and like remembering the halcyon days of the early 90's? Because if you're not aware, this dude was huge when he burst onto the scene. I could probably rip off the full lyrics to "Ice, Ice Baby" right now, Ice's infamous song that spent 16 weeks as the Billboard No. 1 song.
Better perspective: Vanilla Ice dated Madonna. Think about that for a second.
And he also appeared in Teenage Mutant Ninja Turtles II: Secret of the Ooze, a massive movie ($75 million at the box office) when it was released, performing "Ninja Rap 2" (a.k.a. "Go, Ninja, Go") in one of the more memorable music cameos of all time.
One would assume that Vanilla we'll see/hear at least one of those two songs -- definitely "Ice, Ice, Baby" right?? --  on Sunday. 
Whatever the case it stands to reason that when they turn off the lights I'm sure he'll glow. Word to your mother.
The Browns remain a team without a franchise quarterback

Kaepernick filed a collusion grievance against the owners earlier this week

Mike Tierney, 34-13 on over-under picks since last season, has strong play on 'Thursday Night...
The Eagles defensive end is putting his money where his mouth is to support education equa...

The NFL didn't make any changes to its anthem policy, which apparently angered President T...

The Seahawks cornerback says he knows exactly why Kaepernick remains out of work