Vernon Davis: I want a new contract, I'm not going to stress over it
Tight end Vernon Davis isn't 'losing any sleep' over his contract situation with the 49ers.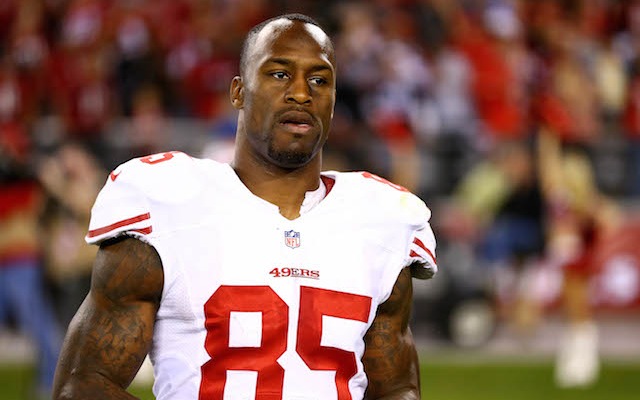 More NFL offseason: League minicamp dates | Latest news, notes
When Vernon Davis didn't show up at San Francisco's OTAs in May, he said it was all about 'building his brand.'
When Davis didn't show at the team's mandatory minicamp in June, he said he was holding out for a new contract, "It's all about getting paid what you deserve," Davis wrote on MMQB.com before the minicamp. 
So will Davis' holdout continue when the 49ers kick off training camp in July? The tight end didn't exactly answer that question this week, but he did seem to take a softer stance on his holdout. 
In an interview with the Atlanta Journal-Constitution, Davis said he's not stressing over his contract situation and he also said it won't be 'end of the world' if he doesn't get a new deal. 
"There are no worries. There is nothing that I can stress about," Davis said. "It's obvious that we want a new contract. I want a new contract. It's just like any athlete, we all want a new contract. But I'm not going to stress over it. It's not the end of the world if I don't get it. If I get it, that's good."
So how are contract talks going?
"It's moving slowly, but surely," Davis said. "At the end of the day, if I don't get the deal, at least I tried and I put my foot down. If I don't get it at the moment, I'm not going to lose any sleep."
If Davis doesn't get a new deal, he has two options: He can holdout and let the fines pile up or he can show up and collect the $9.05 million he's scheduled to make in base salary over the next two seasons combined. Davis has two years left on a six-year, $42.7 million extension he signed in 2010.
We'll find out Davis' definitive plans on July 23 when 49er veterans are scheduled to report to training camp. 
Donald Trump would like to see NFL owners cut any players who kneel for the national anthe...

One of the biggest penalties in Thursday's game was a controversial flag that went against...

If Ezekiel Elliott gets suspended, it likely won't come until Week 5 at the earliest
The NFL is apparently concerned that the Chargers might not be viable in Los Angeles

Everything you need to know for Week 3 of the 2017 NFL season is here

You can find every official injury designation for each NFL team shortly after its Friday report...