Vernon Davis: 'I will be the best tight end to ever play this game'
Even Eli Manning is blushing at the thought of what 49ers tight end Vernon Davis said on Friday. Davis said he had a vision that he would be the top guy at his position for all time.
• 2 min read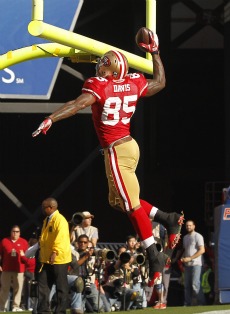 He's a heck of a dunker, but could Davis really become the best tight end of all time? (US Presswire)
Even Eli Manning -- who once caught a tremendous amount of flak for saying this -- is blushing at the thought of what 49ers tight end Vernon Davis said on Friday.
Not only does Davis think he's an elite tight end (I assume this, anyway, from the second half of this sentence), he thinks he has the chance to be the best tight end ever. No, no. He doesn't think it. He knows it.
"I will be the best tight end to ever play this game. I have a vision," Davis told a cheering mob of football campers in Washington.
Think about that for a second. Perhaps Davis is a top-five tight end at this very moment (behind Rob Gronkowski, Jimmy Graham, Jermichael Finley and maybe Jason Witten). I suppose there's a chance he could one day supplant Tony Gonzalez or Shannon Sharpe or Kellen Winslow Sr., as the best of all time, but the chances of that happening have to be tiny (if not completely impossible).
Still, WUSA asked Davis afterward how he would achieve that goal, and Davis gave a stock answer about dedication and hard work. Then, WUSA had quite the zinger.
WUSA: Can that really happen though with Alex Smith as the long term quarterback?
VD: "It can. It doesn't matter. Anything is possible. I say that because...what can happen? If I don't make it, then I don't make it. It's as simple as that. Ain't nothing nobody can do, ain't nothing nobody can say. But if I do? Then I spoke it into existence."
So, good for Davis for having a far-reaching goal he most likely will never come close to attaining. But, then again, who's going to say any of this to Davis' face? I'm not. After all, we saw how Manning played last year after just about everybody made fun of him for comparing himself to Tom Brady and etching himself into the elite level.
Maybe thinking the near-impossible out loud is enough to make your wildest dreams come true. And if that's the case, I need to excuse myself to check my bank account for the $10 million I just said I deserved.

For more NFL news, rumors and analysis, follow @EyeOnNFL on Twitter, and subscribe to our Pick-6 Podcast and NFL newsletter. You can follow Josh Katzowitz on Twitter here: @joshkatzowitz.
Freddie Roach is one of the most decorated boxing trainers there is

Gruden knows about the pressure of his new gig, and he isn't shying away from it

Miami is one of the half-dozen most intriguing teams this offseason amid free-agent and trade...
The Ravens are reportedly intrigued by Gillmore, who is set to become a free agent

Hurney was originally with the club from 1998-2012

The Philadelphia Eagles wideout reportedly endured the tear all the way through the Super...