Vernon Davis on holdout: 'It's all about getting paid what you deserve'
It sounds like we shouldn't expect to see 49ers tight end Vernon Davis at this week's mandatory minicamp.
• 3 min read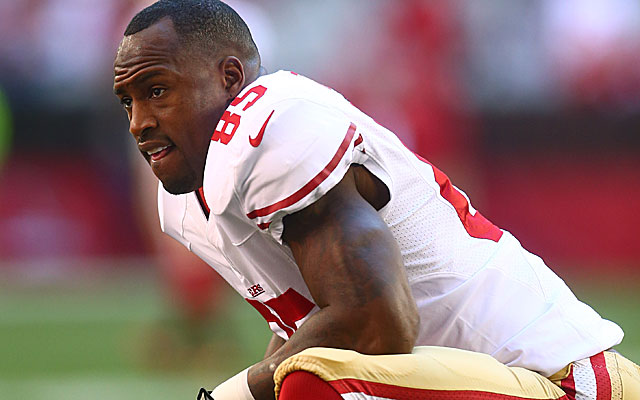 More NFL offseason: League minicamp dates | Latest news, notes
49ers tight end Vernon Davis wasn't in attendance during San Francisco's OTAs, and I guess we shouldn't expect him for this week's mandatory minicamp. Or any other team function in the near future.
In writing for theMMQB.com, Davis explains why he's holding out. For more money, obviously.
Writes Davis: "In 2010 I signed a five-year, $37 million contract extension with $23 million guaranteed. It was the biggest contract for a tight end in league history. Four years later, and I'm playing at a higher level than I was then, which brings me to why I'm holding out. It's all about getting paid what you deserve. It's not that complicated. I want the 49ers to win the Super Bowl, and I want to be on the field this summer working towards that goal, but I have to worry about my future first. Most of my teammates and many players in the NFL understand that. A few don't. Behind closed doors, they'll say they're all about the team and would run through a brick wall for the organization. But when you look closer, they're doing things to contradict themselves. I can't listen to anyone but my family and my advisors, because those are the people who are going to be there when football inevitably dumps me."
Earlier this month, Davis said the reason he was skipping OTAs was so he could build his brand. He must have really thought the brand-building was a good use of his time, because in missing those offseason workouts, he forfeited a $200,000 bonus. He also said at the time that he planned to show up for this week's mini-camp.
"If it's mandatory, I think I should be there," Davis said. "My foot could get stuck in the grass, and I may not be able to get out ... but if it's mandatory, I think I should be there."
But it sounds like he won't, which CBSSports.com's Pat Kirwan thinks is an unproductive decision.
"Davis already passed on a $200,000 workout bonus by not showing up this spring. I had a former first-round tight end do the same thing, and 15 years after he retired, he regretted doing that -- money is harder to earn later in life for most players," Kirwan wrote. "... If I were Davis, I would be at every team function and wait to see if [Jimmy] Graham's deal changes things for tight ends. For now, try and remember the $10 million signing bonus the club gave you a few years ago and the $10 million yet to be earned over the next two years. This protest is a waste of time."
In other Davis news, he also wrote about the last-second interception in the NFC title game last season in which Seahawks cornerback Richard Sherman picked off San Francisco quarterback Colin Kaepernick and then went on a memorable rant against receiver Michael Crabtree. Davis' take:
Did Kaepernick make a bad throw, or a bad decision? Is Sherman lucky or good? My answers: Sherman is good. And Kaepernick made the right call, no matter the outcome. He took a shot. He put his trust in his No. 1 receiver. Sometimes they make the plays, sometimes they don't. But in those moments you have to have faith that your guy is going to pull it down.

It was, and remains, a devastating finish. But I think it made Crabtree and Kaepernick stronger. Anytime you fall into a situation where stuff doesn't go the way you expected, where you know you should've made a play but you don't, it makes you go correct it. With experience comes growth.
Also there's this: besides Kaepernick, Davis said Russell Wilson is the best quarterback in the league.
Wrote Davis: "He's got all the tools; ability to keep the play alive, and he's very accurate with a strong arm. He exemplifies what it takes to be a winning QB in the NFL. If you asked me to choose based on record and experience, I'll take Tom Brady or Peyton Manning, but in terms of right now, my pick is Wilson."
Alex Van Pelt didn't specify whether Dalton could be Joe Flacco-level elite, however

Things don't change in the alternate universe where Wentz stays healthy as far as Pederson...

Khalil Mack, Aaron Donald and Odell Beckham top list, with $20M per year non-QB on the hor...
The future Hall of Fame kicker will be back in the saddle for another year with Indianapol...

As it turns out, finding an immediate impact first-round wide receiver is a lot harder than...

March 14 is coming up pretty quickly and the Saints have to hurry up and sign Drew Brees