Vick: Jets will have no patience with Geno Smith, we have to win now
Geno Smith better win early and win often, at least that's advice from Michael Vick.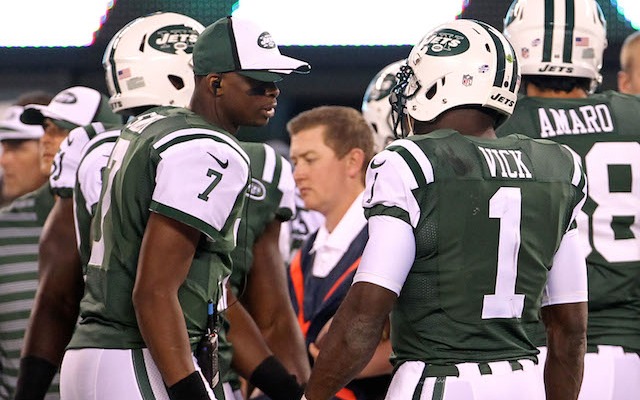 Since signing with the New York Jets in March, Michael Vick has pretty much conceded that Geno Smith is the team's starting quarterback.  Vick thinks Smith is 'ready to lead' the team, but the 34-year-old quarterback also says that the Jets -- and Smith -- need to win now. 
"Geno has taken that step in the right direction. I think he's ready to lead this team," Vick told the New York Daily News. "But there's been a lot of quarterbacks that started as rookies and started young. There's really no other way but to go out and win. Regardless of the year the player is in, you got to go out and get it done."
Vick has been in the NFL a long time and he knows that patience isn't a luxury quarterbacks are afforded in the NFL. 
"There wasn't patience with me," Vick said. "There wasn't patience with Brett Favre. I've seen Matt Ryan and Joe Flacco go in there as rookies. Ben Roethlisberger. They had to get it done and they got it done. There's really no patience, just being honest... We got to win and we got to win now."
So what happens if the Jets run out of patience and don't 'win now?' 
Maybe Rex Ryan gives Vick a chance.
Although that's not a given because the Jets coaching staff is reportedly disappointed in Vick. According to MMQB.com, 'some Jets coaches privately expressed disappointment that Vick didn't show up more hell-bent on winning the starting job."
Could Vick even had won the starting job if he had been 'hell-bent?' The general belief is that the deck was always stacked in Smith's favor and that the team made it clear to him that Smith was the starter. 
What this all means is that the Jets should be thanking Johnny Manziel and the Browns because the quarterback competition in Cleveland overshadowed every other competition in the NFL, including the one in New York that Vick never had a chance to win. 
Also featuring holiday-themed celebrations, a pit crew, the Ickey Shuffle, and some racewa...

The former NFL quarterback sounds like he's ready to move to the front office

Mike Tierney has owned NFL over-unders and just locked in a strong pick for 'Monday Night...
Davante Adams was forced from the game with a concussion after Davis' headshot

The Steelers' wideout was suspended for his hit on the Bengals' linebacker

Plus everything you need to know about the game