VIDEO: Auburn students sing One Direction song to Cam Newton
Surprise! Panthers quarterback Cam Newton was serenaded with a One Direction song on Valentine's Day while he was sitting in class at Auburn.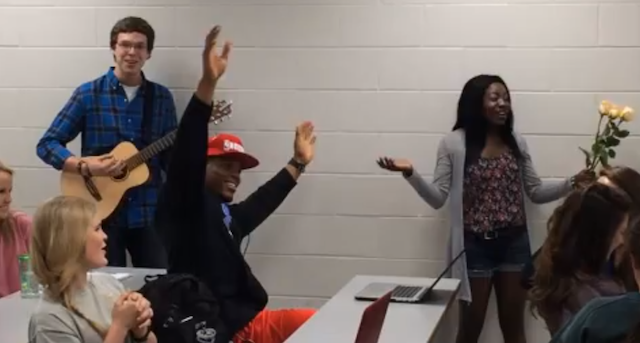 February 14 was an interesting day for NFL quarterbacks. Vikings quarterback Christian Ponder spent his Valentine's Day kissing goats. Panthers quarterback Cam Newton didn't get to kiss any goats, but he did get the next best thing: He got serenaded by a young lady singing One Direction. 
While Newton was sitting in class at Auburn, two students from the school's Wesley foundation walked into Newton's classroom and started singing to him. They didn't just sing any song either, they sang One Direction's "What Makes You Beautiful." 
If there's a better way to spend Valentine's Day than having a One Direction song sang to you in class, don't me about it because I won't believe it because there is no better way. 
Newton must have caught the singing bug because two days later he was singing Katy Perry songs while hosting an awards show on Cartoon Network. 
If you want to skip the small talk in the video below, the singing begins around the 35-second marks. Also, I'm not sure what kind of class this is, but I counted 27 females and two males, so there's that. 
(Wink of the CBS Eye to Sporting News)
The Eagles defensive end is putting his money where his mouth is to support education equa...

The NFL didn't make any changes to its anthem policy, which apparently angered President T...

The Seahawks cornerback says he knows exactly why Kaepernick remains out of work
Larry Hartstein has nailed his past nine Falcons picks and has a strong play for 'Sunday Night...

Elliott will be allowed to play, for now

Mark Lamping wrote a letter to apologize to Jacksonville's director of military affairs ch...