VIDEO: Band writes song about Brett Favre, calls it 'Old Number Four'
Brett Favre kind of now has his own song.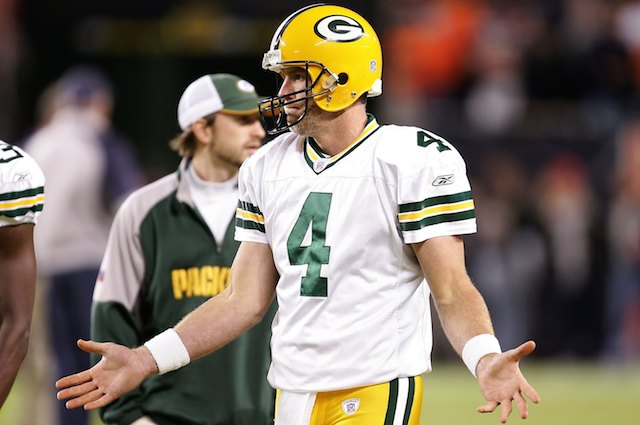 Just in time for his return to Green Bay, Brett Favre has his own theme song. Well, it's not officially his theme song, but it probably will be after he hears it. 
A band in Minnesota -- Seriously, Minnesota -- wrote a song about Favre and released it to YouTube on Wednesday. As far as songs about retired NFL quarterbacks go, this is probably the best one. Also, it might be the only one. 
The song, called "Old Number Four," seems to do a pretty good job of summing up Favre's Ol Gunslinger mentality.
Now the battle ahead is brutal and rough
Gettin' older my friend, though I know that you're tough
You've been battered and beaten and bruised to the core
But they can't break your spirit, Old Number Four
Although The Hobo Nephews of Uncle Frank -- Yup, that's the band's name -- never mention Favre by name, the song's definitely about him.
Band member Ian Alexy told the Green Bay Press-Gazette that he was inspired to write the song after watching Favre play in the NFC title game following the 2009 season. 
"He was hobbling on one leg. Just incredible. I had never really seen anything like that. And then it was kind of heartbreaking when they lost in the final seconds," Alexy said. "I was just thinking about Favre's performance... what spirit he has really. It was like I wanted to let him know that people really appreciate him, because he was also getting a lot of criticism after that game."
As someone who cheers for both the Packers and Vikings, Alexy was probably the right guy to write the song. 
If the song gets big, don't be surprised if you hear it the next time Favre's in Green Bay. The Ol' Gunslinger will be inducted into the Packers Hall of Fame on July 18. After that, Favre is expected to be honored on the field in November when the Packers host the Bears on Thanksgiving Day. 
You gave all you had, then you gave more
They'll never forget you, Old Number Four.
As for "Old Number Four," you can hear the entire song below. 
Pick Six Newsletter
Get the day's big stories + fun stuff you love like mock drafts, picks and power rankings.
Please check the opt-in box to acknowledge that you would like to subscribe.
Thanks for signing up!
Keep an eye on your inbox for the latest sports news.
Sorry!
There was an error processing your subscription.
Zach Ertz gives two reasons why the USWNT blowout win over Thailand wasn't bad for soccer

The Patriots coach is apparently a ruthless paintball player

Russell Wilson and Aaron Rodgers made a lot of money over the past 12 months
The Patriots quarterback really loves football

The former Cowboys receiver has some contract negotiation advice for his old team

The Browns have enough talent to reach the Super Bowl, but will have to manage expectation...