VIDEO: Buccaneers WR Mike Evans involved in nightclub brawl
A TMZ video that shows Mike Evans in taking part in a brawl outside a nightclub in Miami was taken in March, according to Evans' agent.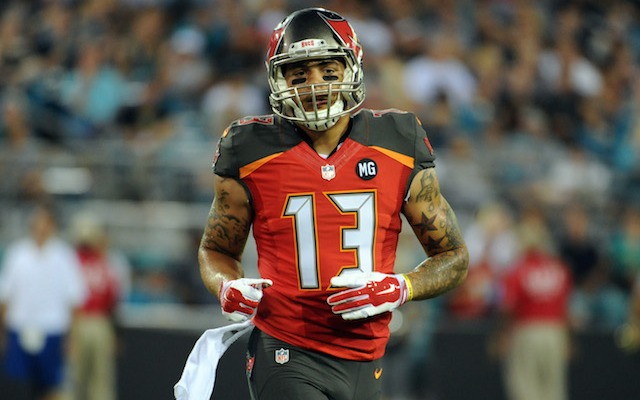 TMZ seems to have cameras on everyone at all times and that includes Buccaneers rookie wide receiver Mike Evans. The entertainment website posted a video of Evans on Friday that shows the No. 7 overall pick taking part in a brawl outside of a nightclub in Miami. 
The video starts with Evans yelling at the bouncers, then at about the 23-second mark, things get a lot more intense. During the 54-second video, Evans throws at least two punches and even jumps over the hood of a car. 
TMZ purports that the video was taken on Aug. 15, however, Evans said that's untrue. The Buccaneers rookie released a statement on Friday saying the video was taken in March. 
"The incident in question happened during spring break in March while I was vacationing with friends in Miami. The issue occurred at the end of the night when someone in my party was approached by a member of the security staff. The situation escalated very quickly from there, but fortunately no one was injured. I regret that this incident that happened nearly six months ago has become a distraction to my team and I look forward to continuing to prepare for the start of my rookie season with the Buccaneers."
Bucs coach Lovie Smith also added that in his eyes, the 'matter is closed.'
It's probably a good thing the video wasn't released in March because nightclub brawls don't exactly help your draft stock. 
You can see the entire video below.  
Kaepernick is unsigned, but he is continuing to make waves off the field

Apparently, Bell wasn't on the same page with his agent during negotiations

Plus everything else you need to know about Week 2 of the 2017 NFL preseason
The Ravens kicker wanted to try a ridiculously long field goal against the Dolphins

From drops to dumb penalties, the Panthers offense had a day to forget Thursday

Dave Richard helps us determine Fantasy football's biggest August draft decision