VIDEO: Colin Kaepernick gets loudly booed at Andre Ward fight in Oakland
Colin Kaepernick's not a popular guy in Oakland.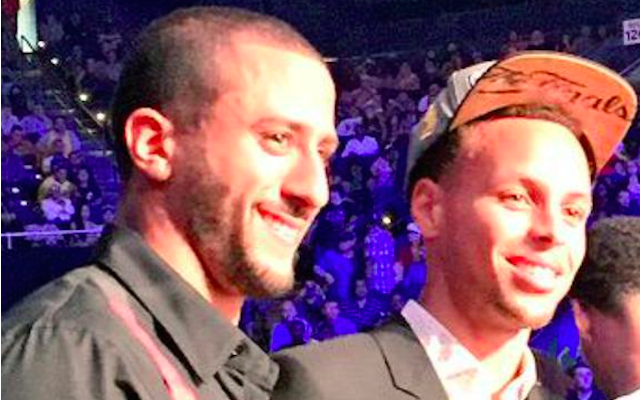 Forty-niners quarterback Colin Kaepernick might have a lot of fans in San Francisco, but apparently, he doesn't have many fans 10 miles away in Oakland. 
Kaepernick was at Oracle Arena on Saturday night to attend a boxing match between undefeated middleweight Andre Ward and Englishman Patrick Smith -- a fight Ward won in the ninth round. 
At some point during the fight, Kaepernick was interviewed and that's when the 9,016 fans in attendance started booing. 
Baby Jesus, please let someone have recorded Kaepernick getting booed by #Raidernation at the @OracleArena #WardVsSmith. This gives me life!

— Kung Fu Coconut (@ninjahpleez) June 21, 2015
Because this is the internet, you know there's video. 
*VIDEO* Colin Kaepernick doing interview with Sway & getting boo'd until crowd sees Steph Curry arrive pic.twitter.com/L8qTcKDM29

— Fallon Smith (@FallonSmithCSN) June 21, 2015
Kaepernick probably would've been booed all night, if a certain NBA MVP hadn't showed up to save him. 
Steph Curry gets thunderous ovation at Andre Ward fight in Oakland. Colin Kaepernick gets loudly booed in East Bay

— Josh Dubow (@JoshDubowAP) June 21, 2015
Anyway, Kaepernick was clearly the most unpopular person in the building.
Colin Kaepernick arrives at Oracle for Andre Ward fight and is booed by Oakland crowd.

— Jeff Faraudo (@JeffFaraudo) June 21, 2015
They just showed Kaepernick on the big screen & Oracle booed hella loud #RaiderNation #NoLoveForTheOtherSide #WardVsSmith

— Mike (@Soulrise) June 21, 2015
Colin Kaepernick is at the Andre Ward fight at Oracle Arena. He's being roundly booed by the crowd during his interview with Sway.

— Dieter Kurtenbach (@dkurtenbach) June 21, 2015
The big question here? Who was booing Kaepernick. It's the Bay Area's own "chicken or egg" question. 
Kaepernick booed in Oracle Arena. Raider Nation or disgruntled 49er fans?

— Gustav N. Davila (@NikJamTheMan) June 21, 2015
Warriors star Stephen Curry was also at the fight and as you can read about here, the fans in Oakland seemed to enjoy his presence slightly more than Kaepernick's. 
The Jags were laughingstocks as recently as this summer; now they're 60 minutes from an AFC...

The Jaguars are poised for the biggest upset in recent playoff history

The Broncos may have tipped their hand as to which player they're targeting at No. 5
The Steelers didn't have to look far to find their replacement for Todd Haley

The pop superstar will seek halftime show redemption at Super Bowl LII

Our computer model simulated the AFC and NFC title games 10,000 times with surprising resu...