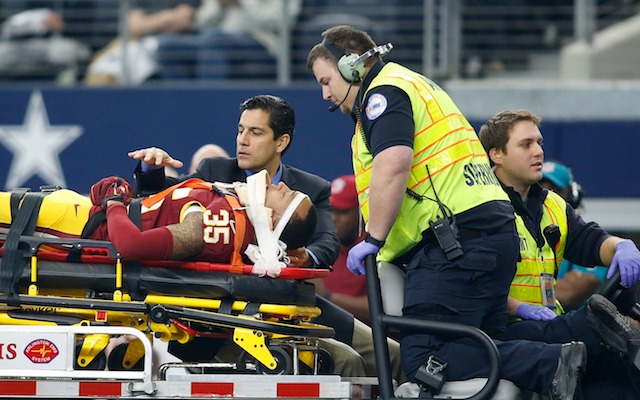 There's never really a good time for fans to do the "wave" at an NFL game, but there's definitely a really, really bad time for fans to do it. For instance, fans shouldn't do the wave when a player is laying motionless on the field with a neck injury. 
That exact scenario happened during the first half of the Redskins-Cowboys game at AT&T Stadium on Sunday. 
Late in the second quarter, Redskins defensive back Dashaun Phillips injured his neck after trying to make a tackle on Cowboys running back Darren McFadden. The two players were involved in a head-to-head collision that seriously injured Phillips' neck.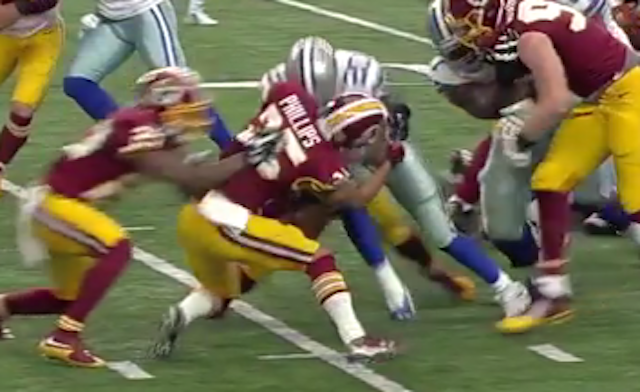 As Phillips was being helped by trainers on the field, an unfortunate thing happened: Cowboys fans started doing the wave. 
#cowboys fans are doing the wave while #redskins Dashaun Phillips is being carted off the field #ridiculous pic.twitter.com/9hWOxeS5Xt

— Jared Christopher (@JaredLChris) January 3, 2016
This wasn't an instance where the wave was already going on when the injury happened. According to several reporters at the game, Cowboys fans started the wave after the injury. 
Good job by Cowboys fans doing the wave as a Redskins player is carted off. Come on. Show some class.

— Charean Williams (@NFLCharean) January 3, 2016
The wave has broken out at Cowboys stadium, while somebody is hurt and being carted off on a stretcher.. Fans though

— Clarence Hill (@clarencehilljr) January 3, 2016
This probably isn't as bad as the time when Eagles fans cheered after a Michael Irvin injury during a 1999 game, but fans should probably try to be more cognizant of what's going on because you definitely don't want to be doing the wave when someone's sitting on the field with a serious injury. 
According to the Redskins, Phillips has movement in his extremities, but has been taken to a local hospital for further evaulation. 
To keep tabs on everything else that's happening in the game, be sure to check out our CBSSports.com Game Tracker here.