VIDEO: Cowboys' Jerry Jones makes Academy Awards red carpet cameo
Jerry Jones and his wife made a brief cameo during the Academy Awards red carpet event on Sunday.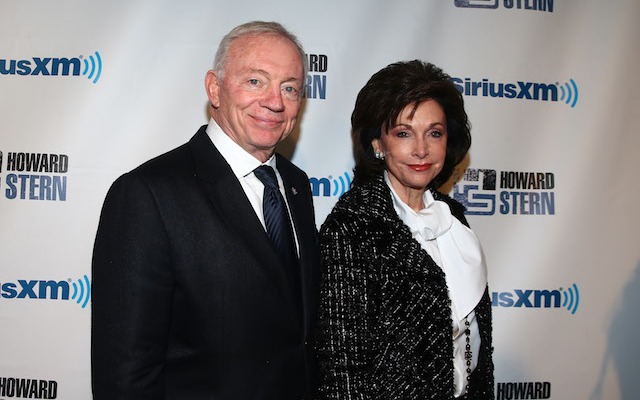 If you're wondering what Dallas Cowboys owner Jerry Jones does with his Sundays once the offseason starts, you now have your answer: He attends big-time Hollywood award shows. 
Yes I am watching the E Red Carpet and Yes that is Jerry Jones walking by. https://t.co/bMdid3xH9l

— The Ball Hogs (@BallHogsRadio) March 3, 2014
Jones and his wife Gene were spotted walking the red carpet during E!'s live coverage of the Academy Awards. As E! interviews Mindy Kaling, Jones and his wife waltz right by in the background. As far as we know, he's the only NFL owner in attendance at the Oscars -- but not the only NFL-related person. Michael Strahan, fresh off his election into the Pro Football Hall of Fame, also hit the red carpet on Sunday.  
.@MichaelStrahan hits the Red Carpet at the #Oscars! pic.twitter.com/USPI4rN6UU

— NFL (@nfl) March 3, 2014
The Cowboys receiver made a young boy's birthday wish come true

The new Packers tight end had to find a place to sleep after being locked out of his camp...

Lucky Whitehead says he had an awkward face-to-face meeting with Jason Garrett
The Eagles said goodbye to several players on Wednesday

The Falcons' retractable roof is causing some serious construction headaches

The Panthers quarterback apparently wanted McCaffrey at No. 8 instead of Fournette