VIDEO: 'Daily Show' mocks ESPN for Michael Sam shower story
The 'Daily Show' went in-depth on Michael Sam's showering habits.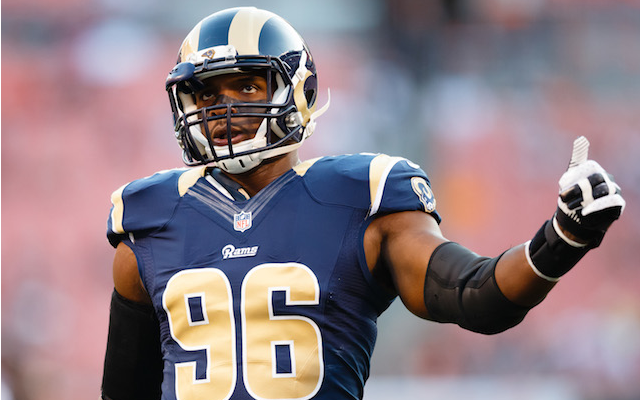 ESPN came under heavy criticism this week when it reported on the showering habits of Michael Sam, the NFL's first openly gay player. 
The network has since apologized for the report, but that hasn't change how anyone feels. Rams defensive end Chris Long made it clear he's not happy about the report. Rams coach Jeff Fisher was furious, calling ESPN unethical. 
Then there's what the Daily Show did. During Wednesday night's show, the Daily Show did what the Daily Show does and it involved host Jon Stewart mocking the situation with 'Senior Sports Correspondent' Samantha Bee. 
"Why would his teammates feel uncomfortable showering with Michael Sam? Does he use Axe Garlic and Rotten Egg body wash?  Does Michael Sam have a Kuato?" Stewart asked. "Michael Sam's gay.  Are we not over this yet?"
Stewart then asked Bee if Sam was going to make the roster. 
"It sounds like Sam is in trouble," Bee said. "His work on the line has been great, but he's been making his teammates very uncomfortable. He hasn't been getting naked around them at all. Jon, there's been no grab-ass... none of the locker room behavior of normal heterosexual NFL players."
Bee then reads an excerpt from Jeff Pearlman's Boys Will Be Boys involving Charles Haley pulling out a certain body part in the locker room.  
You can see the entire video below. 
The Buccaneers quarterback received a citation after causing a car wreck February 13

It's time for NFL teams to get creative and here's some moves to make it possible

It's a nice gesture for the players to recognize the coaches that put them in position to...
Peters has played well since the Chiefs selected him in the first round of the 2015 draft

Ivory averaged just 3.6 yards per carry in two years with Jacksonville

Bryant reportedly requested a trade last season but the Steelers elected to hang onto him