VIDEO: Drake makes joke about Johnny Manziel doing drugs
Don't worry everyone, Drake and Johnny Manziel are still friends even though Drake made a joke at the ESPYs on Wednesday about Manziel doing mushrooms.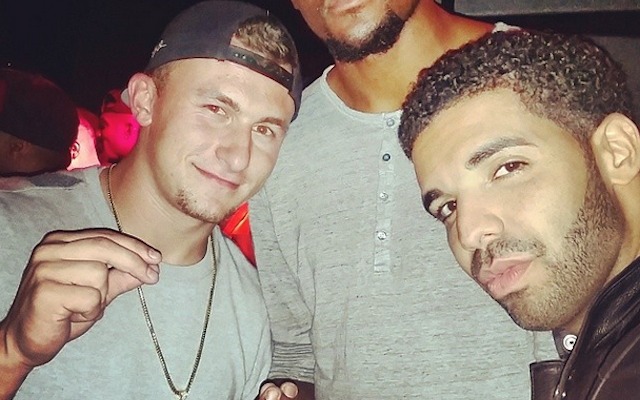 More NFL: Photos |   Videos & GIFs |  Stories | Training Camps | Johnny Manziel watch 
It's been a wild summer for Browns quarterback Johnny Manziel: He's been to Las Vegas twice, he rode an inflatable swan and he even partied with Justin Bieber.
The only thing that was really missing from Johnny Football's summer was someone making a joke on national television about Manziel doing mushrooms. 
You can check that off the list now. 
During Drake's opening monologue at the ESPYs on Wednesday, he covered that base while making a joke about Johnny Football.  
"I love me some Johnny Football. I do. But I worry about him sometimes," Drake said. "For example, right before I came out here [to host the show], I got a text from him asking if I wanted to do mushrooms and watch the ESPYs together tonight."
A drug joke was probably the last thing the Browns wanted to hear on ESPN after that whole 'Johnny rolling money in the bathroom while partying over the Fourth of July' thing. 
Anyway, Drake went on with his monologue, "Johnny, I hope you understand why I couldn't come. But I'm sure this looks amazing to you right now."
Manziel then got in on the act with a timely tweet he sent out during the monologue.  
Trippy...

— Johnny Manziel (@JManziel2) July 17, 2014
The Browns probably loved that tweet. And by 'loved,' I mean hated.
Apparently, Johnny has a sense of humor though because on Thursday, he posted a picture on Instagram of him and Drake hanging out together. You can see it at the top of the page. 
There's also a third person in that photo and that third person is Kevin Durant. It's never smart to cut an NBA MVP out of a picture, so we'll go ahead and show you the full photo below.
You can see Drake's entire monologue underneath the photo. The Johnny Football joke starts at about the 1:50 mark.  
The NFC is going to be a blast to watch down the stretch, but don't sleep on the Patriots'...

The Dolphins just created a serious shock in the AFC and MVP races by beating the Patriots

With their 2017 season basically over, it's time for Texans fans to turn their attention to...
Now 10 different players have intercepted Tom Brady multiple times in one game

Brady lofted it between two defenders and Lewis snatched it with one hand